5 Post Pandemic Workplace Trends That Are Shaping the Future of Work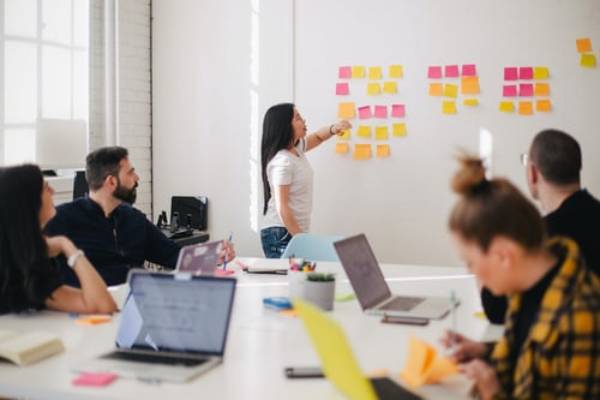 In the past two years, the COVID-19 pandemic has disrupted the global corporate landscape. However, despite the continued uncertainty, most businesses are reopening their doors and adapting to the new normal. Every business will go through this transition differently, but all in all, what is common is that all businesses will go through significant changes in terms of leadership strategies and business functions, making this transition a little challenging.
What matters is how organizations balance supporting employee needs with business sustainability as they create a new post-pandemic workplace. To help businesses manage the issues surrounding the post-pandemic work transition, we have compiled a list of trends for companies to consider as they reinvent and reimagine the way work gets done in the post-pandemic world, and what strategies do organizations need to adopt in order to make sure the work environment is productive and efficient.
According to many experts, the hybrid work model is here to stay even post-pandemic. In the hybrid model, the employees come to the office a couple of times a week to connect and collaborate with co-workers, exchange ideas, formulate strategies and set weekly goals, and work remotely the rest of the days.
It is essential for leaders and managers to understand that the hybrid model requires a different communication and management style. Businesses should have precise, written expectations about where employees can work and when. Setting explicit expectations around the availability of employees and their schedules is key, and fosters harmony across levels, types of positions, and seniority in order to avoid discrimination and be equitable.
Use Project Management Tools
Given that companies would still be practicing remote working on some days, they should adapt to project management tools to ensure productivity. It's harder for team leads and managers to keep track of their employees' progress while most of them are working from home, and they can't just go on their desks and check-in as they would have before. Adopting different methods to keep track of employee performance has now become essential. You can adopt a basic project management tool like Asana or Basecamp or a collaboration tool like Trello or Slack.
Make sure you also invest in a reliable internet connection so that these platforms can work effectively and efficiently. You can subscribe to the fiber internet services offered by Metronet that offers symmetrical download and upload speeds with no data caps.
Promote Employee Well Being
Employers should focus on the physical as well as the mental health of their employees. According to different researchers, the mental health of people took a serious hit during the pandemic. Given that it was already a huge issue, the pandemic only exasperated these conditions. Over the past two years, many people experienced a loss of a loved one, unemployment, loneliness, and social isolation. Many people who were working from home had to juggle child care, family responsibilities, home chores, and work itself. The pandemic has caused considerable anxiety, stress, depression, and burnout. With that in mind, the team leads, managers, HR professionals should deploy strategies that would enhance support towards such employees. They should communicate with them frequently and perform regular check-ins to make sure the employees are okay.
Given that these are extremely uncertain times, it is important that the employees are kept in the know of what is going down around them. Especially when the news is not great, employees appreciate it when they are kept in the loop of things. Transparency in a work environment means being honest and open about the company's profits, losses, revenue, and other significant changes.
Make sure the workplace is safe
As we all have known since the start of the pandemic, it is important to adhere to all the safety precautions set in place by the authorities. Businesses should also make sure these safety precautions are kept in mind when employees are coming to the office. These precautions include maintaining distance, providing sanitizers and face masks, disinfecting the office regularly, and encouraging sick employees to stay at home.
Wrapping Up
While none of us know what the future holds, it is important to adopt trends that enable a more flexible, agile, and secure work environment. Businesses should make sure they make the work environment healthy so that employees can perform productively and efficiently.