An employee's heartfelt message for the company's CEO – Worth Reading for All!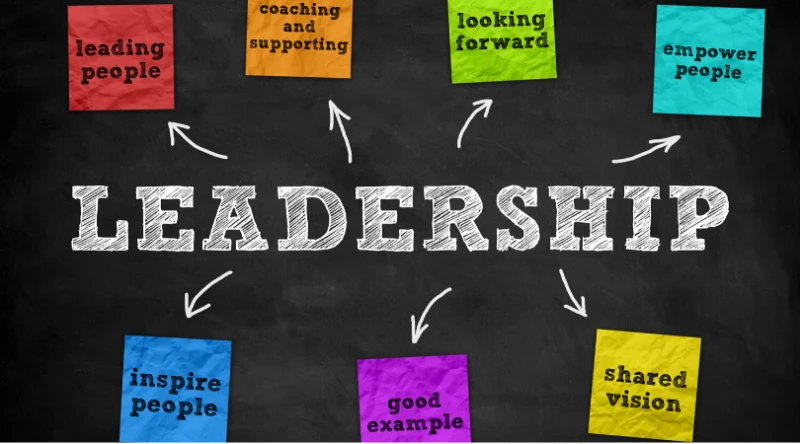 People are going through a tough time due to the Corona outbreak, especially the ones who are stuck in different cities due to sudden lockdown. However, there are many who are happy to be with their families in this time of crisis. And these people are grateful to their employers for taking timely steps.

While going through my LinkedIn handle, I came across a wonderful post which an employee dedicated to his company's CEO. I couldn't resist myself from writing that a great visionary really make for the best leader. He not only helps an organization to grow, but also he encourages his team to grow.
Gourav Rawat, Senior Graphic Designer, KCS Technologies Inc., along with a very beautiful picture message posted: "Thank You Sir" #lockdown #thankyou #ceo #leadership #leader #coronavirus #VenkataKiranAmruthavaakkula #coronaviruslockdown #covid19 #workfromhome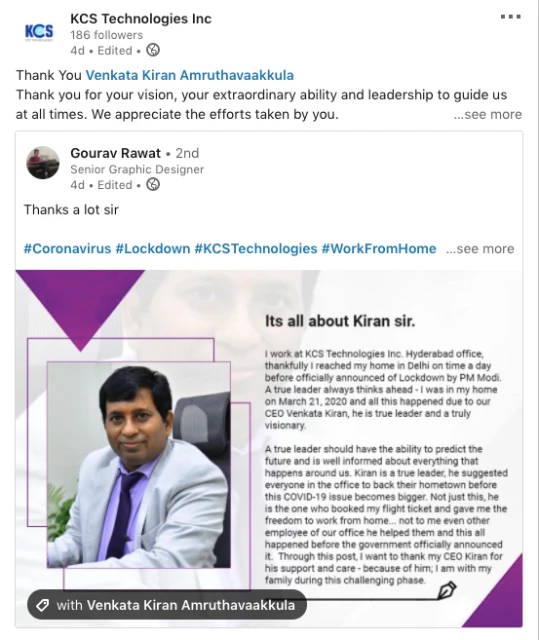 The picture message read: "Lockdown is not easy. I work at KCS Technologies Inc. Hyderabad office but thankfully I reached my home in Delhi on time a day before PM Modi officially announced it. A true leader thinks ahead – I was home on March 21, 2020 (correct date) and this could happen because of our CEO Venkata Kiran, he is truly a visionary.
A true leader should have the ability to predict the future and is well informed about everything that happens around us. Kiran is a true leader; he suggested everyone in the office to travel back to their hometown before this COVID-19 issue becomes bigger. Not just this, he is the one who booked my flight ticket and gave us the freedom to work from home… and this all happened before the government officially announced it. Through this post, I want to thank my CEO Kiran and KCS Technologies for his support and care – because of him; I am with my family during this challenging phase."
Yes, the guy said it very correctly. A true leader should have the ability to predict the future and he/she should be visionary. That is what the CEO, KCS Technologies Inc., Venkata Kiran Amruthavaakkula did here. Kiran sent his staff members back to home even before Prime Minister Modi announced the lockdown.
Kiran could sense very well that the situation is going to be critical, due to which he could make wise decisions and could help his staff members from getting affected by the situation.
Besides other qualities, a good leader should always have that farsightedness and should be able to see beyond the uncertainties and challenges of today to an empowering picture of tomorrow. Visionary leaders are driven, and determined, they act as confident coaches who guide their team and the organization through transitions or difficult times. And Kiran is one such good leader!