Announcement for Jewellers from Omio Technologies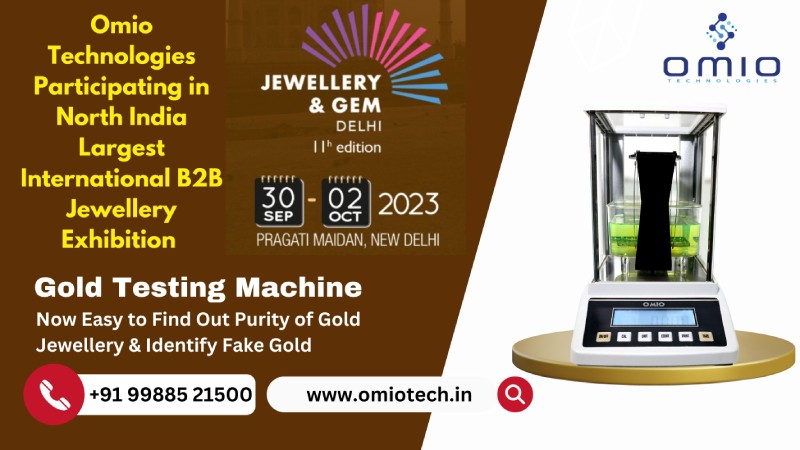 Exciting Announcement for Jewellers from Omio Technologies
Omio Technologies, the renowned manufacturer of Gold Testing Machines, has some big news to share! They are all set to participate in the largest International B2B Jewellery Exhibition in North India, organized by Informa Market at Pragati Maidan, Delhi. This marks the 10th exhibition for Omio Technologies, showcasing its exceptional products with a diverse range of offerings.
Jewellers have been benefiting from Omio's Gold Testing Machine for many Years now, having made wise purchases and witnessed the effectiveness of their machines. And now, there's another fantastic opportunity for Jewellers to experience the product's capabilities through live Demos of Gold Testing Machine at the Pragati Maidan exhibition, scheduled from 31st September to 2nd October.
But that's not all! Omio Technologies is offering an exclusive chance for Jewellers to avail special Discounts through spot bookings with just a token amount. This Exhibition is a must-visit for all Jewellers, Channel Partners, Marketing Teams (Storelize Pvt Ltd.), and esteemed members of the Sarafa Association. Show your support and love by visiting Omio Technologies' Stall (D59) at the Event.
What sets Omio Technologies apart is its unique concept and cutting-edge technology, making it possible for even Small-scale Jewellers to reap the benefits. Now, everyone can stay informed and protected from fraud, especially concerning Fake Jewellery and 1gm Gold Plated Jewellery circulating in the Market. With Omio Gold Testing Machines, jewellers can also easily identify counterfeit Jewellery and ensure the authenticity of their products.
Moreover, these Gold Testing Machines are not only reliable but also incredibly Economical. Any Jeweller can afford to Invest in them without worrying about additional Maintenance costs. Embrace the future of Jewellery testing with Omio Technologies' state-of-the-art Gold Testing Machines. Don't miss out on this incredible opportunity to enhance your business and safeguard your customers' trust. Visit Omio Technologies' stall at the Exhibition and witness the magic unfold!
About Omio Technologies
Omio Technologies, founded in 2016, is situated in the vibrant city of Nabha in the Patiala District of Punjab, India. The visionary behind this venture is Abhishek Verma, a young and ambitious Jeweller who embarked on a journey to achieve remarkable goals and milestones. Today, Omio Technologies stands tall as one of India's foremost companies in the Manufacturing & Trading of Gold Testing Machines.
Abhishek Verma, C.E.O. Of Omio Technologies Created a Big Innovation for Jewellery sector by Helping them in Finding the Purity of Gold Jewellery in a Low Investment. The machine which is developed is a Specialized Gold Testing machine which finds out the Purity of Gold Jewellery with the Help of Archimedes Principle.