TOGAF Demystified: A Holistic Understanding of Enterprise Architecture Frameworks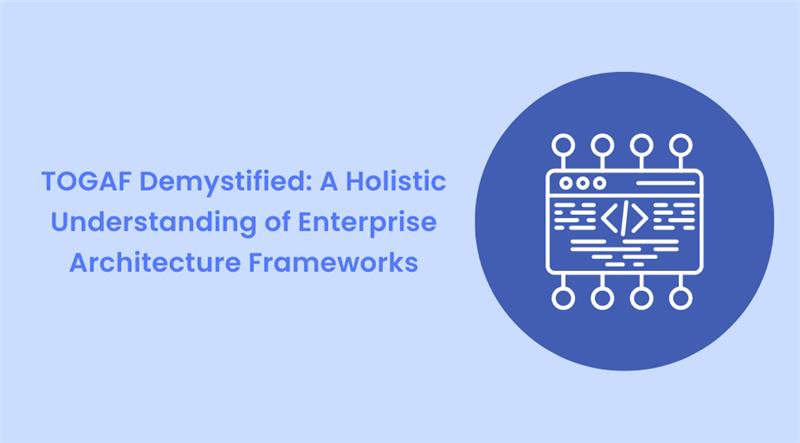 The Open Group Architecture Framework, also known as TOGAF, is a framework designed for Enterprise Architecture. It is designed by The Open Group, a global association that develops frameworks, provides certification and a range of free guides for Enterprise Architecture. Further, read this blog to learn What is TOGAF and how it helps organisations design and manage their structure, technology and processes to achieve business goals and objectives. You will also understand the importance of TOGAF Certification in an organisation's environment and how it can help build your career.
Table of content
Understanding TOGAF
Benefits of TOGAF
Benefits of TOGAF Certification
Conclusion
Understanding TOGAF
Before we begin to understand TOGAF, let us first understand Enterprise Architecture, which will help to get a better grasp of TOGAF.
Enterprise Architecture can be defined as the process of designing and planning an organisation's overall structure in terms of business processes, operations, data architecture and various kinds of infrastructure within the organisation. Enterprise Architecture within an organisation helps achieve business goals and objectives and helps them align their strategies with their technology infrastructure.
Now that we know about Enterprise Architecture let us get a clear picture about TOGAF. It is a framework designed to keep Enterprise Architecture in focus. Introduced in 1995 by The Open Group, TOGAF has been updated since and has been adapted based on the enterprise requirements to date. Currently, the framework is being utilised by more than 60% of Fortune 500 companies. The latest edition of TOGAF was released in 2022, called TOGAF Standard,10th Edition.
The main reason for the widespread popularity of TOGAF among organisations is its design. TOGAF framework, by design, is modular, scalable and configurable, which makes it suitable for organisations to adapt it based on their requirements. TOGAF is provided with extended guidance that includes business, data, technology, and application architecture, which can be customised over time based on business or industry requirements.
Benefits of TOGAF
TOGAF is the industry standard in Enterprise Architecture and provides an effective framework for organisations to function efficiently. Here are some of its benefits:
Uniformity and standardisation: TOGAF provides a standard approach to recording and organising architectural data. This results in overall consistency in documentation and verification of the data by the stakeholders.
Efficient communication: TOGAF provides a standard and organised approach to storing data, resulting in effective communication among the stakeholders. It enables different teams within an organisation to have a foundational understanding of the architectural data, which results in effective decision-making.
Efficient management: TOGAF provides effective and efficient management based on the structured arrangement of the data in terms of storing, accessing and categorising the data. It provides a clear picture of the outcome of the decision made by the management, which results in improved decision-making and reduced risks associated with upcoming architectural changes.
Adaptive framework: TOGAF is a framework that can be customised based on the business requirement or changed to a different business practice altogether. This benefits the organisation in maintaining consistency irrespective of the business scale.
Benefits of TOGAF certification
As TOGAF is the industry standard framework, certified professionals benefit greatly in career progression. Here are a few benefits of TOGAF certification:
As many organisations adapt to Enterprise Architecture, there is a high demand for Enterprise Architects who understand the importance of technology and how it can help transform an organisation.
Since organisations worldwide utilise TOGAF, TOGAF certification allows professionals to work around the world.
The Open Group provides inexpensive TOGAF certification.
TOGAF certification enhances your professional resume and reflects positively upon your skills and awareness of industry standards.
TOGAF certification enables professionals to earn higher than their peers without TOGAF certification.
Conclusion
In this blog, we understood how TOGAF is helping organisations achieve their goals more effectively and transforming business practice in a highly competitive business environment. Integration of this framework enables the smooth functioning of the organisation's practices and helps maintain consistency over a long period. As TOGAF is the industry standard on a global scale, making a career in this domain will reward substantially.