Natural Readers Alternative For Converting Text-to-Speech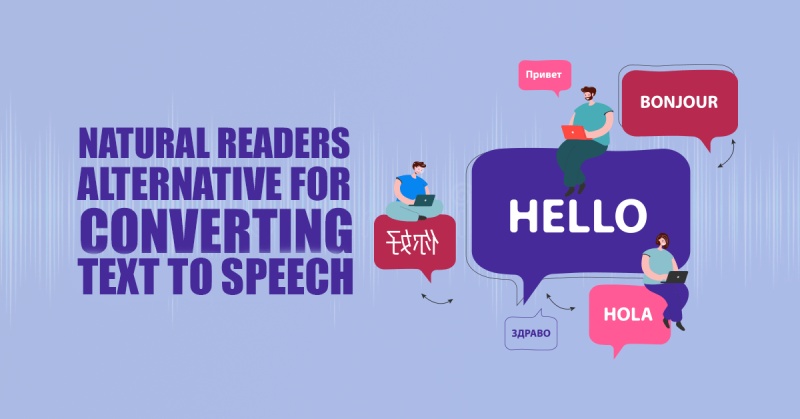 Discuss five alternatives to Natural Readers Text-to-Speech, examining their unique capabilities, ease of use, and compatibility across different platforms.
In the modern world, we live in today, accessibility and convenience hold great significance. With the ever-increasing demand for audio content, there is a growing necessity for tools that can effortlessly transform text to voice conversion. Although Natural Readers is popular, exploring alternative options offering enhanced features and a better user experience is crucial.
This article explores five alternatives to Natural Readers, examining their unique capabilities, ease of use, and compatibility across different platforms. If you'd like a more comprehensive selection of text to speech voices or customization options, please continue reading to find the perfect alternative that meets your specific requirements for converting text-to-speech.
Features of Natural Readers
NaturalReader is an intuitive online software that boasts an assortment of captivating functionalities. With its extensive collection of lifelike text-to-speech voices and compatibility with multiple languages, it caters to the needs of various users by promoting accessibility.
This online text to speech tool effortlessly converts text from numerous sources like websites and documents while also providing the ability to convert text from images using Optical Character Recognition (OCR). Furthermore, NaturalReader offers versatility by functioning seamlessly across various platforms, including Windows, macOS, and online web access, thereby granting users the utmost convenience.
Limitations of Natural Readers
Limited voice options in the free version.
Voice quality may only sometimes sound entirely natural.
Advanced features are restricted to premium versions, which can be costly.
Limited integration options with third-party applications.
Some users may find the interface less intuitive than other text to speech online software.
Best Alternatives to Natural Reader TTS
Natural Reader has gained significant popularity for its TTS capabilities, thanks to its realistic AI voices and ability to work with different formats, webpages, and documents. Nevertheless, users who desire more features, flexible pricing options, and broader compatibility can explore some exceptional alternatives to Natural Reader that cater to their unique requirements.
1: On4t Text-To-Speech
https://on4t.com/text-to-speech presents a robust and versatile Text-to-audio solution that supports 140+ languages. With its 500+ Text-To-Speech voices featuring diverse genders and accents, it caters to a broad range of users. The software seamlessly integrates into various applications through its user-friendly API, making it suitable for different purposes. Furthermore, it offers offline functionality, guaranteeing accessibility even when no internet connection is available. While the voice quality may not rival that of premium providers, the On4t text-to-speech online tool remains an economical and trustworthy option for individuals seeking offline capabilities.
2: Read Aloud
If you seek an accessible and straightforward solution for converting text to audio conversion, consider using the Read Aloud Chrome extension. It offers an excellent alternative to Natural Reader's online reading feature by enabling users to have webpages, articles, and documents effortlessly read out loud. With Read Aloud, you can easily adjust the reading speed, choose from various voices, and even convert written text into MP3 files. This versatile extension is compatible with Google Docs as well as other websites, making it an invaluable tool for e-learning purposes and enhancing your experience on social media platforms among other uses.
3: Speechify
Speechify is a tough competitor to Natural Reader, offering various features like text conversion, natural ai voices, and compatibility with various formats like MP3 files and PDF documents. Whether you use Mac, Windows, iOS, or Android devices, Speechify is easily accessible on both mobile and desktop platforms. Additionally, this Ai voice generator provides a convenient Chrome extension for quick reading of web pages and documents. With its user-friendly interface and top-notch voices, Speechify is the preferred choice for those in search of a smooth text-to-voice experience.
4: Balabolka
Balabolka is a compelling option for users in search of a free and feature-rich alternative to Natural Reader. This Ai voice generator for Windows provides a variety of voices and supports multiple formats, such as HTML, PDF, and DOC files. With Balabolka, users can customize pronunciation, adjust reading speed, and save audio files in various formats. It's extensive features and complimentary version make it an excellent choice for personal use and educational needs.
5: Google Text-to-Speech
Google Text-to-Speech is a cutting-edge TTS platform that provides top-notch voices with remarkable authenticity. With constant enhancements propelled by AI progress, it caters to diverse languages, guaranteeing worldwide accessibility. Its cloud-centric structure facilitates seamless integration with numerous Google offerings. Although real-time conversions necessitate an internet connection, Google TTS remains a budget-friendly choice with an extensive selection of free standard voices, making it ideal for various applications.
Final Words
While Natural Reader remains widely used for text-to-voice conversion, these alternative options offer exclusive features, adaptability to different formats, and diverse pricing options to cater to a wide range of needs. Whether you seek premium voices, compatibility with specific file types, or a reliable and cost-free choice, the alternatives above have everything covered. Take the opportunity to explore these substitutes and find the perfect online text-to-speech solution that suits your specific requirements while elevating your reading experience.