Asian Duathlon Championships set on November 26 at the New Clark City in Tarlac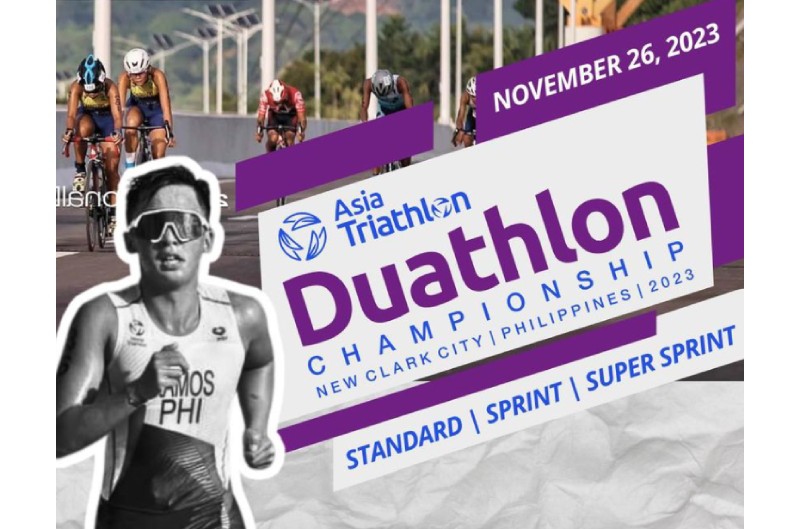 The Asian Duathlon Championships will be held on November 26 at the New Clark City in Capas, Tarlac, by TRIATHLON Philippines, or TriPhil, which has elected Ramon Marchan as its new president.
During yesterday's Philippine Sportswriters Association Forum held in the PSC conference room of the Rizal Memorial Sports Complex, TriPhil Secretary General Sarita Zafra stated, "We have already around 10 elite athletes committed to compete in the Asian Duathlon championships and more are being confirmed."
"This is a big challenge for us, but we hope that we can conduct it professionally as in the past under our former president Tom Carrasco," stated Marchan, 63, the secretary general of the organization formerly known as the Triathlon Association of the Philippines.
Gold medallist John "Rambo" Chicano from the 2019 Southeast Asian Games, John Patrick Ciron in the men's division, and promising Erika Burgos in the women's division are among those competing in the 10-kilometer run, 40-kilometer bike, and 5-kilometer run events.
Leading triathletes Kim Mangrobang and Fernando Casares will not be competing because they are concentrating on the Asian Duathlon Championship, which will take place in tandem with the local meet.
According to Marchan, they will be able to assess the country's potential competitors for the Thailand Southeast Asian Games in 2025.
Marchan said he is eager to improve and grow the association's grassroots and talent identification programs, even as he continues to oversee national and international competitions.
"The nationwide campaign will be year-round and cover Luzon, the Visayas, and Mindanaao, which includes the National Age Group Triathlon Championships in Calbayog, Samar, and National Age Group Duathlon Championships in Puerto Princesa, Palawan," he said.
After Carrasco's election in August of last year, Marchan stated that replacing him "will be a hard act to follow and we keep soliciting his wisdom and advice. He continues to be part of our association as the chairman of our ways and means committee."
Marchand noted that Carrasco's predecessor essentially runs the show at the continental level and that Carrasco decided to concentrate his efforts as vice president of Asia Triathlon.
During the event, Zafra unveiled the association's new logo and explained that the rebranding was in line with global developments. As of October 2020, the International Triathlon Union is now known as World Triathlon.