Australians mark Remembrance Day and 80th anniversary of War Memorial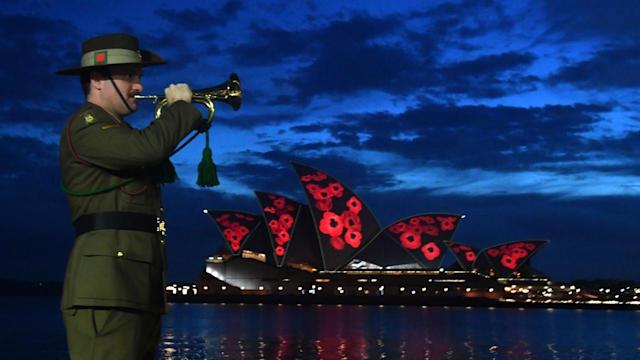 Australians have halted in cities and towns across the country to mark Remembrance Day, stopping briefly silence at 11:00 am on what is likewise the 80th anniversary of the opening of the War Memorial in Canberra.
Because of COVID-19 limitations, this is the second year in a row that enormous scale events have not been possible in Canberra and at different locations.
All things considered, individuals were urged to remember the event at their homes in smaller groups, on what is the 103rd anniversary of Armistice, and the finish of World War I.
The Australian War Memorial is likewise denoting its 80th year obscured from view, as development forges ahead of the $500 million expansion of the historic building.
Because of the construction, both the event and the Stone of Remembrance — a 9-ton slab of rock — have been migrated to a position somewhere else in the memorial grounds.
At sunrise, the Sydney Opera House was illuminated with pictures of red poppies, out of appreciation for the 60,000 Australians who died in WWI.
Later that morning, overcast skies added to the grave mindset at the Martin Place Cenotaph, where clusters of large red paper poppies embellished the footpath.
Above 200 individuals accumulated for the 11:00 am service, which was directed in a socially-distanced style.
Air Vice-Marshal Vincent Iervasi delivered the reflection, recognizing the Royal Australian Air Force's centenary.
"The very Australian trait to do anything for one's mates remains a strong part of the Australian Defence Force spirit and character," he told the crowd.
The sails of the Sydney Opera House will be enlightened once again this evening.
80 years of honoring 'best and bravest'
On November 11, 1941, the Australian War Memorial was divulged by then Governor-General Lord Gowrie.
The country had as of now gone into another European struggle close by its Allied partners and was halted to honor the people who fell during the Great War of 1914-1918.
"Australia gave unsparingly, ungrudgingly, the best and the bravest of our young manhood, and it is in their honor that this memorial has been erected," Lord Gowrie said on the day.
More than 5,000 individuals went to the opening to hear his words, including Prime Minister John Curtin and 18 recipients of the Victoria Cross.
This year, the commemoration has been covered at 500 participants, as the country perseveres through a threat of an alternate nature, with COVID-19 outbreaks being reported.
The ACT has the highest rate of vaccination against COVID-19 in the country, at more than 95% of its qualified population, yet limitations on bigger gatherings are not because of lift until tomorrow.
Australian War Memorial director Matt Anderson honored those Australians who had lost their lives in conflict.
"We do not gather today to glorify war," Mr. Anderson said.
"Indeed, at its opening 80 years ago today, the then Governor-General Lord Gowrie VC said that when people leave this place they must utter 'never again, never again.'"
Australians mark the day in small gatherings
Around 150 individuals likewise assembled at the Hobart Cenotaph by the River Derwent to mark a minute's silence.
Alec Young, a former Defense Force Major, said it was important to remember the deaths caused during war, as well as those that came to a while later.
"It's a significant day and should be a significant day for the nation and those in the free world," he said.
"Because remember, for as tragic as the loss of life is in war, the equal number of deaths occurs after that war, within 10 years of the war.
"So in effect, it's a massive loss of life but it's the value of freedom we give to it and above all, it's the freedom of people like you and me to be able to say what we want and mix with people as we want because we are free."
Somewhere else, swarm sizes changed relying upon COVID-19 limitations in every city.
In Perth and Darwin, where limitations are more relaxed, hundreds assembled to mark the event.
In Darwin, the outgoing Commander of Darwin-based First Brigade Brigadier Ash Collingburn recognized the significance of military families in the work Defense personnel do at home and as part of overseas activities.
"We cannot do what we do without the support of our loved ones," he said.
"Families are an incredible input to defence capability. For all of those defence families, I thank you for the support you give those of us in uniform."
Further south, there were concerns Alice Springs' service probably won't go on because of recent heavy rain, however from sunrise, there was a picture-perfect blue sky to mark the day.
Many individuals accumulated for the service at Alice Spring's Anzac Hill.
"I couldn't have asked for better weather, I was very, very worried when I went to bed last night," RSL sub-branch president Chris Clark said.
"Everything running through your head, all the worst-case scenarios. But luckily once the service actually got underway, everything went well and came together."