Award-winning actor, Matthew Sauvé aims to give back to the industry he loves by teaching kids acting workshops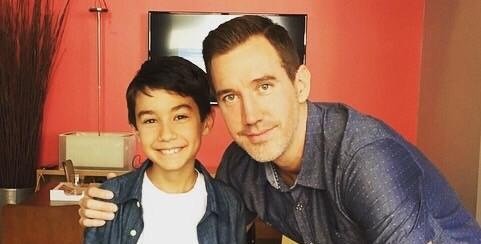 Many young people want to be actors, but they don't have the resources to learn the craft or work professionally. Luckily, award-winning actor Matthew Sauvé is dedicated to helping children harness their true potential and master their passion.
Sauvé is passionate about teaching children and building their confidence. Part of the reason is his childhood. "My household growing up wasn't supportive of the arts. I didn't feel like going into the field was an option. I want to help aspiring actors find that passion for themselves and have the confidence to follow their dreams." said Matthew. Sauvé followed his older brother's footsteps and joined the police department, where he worked for 12 years. However, in 2014, he could no longer resist the urge to follow his passion for acting. "I had to follow my heart," Sauvé said. "There was a quiet voice inside of me that wouldn't go away; I simply couldn't ignore it anymore."
Now, Matthew wants to make sure children get the chance to follow their dreams, and he wants to do his part to prepare them for the journey. He's been teaching kids workshops at Kamera Academy for four years, which introduces children to the exciting field of television and film acting. They provide the opportunity for kids and parents who are curious about acting to build their self-confidence in a conducive environment.
"I teach kids from ages five to 17," Sauvé said. "I want to do my best to help all children reach their full potential, whether they end up becoming professional actors or not."
Kamera Academy is the child talent division of Sutherland Models, which works with the show Canada's Next Top Model. They have been active for over 30 years in the industry and are helping children succeed. Matthew explained, "I absolutely love seeing the kids I teach move on to work in major Hollywood motion pictures and television. It warms my heart. It's one of the most rewarding things I've experienced."
Matthew Sauvé is an international multi-award-winning actor from Toronto, Canada. He is best known for his lead role as 'Travis' in the dramatic short film "One Night Stand." The film, for which Matthew is also the producer, received critical acclaim for winning over 40 'Best Actor' awards worldwide. In Canada, "One Night Stand" won 2nd place in the 2019 CTV 'Best in Shorts' national competition. Highlights include winning 'Best Lead Actor' at the West Europe International Film Festival in Brussels, nominated in the same category as famous Hollywood actor Vincent D'Onofrio for the second time.
In November of 2019, while attending the East Europe International Film Festival, Matthew was invited to the Canadian Embassy in Warsaw, Poland. He met with the Canadian Ambassador to Poland, Madam Ambassador Scanlon. Her Excellency also attended his film screening on the closing day of the festival. On March 3, 2020, Matthew was personally invited to and attended The 6th Annual Morton E. Ruderman Award in Inclusion Ceremony honoring Peter and Bobby Farrelly (The Farrelly Brothers) at The Waldorf Astoria Hotel in Beverly Hills, CA. Matthew has been featured in magazines and press worldwide, most notably in Forbes, where he was recognized for his acting technique and craft.