Block-Stars Pvt. Ltd. says tokenize for better business agility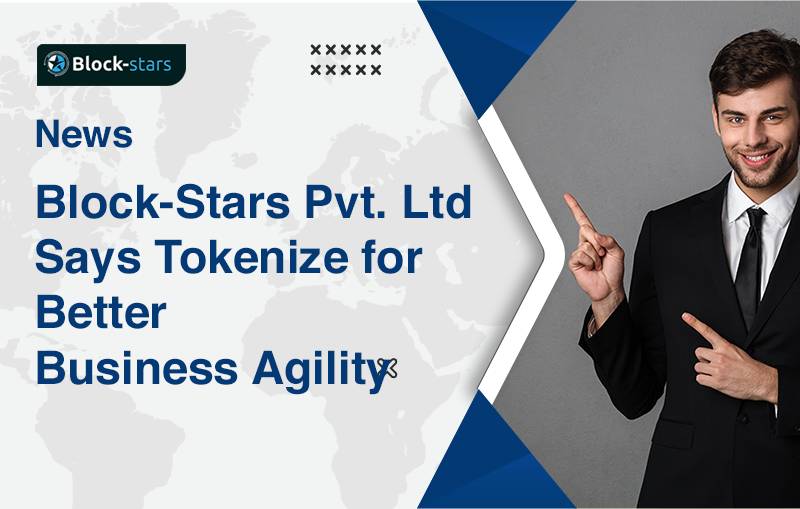 Tokenization is the talk of the town these day. Many business tycoons are are considering to tokenize their business models. But what is the use of tokenization? How can it help a business?
Let us understand how tokenization aids businesses with a competitive edge. We spoke to the CEO of Block-Stars Pvt Ltd, a leading crypto token development service provider, Mr. Nathun Kwon. Let's hear what he has to say:
What exactly is tokenization?
CEO- Tokenization, to put it simply, is the process of replacing sensitive data with dummy values that are the same length and format as the original data. It is an advanced technique for turning sensitive data into anonymous "tokens" of data. These tokens can be used by businesses to protect the sensitive nature of the data.. It is now simpler for companies and people to send and receive sensitive data while maintaining its security thanks to this procedure.
Is tokenization of businesses really on a rise?
CEO-Crypto assets are being used by an unprecedented number of enterprises globally for a range of functions, including transactional and operational procedures. Cryptocurrency can present both opportunities and difficulties for your business. Businesses considering incorporating cryptocurrency into their operations should be very clear about their motivations. A corporation must plan carefully and prepare in advance if it wants to participate in the cryptocurrency market.
Token contracts and smart contracts are the foundations on which blockchain tokens are built, making them readily available to interested parties. Transferring information or assets from one user's wallet to another is just one example of the intricacies that token contracts describe that require the validation of business rules. Businesses can really reap these benefits and yes, many are already doing it. So to answer your question, yes tokenization of businesses are truly on a high.
Why tokenization of businesses can be advantageous?
CEO- Tokenization allows you to create incentives for support and promote the use of your business model. To increase reliability and security, it allows for the division of functional elements of the business between more entities that are not permitted to be used. Tokenization of assets has the following advantages: liquidity, efficiency, and transparency.
In what way can a company adopt crypto into their business operations?
CEO- You need to carefully consider the best path for your company. You should consider the potential drawbacks, costs and risks as well as system requirements. There are two ways to it- either have crypto in your balance sheet Or just adopt crypto-enabled payment options.
How can one decide if they should tokenize their business model?
CEO- One must analyze if their business model is established successfully without Blockchain or not? They must ask themselves the following questions-
Can their value proposition be tokenized and what could be the impact?
Is tokenization of your business model a good idea in terms of market adoption and market size?
Are there any privacy requirements?
A Business Model that is tokenizable doesn't necessarily mean it is easy to use. Tokenization serves two purposes: to provide liquidity on the secondary market and access a global marketplace . Tokenization is intended to provide liquidity on the secondary market for its stakeholders and strong access to a global market.
About Block-Stars
Block-Stars Pvt. Ltd. offers outstanding Blockchain, NFT, DeFi, and cryptocurrency Development Services & Solutions, so your business stays free from intermediaries and middlemen. With the help of Blockchain technology, Block-Stars enables complete automation, high security, interoperability & 100% transparency in the business of clients across the globe. The Block-Stars team specializes in developing latest blockchain and Crypto trends. They are at the moment looking forward to expanding their business throughout across various part of the world. Their are based at South Korea and have regional offices at USA, Sri Lanka, & India.
We hope this conversation helped you gaining an insight on how tokenization of businesses can help. Want to know more about Block-Stars Pvt Ltd. Head on to their website for more details.
Website – https://blockstarsglobal.com/
Facebook – https://www.facebook.com/BlockStarsglobal/
Instagram – https://www.instagram.com/blockstarsglobal/
LinkedIn – https://www.linkedin.com/company/blockstarsglobal/
Twitter – https://twitter.com/blockstarsglobe