Chandigarh Fashion week hosted by Jonita and Harshdeep Doda – Celebrity Brother sister duo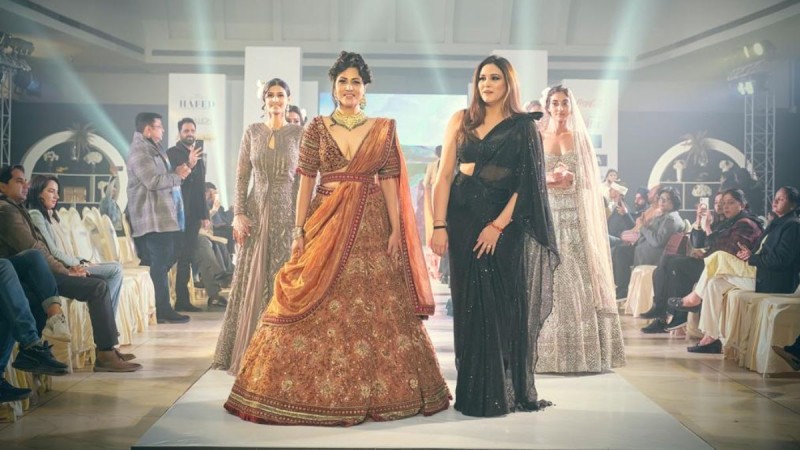 New Delhi (India), January 13: "Chandigarh Fashion Week will be back with its Spring Summer edition this April-May along with a grand exhibition", informed Jonita Doda. In the upcoming editions, We intend to work with the artisans, Khadi Udyog, handicraft, heritage looms & support designers working with sustainable clothing, told the duo. As an actor, Jonita Doda has two films slated to release in 2023, Salmon 3D & Kirayenama.
Chandigarh Fashion Week's fashion Blush showcased designs of prestigious Designers, including Ashfaque Ahmed, Study By Janak SBJ Abhi Singh Couture (FDCI)
Mukesh Dubey
Z By Rehan all Delhi & Mumbai based designers.
The runway was put on fire by the top models as they sashayed down the Ramp. Supermodel Sahib Singh walked as the showstopper for Mukesh Dubey, and Actor-director Jonita Doda walked as the finale showstopper for Study by Janak SBJ. The show was directed by Ketan Bhatia countries one of the top show directors. He conducted a great show with his expertise.
City beautiful Chandigarh hosted its own fashion week this Christmas. Actor, Director & Co-Founder of CFW Chandigarh Fashion Week said that he was born in Chandigarh & I owe so much to this beautiful city & its people that we decided to give back a little that we can in a fashionable way. CFW Chandigarh fashion week will create job opportunities/platforms for local talent. And also provides the designers in the region a luxury platform to showcase their collections. CFW runway to the closet narrow downs the gap between the buyers and designers, where the former can browse/ buy their favourite collection online from the comfort of their mobile phones, informed Jonita Doda. As an actor, Jonita Doda has two films slated to release in 2023, Salmon 3D & Kirayenama.
Chandigarhfashionweek.com Runway To Closet…
A luxury Platform for the Iconic names and the Future of the Fashion, Textile & Jewellery Industry. A Place where the Buyer meets his exclusive seller no matter how Geographically Far they are. CFW Provides the Audience with a Peep into the Fashion Industry for The Coming year and, at the same time, provides a Platform For Design Houses to Showcase Their Pret and Couture collections to Buyers. CFW Celebrates and acknowledges India's vast culture, roots, & diversification through Fashion, Jewellery, Lifestyle, and more… Said Harsh and Jonita, the brother-sister duo.