Christina Daniels Head Educator For Scalpa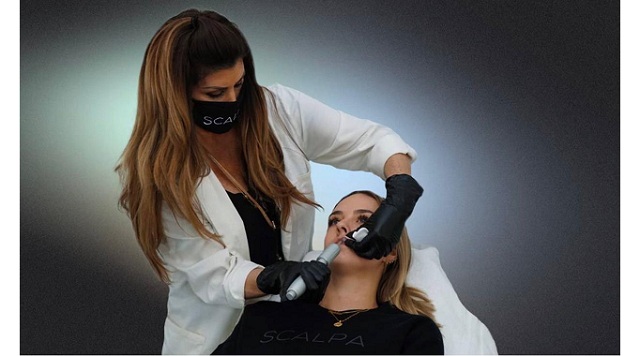 Scalpa is honored to have trained thousands of individuals around the world in the aesthetic industry through new means of learning. Bryce Cleveland, founder, and CEO of Scalpa saw the need for affordable and accessible education as well as long-term support. This is when he realized he could innovate this 50-billion-dollar industry.
Cleveland has done this through in-depth training courses, high-quality products, community outlet groups, ongoing support, and importantly, his Director of Education, Christina Daniels. Christina Daniels was originally a student of Bryce Cleveland's Fibroblast Course before he soon reached out for a collaboration on his next big idea. Neither of them realized how much they'd grow together and continue their efforts in leading the aesthetic industry.
Christina Daniels has been a professional in the health and aesthetic industry for over 30 years, mainly practicing around balancing health and well-being of the body, mind, and spirit including whole body and skincare, diet and nutrition, and homeopathic alternatives to physical and mental health. She is licensed and board-certified in medical aesthetics, holistic health neuro-linguistic programming, spiritual counseling, and clinical hypnotherapy.
Bryce Cleveland originally brought on Christina Daniels to help create the Hyaluron Pen Course, which soon became one of his best sellers. He realized the long-term success they could have together building his company. "The most important thing in business is building your team. I find people who are great at what they do and I can be more of the idea man," says Bryce Cleveland.
Upon signing up for training herself and eventually coming on board with Scalpa, Christina Daniels decided to research Bryce Cleveland and his company. "One of the very first observations I made was the first-hand interaction between the CEO and his students. I mean come on, how often do you see that happen…to be able to directly engage with the CEO of a major company like Scalpa. That, in and of itself, sets Scalpa apart from other online companies," says Daniels.
Christina Daniels role at Scalpa is to oversee the education department, making sure all of the courses that are offered are current, constantly updated, and evolve in sync with available science and technology. She also handles the development of the products that often coincide with the courses. "We are not just about offering aesthetic courses, but we are also a company that strives to help others in building lucrative businesses," says Christina Daniels.
Bryce Cleveland has built his business around creating success for others. "I succeed when they succeed," says Cleveland. Christina Daniels points out how much she appreciates this aspect of the company and why it sets them apart from others. "Everything this man touches turns to gold, and what makes Bryce such an incredible entrepreneur, human being, and business owner is that he sincerely wants to help others achieve what he himself has achieved," she says. "His background story is so humbling and serves as a great motivator for others. He truly is an inspiration to so many."
With over 60 different training courses and more on the horizon, Daniels has made her mark on the aesthetic industry. "I'm really excited to be part of such a progressive and industry-leading company. The Scalpa Academy program will really increase income possibilities for both licensed professionals as well as non-licensed individuals looking to begin a new lucrative career," she says. "There is no other long-distance learning company that offers all that we do with 6 figure plus income possibilities that will increase the value of one's business portfolio."