Evacuation Day 2020: History and Significance of Evacuation Day in Massachusetts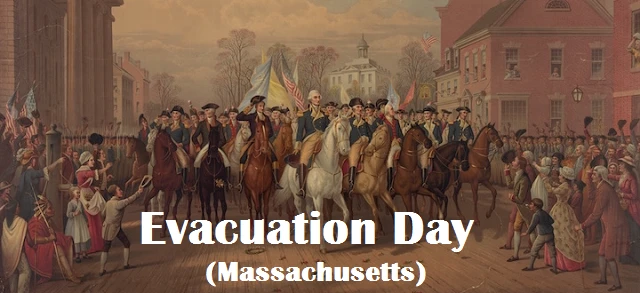 Evacuation Day is a holiday observed on March 17 every year in Suffolk County, Massachusetts (which includes the cities of Boston, Chelsea, and Revere, and the town of Winthrop) and also by the public schools in Somerville, Massachusetts in the United States. It celebrates the date when the British troops evacuated Boston during the American Revolutionary War. Boston is the seat of Suffolk County, where various activities are held each year to remember this event.
The holiday commemorates the evacuation of British forces from the city of Boston following the Siege of Boston, early in the American Revolutionary War. Schools and government offices (including some Massachusetts state government offices located in Suffolk County) are closed. If March 17 falls on a weekend, schools and government offices are closed on the following Monday in observance. It is the same day as Saint Patrick's Day, a coincidence that played a role in the establishment of the holiday.
Evacuation Day History
Evacuation Day in Boston was the first big victory of the American Army against British Troops.
On October 2nd, 1768, the city of Boston was invaded and occupied by 1000 British Soldiers. This occupation lasted for eight years, during which the number of British troops in Boston kept increasing.
Boston citizens were angry, and tensions between both sides escalated. On March 5, 1770, people attacked British soldiers by throwing them clams and other objects, which prompted the British to fire into the crowd, killing five people and injuring others, in what became known as the Boston Massacre.
It was then on March 4, 1776, that General John Thomas, acting under orders from George Washington, led 2,000 soldiers and workers to fortify Dorchester Heights with cannons, surrounding the British troops. At the same time, Americans were besieging Boston. British General William Howe found himself and his fleet surrounded by weaponry, indefensible, and had to choose between attacking or retreating. He chose the latter, wanting to avoid another big battle, and withdrew all of his 11,000 troops from Boston to Nova Scotia, on March 17, 1776.
The 11-month siege of Boston ended when the Continental Army, under the command of George Washington, fortified Dorchester Heights in early March 1776 with cannons captured at Ticonderoga. British General William Howe, whose garrison and navy was threatened by these positions, was forced to decide between attack and retreat. To prevent what could have been a repeat of the Battle of Bunker Hill, Howe decided to retreat, withdrawing from Boston to Nova Scotia on March 17, 1776.
The British evacuation was Washington's first victory of the war. It was also a huge morale boost for the Thirteen Colonies, as the city where the rebellion began was the first to be liberated.
Evacuation Day 2020: Customs, Traditions, and Celebration
Since Evacuation Day also falls on St. Patrick's Day, many people combine the two holidays into one big holiday. However, there are some Boston residents, especially those who like in Suffolk County, who celebrate Evacuation Day as a holiday in its own right. These people may attend re-enactments of the Siege of Boston, visit historically significant sites in the area or participate in essay contests.
Evacuation Day coincides with St Patrick's Day, also on March 17. This gives a reason to celebrate especially as many residents in Suffolk County are of Irish descent. Moreover, the Irish Catholics are remembered on this day for their efforts in helping General George Washington defeat the British soldiers on March 17, 1776. Activities on the day may include Evacuation Day re-enactments, essay contests, and visits to historically significant sites.
Evacuation Day is a public holiday in Suffolk County, Massachusetts, so many public offices and educational institutions are closed. Certain holidays in Massachusetts are subject to laws that restrict the type of work that may be performed as well as the kind of business and commercial activities that may remain open.
The day is commemorated with an annual parade and a politician's breakfast. As Evacuation Day falls on the same day as St. Patrick's Day and South Boston have a high Irish American population, the parade is known as St. Patrick's and Evacuation Day Parade.
Some people participate in reenactments of the siege at Dorchester Heights, dressing in traditional American Revolutionary War uniforms. Others choose to pay visits to historical sites.