From Campus to Corner Office: Taxila Business School Stars Shine at PwC!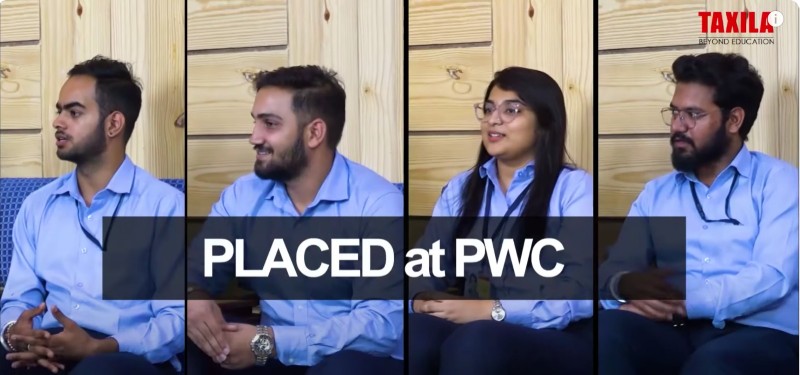 Taxila Business School Jaipur — Taxila Business School is basking in the glory of a significant milestone as its Post Graduate Diploma in Management (PGDM) students from the Batch of 2024 secure prestigious positions at PricewaterhouseCoopers (PwC), one of the illustrious Big Four accounting firms.
A Triumph of Talent and Training
In a testament to the institution's commitment to excellence, four exceptional individuals have emerged as trailblazers in the corporate world. Mohit Sachdeva, Kamya Shethi, Jai Prakash, and Amit Kumar, representing the Batch 2022-2024, have successfully navigated their way from campus to the corner office.
These accomplished graduates attribute their success not only to their personal dedication but also to the exceptional training provided by Taxila Business School. Their journeys have been marked by invaluable experiences, keen insights, and interview strategies that served as stepping stones to their professional triumphs.
PwC: A Beacon of Excellence
PricewaterhouseCoopers International Limited, commonly known as PwC, is a British multinational professional services conglomerate. With its footprint spanning the globe, PwC stands as the second-largest professional services network worldwide and is revered as one of the Big Four alongside Deloitte, EY, and KPMG.
A Beacon of Excellence in Business Education
Situated in the bustling commercial city of Jaipur, Taxila Business School, approved by the All India Council for Technical Education (AICTE) since its inception in 2003, has consistently set new benchmarks in business education. Its dynamic curriculum, delivered by a distinguished faculty, prepares students to navigate the complexities of the modern business landscape.
A Network of Success
Taxila Business School boasts a vast network of over 5,000 accomplished alumni who continue to contribute significantly to the institution's growth. Their involvement ranges from guest lectures and collaboration with student clubs to mentorship and job placements.
A Testament to Core Values
The success of Taxila Business School is deeply rooted in its unwavering commitment to core values. This is evident in the rigorous training programs, cutting-edge research initiatives, and dedicated service efforts that define the institution.
Unveiling the Keys to Success
Watch the full video to glean inspiration and uncover the keys to unlocking your own success story! Don't forget to like, comment, and share this video with anyone who's poised to conquer their career goals!
For more information about Taxila Business School and its programs, visit www.taxila.in.