Health
Get to Know Nose Expert Dr. Omidi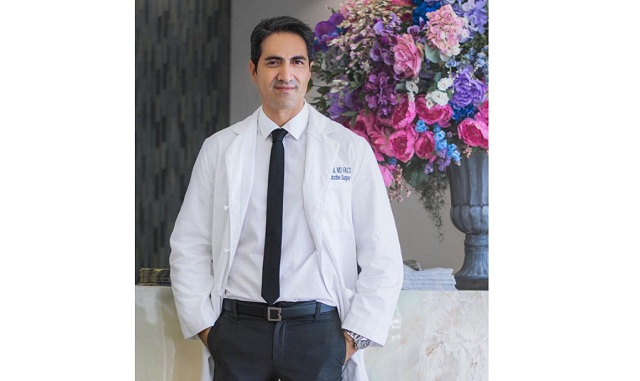 My greatest achievement:
Every surgeon takes pride in performing a difficult procedure to perfection, safely, efficiently while making it look easy. I too share this feeling of contention on a day-to-day basis with every cosmetic procedure I perform. Besides this, I can say there is one other achievement that I take greater pride in. Approximately 10 years ago, I founded an organization called No More Poverty. This organization has increased awareness leading to funded hundreds of charity organizations and executed philanthropic mission trips all over the world. While many charities only focused on children with cleft lips and palates. We assembled a group of surgeons and led them to missions in the Philippines, Colombia, Vietnam, and Mexico to expand care to children and adults with head and neck tumors, breast cancer, burns, cleft lips/palates, and craniofacial anomalies. We named this organization Operations for Hope. There, our team of surgeons, doctors, and other medical professionals provide medical care to the residents and work with local doctors to advance their own training and expertise. In this way, our efforts would create a longer-lasting impact that continues to benefit the country long after we have packed up and returned home. To this date, we performed over 1500 life-saving operations.
The future of my field is:
The future of cosmetic surgery has two goals which I hope will be my legacy. The first is to evolve cosmetic surgery into a field where it will be minimally invasive. I would like to see procedures being performed without scar formation. A field where risk is eliminated and a patient does not have to fear harm when desiring an improvement in their appearance.
Procedures can be done with little to no downtime taking away fear and hesitance. This future is not science fiction and is not too far away.
Technology using radiofrequency and laser energy are making it possible to alter changes inside the body or alter skin without having to cut through it. Technology evolves is an exponential rate and we are on the upcoming curve.
Just as important if not more important, cosmetic surgery should become preventative instead of a purely surgical endeavor. Although there is nothing wrong with the aging process, we will be able to counteract or remove harmful toxins or energy that cause our body to age poorly. This will allow us to age better and minimize harm to not only our skin and tissues but to our vital organs as well. This includes counteracting free radicals, UV energy, and toxins that harm our bodies.
The biggest misconception about my field is:
One of the greatest misconceptions about plastic surgery is the cliché of superficiality and vanity.
Of course, there are more important things such as family, health, education, and depth of thought. However, one must not discount the importance of confidence, self-image, and a feeling of sexiness. Feeling good about yourself drives you farther with more drive allowing you to achieve more. It does not mean that everyone needs to be a supermodel. It just means that taking improving something that is bothering you and having a little more self-confidence can make all the difference in someone's level of energy and feeling of contention. I remember an elderly, heavyset African American woman who seemed somewhat tired came to me complaining about her nares being too wide. In the grand scheme of things, it did not seem like a big issue to anyone else looking at her. After a very short office procedure achieving what the patient asked for, she thanked me and left. About 6 months later when I saw her, I was amazed to see this same lady with new clothes and hairdo radiating a ton of energy and joy. She told me she felt so good about herself after the procedure that she started eating better, taking care of herself better and it was as if we had sprayed color into her world. There was no better example than her to put that cliché to rest.
My most requested procedures are:
Rhinoplasty, tummy tucks and mommy makeovers.
What surgical advancements are you most excited about?
There are many exciting innovations in our field which makes never makes it mundane. For example, we can stimulate muscle formation and fat loss through magnetic energy fields. The device does not create heat and does not need to meet the patient. This device has applications for cosmetic uses as well as for the treatment of patients with muscle degeneration, erectile dysfunction, and de-conditioning after trauma. I am also very excited about our ability to transplant a face and our continued improvement in the techniques and results. It seems like the sky is the limit in plastic surgery.
What are you best known for?
I am generally known for being down-to-earth and easy to talk to. Most of my patients and staff call me Dr. Michael. Surgically speaking I am known for my nose jobs and tummy tucks. The noses appear natural and beautiful. The tummy tucks look like a beach body tummy with a very natural appearing belly button and a contoured abdomen.
What I love most about my profession is:
I love spending time with my patients on a few different levels. I meet many patients with diverse backgrounds and professions. I love to just hear about their lives and what they do and get the details – whether it is about being underwater welders or having 5 kids at the age of 30 or coming from Cuba and hearing about their journey from there. Celebrating in their joy after they have attained their results is another high that never goes away. Spending a day in surgery is like Zen being away from the outside world is a pleasure that is hard to describe. Lastly, when my team and I change gears and go down to the Philippines or Vietnam to treat children with malformations, tumors, or other disabilities, I get a deep sense of fulfillment in my work, which is another great part of what I get to do every single day.
What sets my practice apart?
In our practice, we do not utilize a cookie-cutter approach to our procedures. Unlike some practices, we do not just offer our patients a tummy tuck and call it a day. Instead, we assess the whole abdomen, taking care to work with the patient to determine what the best approach is to ensure that their result is gorgeous and naturally blends with the rest of their body. I often combine multiple procedures together to give the patient a "whole-body makeover." In some cases, we will do a tummy tuck, liposuction, radiofrequency skin tightening, pubic lift, and fat transfer to the patient's buttocks. In doing so, this allows all areas of the patient's body to remain in harmony together giving the patient a more transformative experience.
What new services are you excited to offer?
In surgery, I have designed the traditional breast lift into something that I call the "Mannequin Lift." This type of breast lift provides a lot of support and fullness without any tissue hanging below the crease. Patients love this change because they no longer must wear a bra, as the breasts hold themselves aloft and retain their beautiful form more so than they do in a standard lift.
I am also performing a procedure where I combine nano-fat, PRP, CO2 laser, mesotherapy, and radiofrequency energy to improve a patient's skin health. This procedure tightens the patient's skin and replaces volume, smoothing the texture of the skin and melting unwanted jowls. The procedure is low-impact and can induce improved healing in a one-hour lunchtime setting with very little downtime.
We are also offering Renuvion skin tightening which uses energy called J-plasma or helium. We are also offering Morpheus and Bodytite which uses a probe to tighten the skin without surgery.