'GO BEYOND' Documentary Film by h.c. Dr. Shreyasee Konar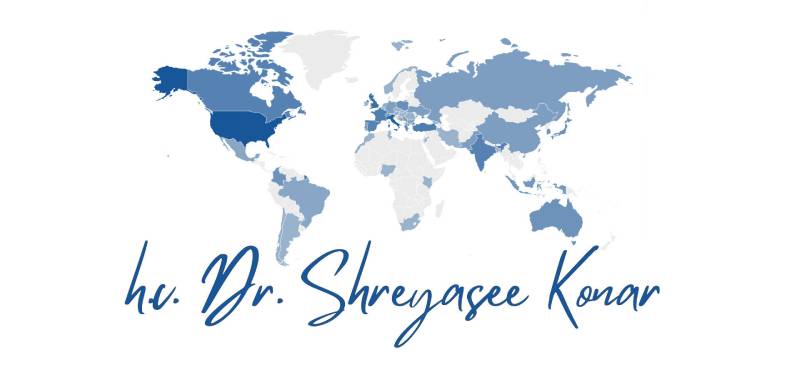 An Honorary Doctorate Degree Holder in Global Influence, a Certified Global Woman and Therapeutic Art Life Coach – h.c. Dr. Shreyasee Konar, is a Global Award-Winning Artist, CEO, Creative Entrepreneur & Thought Leader. She has made exemplary contributions in the fields of Art, Design, Business & Women Empowerment. Her venture – Creación uplifts Artists, Entrepreneurs & Initiatives around the Globe by providing Diverse, Multicultural & Accessible platforms. Creative Visualization, Branding and Leadership are her core strengths, impacting several lives around the Globe. She effortlessly juggles multiple roles from an Abstract Artist to a Global Leader.
After 29 International Awards across 11 countries, the word 'Influence' for her defines a Voice. A voice that is so important to have in today's volatile society, a voice that represents, reflects and connects communities Globally incorporating the arenas of Art, Design and Business. She is grateful to the various international publications that have covered by success moments from time-to-time.
Global influence is the primary essence of her unique professional journey. Her ideas and initiatives are always about redefining differences and breaking barriers. Pursuing this passion has helped her feel more authentic and stay honest with her soul.
The first step was the production of her indie short-film: Pipe Dream – 3D Animated Short Film. Depicting a story of a young girl who visits planet Earth to save her home – planet 'Kneon'. The film was 1 minute long, no dialogues, no references, only symbolism. Within 2 months of its release, the film was a semi-finalist at Côte d'Azur Webfest in CANNES! This victory reassured her perspective that 'Creativity with Cause makes Change'. Since that day, she consistently pushed her limits as a professional and utilized her skills to spread a bigger message. The film received prestigious screenings across India, United Kingdom, United States of America, France, Amsterdam, Netherlands, Turkey, Pakistan, Japan, Italy, Australia, Germany and Canada.
This paved the foundation for her critically acclaimed digital painting series – 'HOPE', depicting a satirical take on how women in developing nations deal with difficult situations. Three emotions were depicted through the visuals – Hope, Sorrow and Denial. Several individuals irrespective of geography, religion, gender and age found it extremely relatable and prolific.
Soon began a movement – 4 successful seasons of Creación Exhibition. To break down its etymology, Creación in Spanish simply means 'Creation'. Creación Exhibition has uplifted Artists, Entrepreneurs and Initiatives across India, Democratic Republic of Congo, Egypt, Sri Lanka, United Kingdom, Russia, United States of America, Canada, Columbia and Australia within 10 months by providing a Diverse, Multicultural and Accessible platform to showcase their creativity and receive recognition. Creative mediums like branding, singing, poetry, traditional art, digital art, mandala art, therapeutic art, spiritual practices, three dimensional renders, photography and creative writing were celebrated, breaking all barriers.
Her current project is a Documentary Film named 'GO BEYOND'- Creativity connecting Regions and Religions. A culmination and celebration of unique stories, depicting the similar aspirations and struggles that we all have in our road to success. How deep down, we are all the same. Releasing on 1st June 2022.
Google Verified Profile – https://g.co/kgs/FbJiYU
Official Website – https://www.shreyaseekonar.com