Google Doodle Celebrates American Writer Zitkala-Sa's 145th Birthday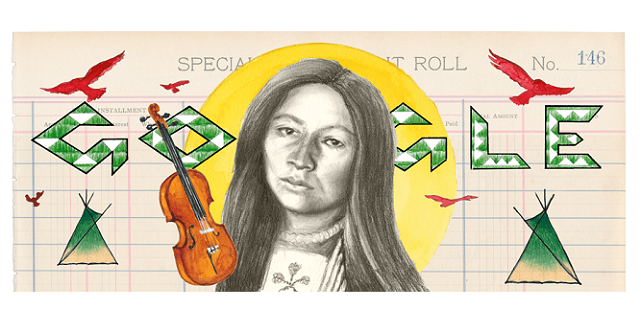 Google Doodle celebrates the 145th birthday of Zitkala-Sa (Lakota/Lakȟótiyapi for Red Bird, referring to the cardinal)—also known as Gertrude Simmons Bonnin—a member of the Yankton Sioux Tribe of South Dakota (Ihanktonwan Dakota Oyate or "People of the End Village")—on February 22, 2021.
Who was Zitkala-Sa?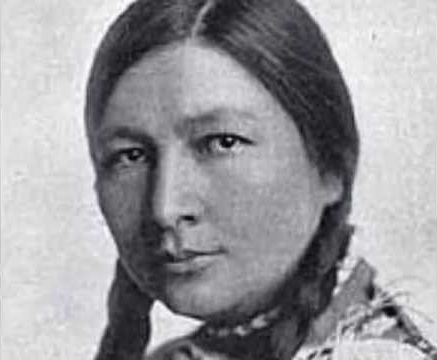 Zitkála-Šá was born on February 22, 1876, on the Yankton Indian Reservation in South Dakota. She was a Yankton Dakota writer, editor, translator, musician, educator, and political activist.
In 1884, when Zitkala-Ša was eight years of age, missionaries came to the Yankton Reservation. They enrolled a few of the Yankton children, including Zitkala-Šá. She went to the school for three years until 1887. She later wrote about this period in her work, The School Days of an Indian Girl.
In 1887, Zitkála-Šá got back to the Yankton Reservation to live with her mom. She went through three years there. She was dismayed to understand that, while she actually ached for the native Yankton traditions, she no longer completely belonged to them. Likewise, she thought that numerous on the reservation were adjusting to the predominant white culture.
In 1891, wanting more education, Zitkála-Šá decided at age 15 to get back to the White's Indiana Manual Labor Institute. She intended to acquire through her education than becoming a housekeeper, as the school anticipated girls would ultimately do. She studied piano and violin and began to teach music at White's after the teacher resigned.
In June 1895, when Zitkála-Šá was awarded her diploma, she gave a speech on the inequality of women's rights, which got high applause from the local newspaper.
At age 19, against her family's desires, she enlisted at Earlham College in Richmond, Indiana, additionally a Quaker school, and graduated in 1897. From 1897 to 1899, Zitkala-Ša studied and played the violin at the New England Conservatory of Music in Boston.
For two years, Zitkala-Sa taught at the Carlisle Indian Industrial School in Carlisle, Pennsylvania, yet she was awkward with the school's harsh discipline and its curriculum, which was devised to teach Euro-American ways and history, in this way annihilating students' Native American cultural identities.
While at Carlisle, Zitkala-Sa published a few short stories and autobiographical essays in The Atlantic Monthly and Harper's Monthly under her name Zitkala-Sa. The pieces' themes got from her battle to hold her cultural identity in the midst of strain to adapt to the prevailing American culture. In 1901 she published Old Indian Legends, an anthology of retold Dakota stories.
Zitkala-Sa married Raymond Talesfase Bonnin (who was half Euro-American and half Sioux) in 1902, and they moved to a reservation in Utah. She became a correspondent for the Society of the American Indians, the first change association to be administered altogether by Native Americans.
In 1913, Zitkala-Sa teamed up with the composer William F. Hanson, writing the libretto for the opera The Sun Dance, the first opera by a Native American. It debuted that same year in Vernal, Utah, and was organized periodically by rural troupes before being acted in 1938 by the New York Light Opera Guild.
In 1916, Zitkála-Šá became the secretary of the Society of the American Indian, and she and her husband moved to Washington, D.C., where she served as a liaison between the society and the Bureau of Indian Affairs. She likewise edited the society's American Indian Magazine (1918–19).
Under the name of Gertrude Bonnin, she co-authored (with Charles H. Fabens and Matthew K. Sniffen) the book Oklahoma's Poor Rich Indians, an Orgy of Graft, and Exploitation of the Five Civilized Tribes, Legalized Robbery (1924), which uncovered the abuse of Native Americans in Oklahoma.
Zitkála-Šá established the National Council of American Indians in 1926, and, as the association's president, she advocated citizenship rights, more excellent educational opportunities, enhanced health care, and cultural acknowledgment and protection.
Zitkala-Sa's investigation of land swindles performed against Native Americans resulted in her appointment as an adviser to the U.S. government's Meriam Commission of 1928, the discoveries of which eventually prompted a few significant changes. She stayed active as a representative for Native American worries until her death.
She composed a few works chronicling her battles with cultural identity and the pull between the majority culture she was educated within and her Dakota culture into which she was brought up.
Zitkala-Sa's later books were among the first attempts to carry traditional Native American stories to a widespread white English-speaking readership, and she has been noted as one of the most influential Native American activists of the 20th century.
A woman who lived resiliently when the Indigenous individuals of the United States were not viewed as real individuals by the American government, let alone residents, Zitkala-Ša dedicated her life to the assurance and celebration of her Indigenous heritage through the arts and activism.
Zitkála-Šá died on January 26, 1938, in Washington, D.C., at the age of 61.
She has been perceived by the naming of a Venusian crater "Bonnin" in her honor. In 1997 she was assigned a Women's History Month Honoree by the National Women's History Project.
On Feb 22nd, 2021, Google observes Zitkala-Sa's 145th Birthday with a Google Doodle.
The present Google Doodle was represented by American Indian visitor artist of Osage, Kaw, Cheyenne River Sioux, and European legacy, Chris Pappan to honor her birthday.