Google Doodle Celebrates the 204th Birthday of American Scientist and Women's Rights Activist Eunice Newton Foote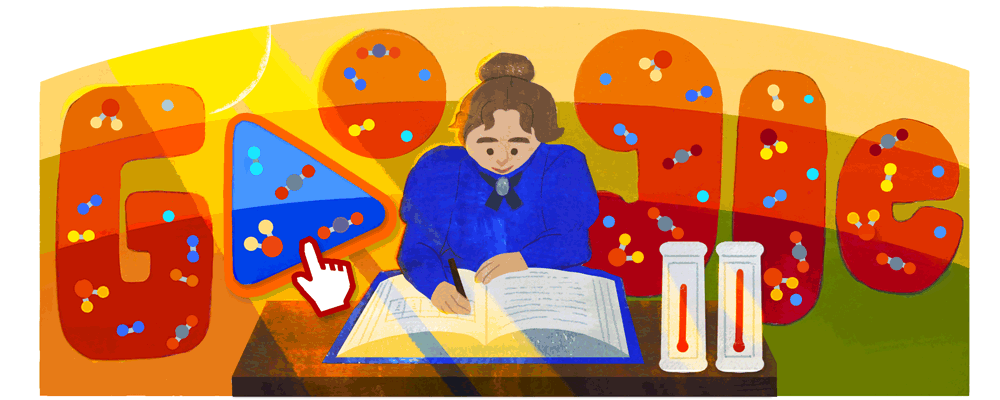 The 204th birthday of American scientist and women's rights activist Eunice Newton Foote is celebrated in today's Google slideshow Doodle. Foote was the first person to discover the greenhouse effect and its contribution to the Earth's climate warming. To learn more about Foote's scientific discovery process, click through the Google Doodle of the day!
On this day in 1819, Eunice Newton Foote was born in Connecticut. She studied at the Troy Female Seminary, a school that urged students to take part in chemistry labs and science lectures. Foote developed a lifetime love of science, but she also spent time campaigning for women's rights.
Eunice Newton Foote went to Seneca Falls' inaugural Woman's Rights Convention in 1848. She was the fifth person to sign the Declaration of Sentiments, which called for women to have equal rights in society and the law.
Women mainly were excluded from the scientific community during this period. Unfazed, Foote carried out her own experiments. She found that the glass cylinder holding carbon dioxide heated up the most in the sun when mercury thermometers were placed inside of it. In the end, Foote was the first scientist to link the warming of the atmosphere to rising carbon dioxide levels.
Eunice Newton Foote created her second study on atmospheric static electricity after publishing her initial research in the Proceedings of the American Association for the Advancement of Science. These two physics studies were the first ones written by a woman in the US.
A male scientist presented her work at the American Association for the Advancement of Science's annual meeting around 1856. Following those conversations, scientists conducted additional experiments that revealed the greenhouse effect, which states that when gases like carbon dioxide capture solar heat, the temperature of Earth's atmosphere progressively increases.
The foundation Foote laid has enabled scientists across the world to advance climate research today.
Happy Birthday, Eunice Newton Foote!