Interesting Facts about Eunice Newton Foote, an American Scientist, Inventor, and Women's Rights Activist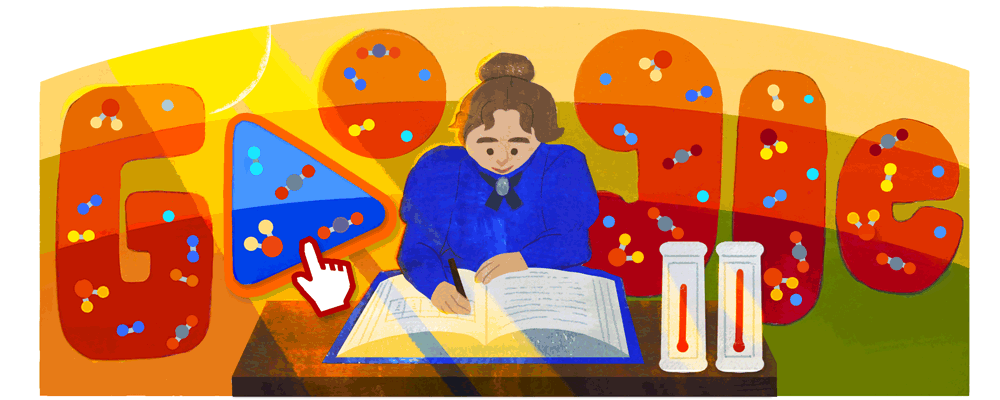 Search engine giant Google celebrates the 204th birthday of Eunice Newton Foote, an American scientist, inventor, and women's rights activist, with a slideshow Doodle on July 17, 2023. Here are some interesting and fun facts about Eunice Newton Foote.
Here is a look at the life and work of Eunice Newton Foote.
Who was Eunice Newton Foote?
Quick Facts about Eunice Newton Foote
Birth name: Eunice Newton
Birth date: July 17, 1819
Birthplace: Goshen, Connecticut, U.S.
Died on: September 30, 1888 (aged 69)
Death place: Lenox, Massachusetts, U.S.
Resting place: Green-Wood Cemetery, Brooklyn, New York City
Education: Troy Female Seminary
Known for: Theory of the effect of carbon dioxide gas on atmospheric temperature
Spouse: Elisha Foote
Eunice Newton Foote: Interesting Facts
In Goshen, Connecticut, on July 17, 1819, Eunice Newton was born to Thirza and Isaac Newton Jr. She was a scientist, inventor, and advocate for women's rights in the United States.
She was the first scientist to come to the conclusion that some gases warmed when exposed to sunlight and that increasing amounts of carbon dioxide (CO2) would modify atmospheric temperature and possibly affect climate. This phenomenon is now known as the "greenhouse effect."
Foote was raised in New York, the epicenter of the social and political movements of her time, including the abolition of slavery, anti-alcohol campaigning, and women's rights.
From the age of seventeen to nineteen, she attended the Troy Female Seminary and the Rensselaer School, where she received a well-rounded education in scientific theory and practice.
Judge and mathematician Elisha Foote settled in Seneca Falls, New York when they married in 1841. Eunice Newton Foote was a signatory to the Declaration of Sentiments and one of the editors of the Seneca Falls Convention's 1848 proceedings, the first convention to have women's rights as its exclusive topic of discussion.
Eunice Newton Foote published a paper in 1856 that became famous for showing how CO2 and water vapor absorb heat and making the claim that the climate would change as CO2 levels in the atmosphere changed. It was the first known article in a scientific journal on physics written by an American woman.
In 1857, Eunice Newton Foote published a second paper on static electricity in atmospheric gases. Both of her papers, the only ones on the subject of physics to be authored by an American woman until 1889, were read at the organization's annual conferences even though she was not a member of the American Association for the Advancement of Science. She later filed for several invention patents.
Before being rediscovered by female scholars in the 20th century, Eunice Newton Foote's achievements went virtually unrecognized for over a century following her death on September 30, 1888, in Lenox, Massachusetts. She was buried in Green-Wood Cemetery in Brooklyn, New York.
When it was discovered that Foote's work predates discoveries made by John Tyndall, who was acknowledged by scientists as the first person to empirically demonstrate the mechanism of the greenhouse effect using infrared radiation, new interest in Foote arose in the 21st century.
Modern scientists have verified that Foote found that water vapor and CO2 absorb heat from sunlight three years before Tyndall published his paper in 1859 by detailed examination of her work.
Furthermore, Eunice Newton Foote predicted climate change five years before Tyndall published his results in 1861, based on variations in the atmospheric levels of CO2 and water vapor.
Eunice Newton Foote did not analyze or discover the absorption and emission of radiant energy within the thermal infrared range, which is the cause of the greenhouse effect, likely due to the limitations of her experimental design as well as a potential ignorance of infrared radiation.
Foote also acquired a patent for a "filling for soles of boots and shoes" to lessen squeaking in addition to developing a paper-making machine. 16 American women wrote physics papers in the 19th century, two of which—both by Foote—were published before 1889.
The Eunice Newton Foote Medal for Earth-Life Science was established in 2022 by the American Geophysical Union in her honour to honour great scientific discoveries.
To honour Eunice Newton Foote's 204th birthday, Google displayed a slideshow Doodle on its home page on July 17, 2023. Foote was the first person to discover the greenhouse effect and its role in the warming of Earth's climate. Visit the Google Doodle to learn more about Foote's scientific discovery approach!