Pani Puri: Google Game Doodle Celebrates a Popular South Asian Street Food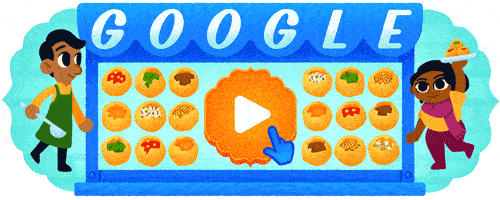 Pani puri is a popular South Asian street food made of a crispy shell stuffed with potatoes, chickpeas, spices, or chillis and flavoured waters. Today's Google interactive game Doodle honours pani puri. Panipuri comes in a variety to suit everyone's palate! A restaurant in Indore, Madhya Pradesh, set a world record for delivering the most flavours of pani puri on this day in 2015 by providing 51 options!
Since there are numerous regional variations in India, this snack has many various names. The bite-sized street food known as pani puri is popular in Maharashtra and Andhra Pradesh. It is typically packed with boiling chickpeas, a white pea mixture, and sprouts and dipped in tangy and spicy pani.
The potato and chickpea-filled treat dunked in jaljeera-flavored water is known as gol gappe or gol gappa in the northern Indian states of Punjab, Jammu and Kashmir, and New Delhi and is served with jaljeera-flavored water. In West Bengal and parts of Bihar and Jharkhand, the dish is known as puchkas or fuchkas, and the main ingredient for this variety is tamarind pulp.
According to a tale, the pani puri was created by newlywed Draupadi when she was asked to feed five men with few resources in the Mahabharata epic. Draupadi got inventive with the leftover aloo sabzi (potatoes and vegetables) and the small amount of wheat dough she had. She stuffed the mashed potatoes and vegetables into tiny pieces of fried dough. Pani puri is the result of this.
Even though everyone has a different preferred filling and pani, two universal rules apply: eat the pani puri as soon as possible to prevent it from becoming soggy or leaking, and always eat it in one bite to prevent a crumbly mess.
Play the interactive game Doodle now and assist a group of pani puri street vendors in completing orders. To keep customers satisfied, choose puris that correspond to their preferences for flavour and quantity. Let's start serving now!