Google Doodle celebrates the 83rd birthday of an iconic Kuwaiti actor Abdulhussain Abdulredha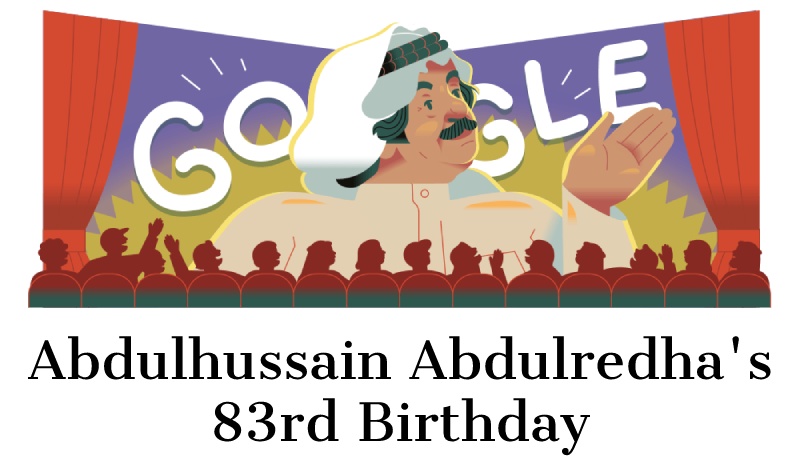 Google Doodle celebrates the 83rd birthday of an iconic Kuwaiti actor Abdulhussain Abdulredha (عبد الحسين عبد الرضا) on December 6, 2022.
Who was Abdulhussain Abdulredha?
Abdulhussain Abdulredha was born on December 6, 1939, to Kuwaiti Ajam parents in Derwazat Al Abdulrazzaq, Al-Awazem village, Sharq, Kuwait.
Abdulhussain Abdulredha (عبد الحسين عبد الرضا) initially worked in the Department of Printing of the Kuwaiti Ministry of Guidance and Information. After that, in 1956, he went on a ministry-funded mission to Egypt to learn how to make prints and learn the art of printmaking. In 1961, he traveled to Germany to finish his studies in the printmaking arts. He worked in this job until he reached the position of an observer in the Ministry of Information's Printing Section.
Before entering the entertainment industry, Abdulhussain Abdulredha studied printmaking in Egypt and Germany. In the tragi-comedy genre, where his comedy highlighted social issues, he found his niche.
In 1992, Abdulredha performed a play about the invasion titled Sword of the Arabs. On his way to one of the performances by a suspected Iraqi mukhabarat, an assassination attempt failed to kill him.
In the 1980s, the actor Abdulhussain Abdulredha also played Iraq's Saddam Hussein in a play, receiving praise for his performance.
The political and social genre was sparked by his work. Abdulhussain established and directed an entertainment television channel in 2006 called Funoon TV, which was the first Arabic-language channel to focus on comedic material.
Abdulhussain Abdulredha (عبد الحسين عبد الرضا) was admired for his ability to perform comedic political and social commentary, and his well-known monologues won him fans all over the Arab world.
The actor Abdulhussain Abdulredha's final role was in the 2017 MBC TV show "Selfie 3," which aired during Ramadan.
Darb Al Zalaq (1977), Dars Khososi (1981), and Al Hailha (2003) were among his many roles as an actor. Abdulhussain acted in and produced more than 30 plays and television series over the course of his fifty-year career.
On 11 August 2017, Abdulhussain Abdulredha died of a heart attack in the Royal Brompton Hospital in London; aged 78. One of his most well-known comedies, "Bye Bye London," about wealthy Arabs who travel to London to try to settle there, was named after the city where he died.
Abdulhussain's powerful singing voice, bold social commentary, and role as a father figure in Kuwaiti comedy are all remembered. His comedy gave entertainment as well as urged the audience to examine issues influencing Arab societies.
In honor of Abdulhussain Abdulredha's 83rd birthday, Google featured a Google Doodle on its homepage on December 6, 2022. Ahmed Al-Refaie (owaikeo), a guest artist based in Kuwait City, provided the artwork for today's Google Doodle, which commemorates the 83rd birthday of Kuwaiti actor, singer, playwright, and comedian Abdulhussain Abdulredha (عبد الحسين عبد الرضا).