Google Doodle is celebrating Slim Dusty, an Australian cultural icon and country music singer-songwriter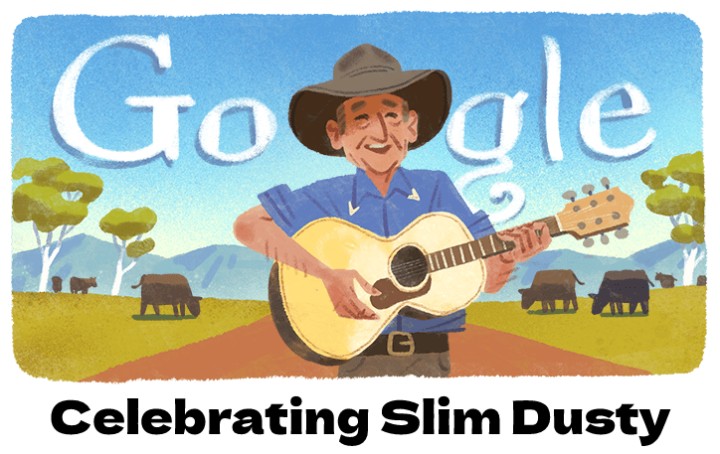 Google Doodle is celebrating Slim Dusty, an Australian country music singer-songwriter, guitarist, and producer who was an Australian cultural icon and one of the country's most-awarded stars, on October 24, 2022.
Who was Slim Dusty?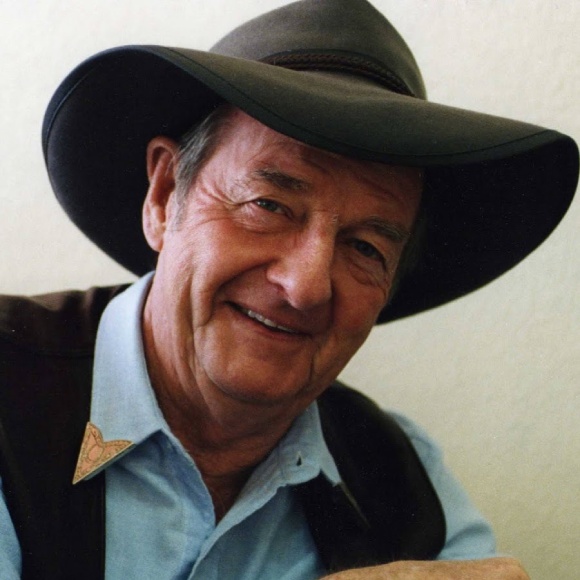 Slim Dusty, AO MBE born David Gordon Kirkpatrick on 13 June 1927 in Nulla Nulla Creek west of Kempsey, New South Wales.
His childhood home, "Homewood", survives and is currently heritage-listed. He was known by his middle name, Gordon. He composed his first song, "The Way the Cowboy Dies", in 1937 and adopted the stage name "Slim Dusty" in 1938 at age 11.
In 1945, Dusty wrote "When the Rain Tumbles Down in July" and released his first record that year at 19 years old. In 1946, he signed his first recording contract with Columbia Graphophone for the Regal Zonophone label.
In 1951, Slim Dusty married singer-songwriter Joy McKean and, with her help, made extraordinary progress around Australia. In 1954, the two launched a full-time business career, including the Slim Dusty Travelling Show. McKean was Dusty's wife and manager for more than 50 years.
Joy McKean composed a few of Dusty's most famous songs, including "Lights On The Hill", "Walk a Country Mile", "Indian Pacific", "Kelly's Offsider", "The Angel of Goulburn Hill" and "The Biggest Disappointment".
5 Interesting Facts about Dame Jean Macnamara
Slim Dusty's 1957 hit "A Pub with No Beer" was the biggest-selling record by an Australian to that time, the first Australian single to go gold, and the first and only 78 rpm record to be awarded a gold disc.
In 1964 the annual Slim Dusty Australia-round tour, a 48,280 kilometers (30,000 mi) journey that happened for ten months, was begun. This regular event was the subject of a feature film, The Slim Dusty Movie, in 1984.
Slim Dusty recorded songs composed by himself and other fellow Australian performers yet additionally classic Australian poems by Henry Lawson and Banjo Paterson, with new tunes to point out the old "bush ballads".
In 1970, Slim Dusty was made a member of the Order of the British Empire for music services.
In 1973, he won Best Single at the inaugural Country Music Awards of Australia at the Tamworth Country Music Festival (McKean won Song of the Year as a writer of "Lights on the Hill"). By March 1976, Dusty had accomplished 37 gold and two platinum records, more than some other Australian artists.
Slim Dusty recorded and released his 100th album, Looking Forward, Looking Back, in 2000 and became the first artist in worldwide commercial recording history to do so; the second was Cliff Richard.
Every one of the 100 albums had been recorded with a similar record label, EMI, making Slim Dusty the first music artist in the world to record 100 albums with the same label. He has then presented the honour of singing "Waltzing Matilda" in the closing ceremony of the 2000 Summer Olympics, with the entire stadium (officially 114,714 in attendance, the largest in Olympic history) singing along with him.
Slim Dusty died at his home in St Ives, New South Wales, on 19 September 2003 at 76 years old after an extended fight with lung and kidney cancer.
Dusty had been working on his 106th album for EMI at the time of his death. On 8 March 2004 the album, Columbia Lane – the Last Sessions, appeared at number five on the Australian album charts and number one on the country charts. Gold status was accomplished in the wake of being on sale for less than two weeks.
In 2004, Tamworth hosted the "Concert for Slim" as a memorial tribute highlighting more than 30 Australian musical artists including Joy McKean, Paul Kelly, Keith Urban, Lee Kernaghan, and Kasey Chambers.
In 2005, a statue of the "Cunnamulla Fella" was disclosed in Cunnamulla, Queensland, in recognition of Dusty and Stan Coster and to the famous song of that name performed by Dusty with lyrics by Coster.
EMI Records' Australian sales of Dusty's records outperformed 7,000,000 in 2007.
Slim Dusty was Australia's best and most prolific musical artist, with more Gold and Platinum albums than some other Australian artists.
Dusty's life was the subject of a 1984 feature film: The Slim Dusty Movie.
"Pub With No Beer" was added to the National Film and Sound Archive's Sounds of Australia registry in 2008.
The 2010 book 100 Best Australian Albums by Toby Creswell, Craig Mathieson, and John O'Donnell ranked The Very Best of Slim Dusty as the 24th-best Australian album of the past 50 years.
In recognition of Slim, The Royal Australian Mint issued a coin celebrating his life, and the Slim Dusty Centre and Museum in his hometown of Kempsey opened in 2015.
Interesting Facts About Aboriginal Australian musician Mandawuy Yunupingu
The Slim Dusty Center was implicit in Kempsey, NSW, Dusty's hometown, and opened in October 2015.
On October 24, 2022, Google featured a Google Doodle on its homepage for celebrating Slim Dusty. Today's Doodle celebrates the Australian icon being awarded the Outstanding Achievement award at the ARIA music awards in 2000.