Google Introduces Blue Checkmark to Verify Email Sender's Identity in Gmail for Safer Mail Communication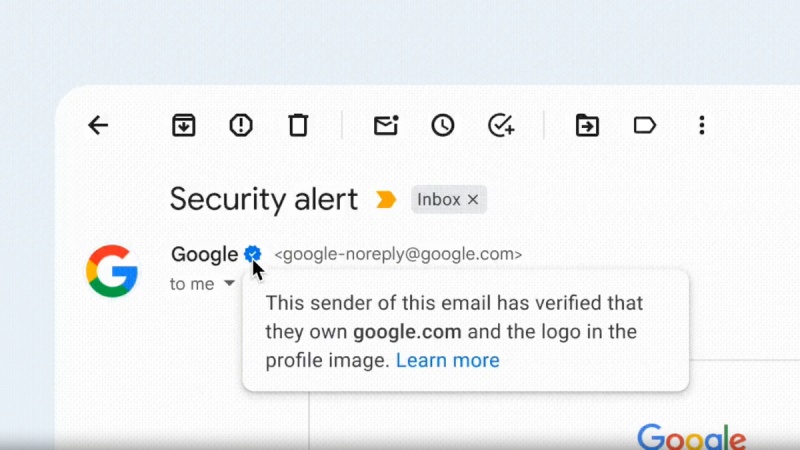 To verify a sender's identity, Gmail will begin to display a familiar-looking blue checkmark next to their name. Google claims in a blog post that the feature is intended to assist users in determining whether an email they have received is a legitimate source or a scammer.
Organizations like Meta have been on a blue mark kick of late, notwithstanding the way that the checked symbols have become a sign of disgrace as opposed to a superficial point of interest on Twitter, the site which initially promoted the thought. With its own verified branded email system, Google is now joining the blue check craze. However, it is not yet clear whether this will reduce the amount of spam that users receive in their inboxes.
On Wednesday, Google unveiled a brand-new Workspace blog that showcased the expanded Gmail system's Brand Indicators for Message Identification. To display the blue check, which indicates that the individual is who they claim to be, the company stated that those with these verified check marks must "use strong authentication and verify their brand logo."
A new Gmail feature is being introduced by Google with the intention of assisting you in determining whether a sender is genuine or possibly a scammer. A blue check next to the company's name in your inbox indicates when a company has verified its identity.
Gmail's existing Brand Indicators for Message Identification (BIMI) feature is the foundation for the verified checkmark. This necessitates companies verifying that the purpose of the brand logo they use as their email avatar is to inform users that the logo actually belongs to them. The check mark will be given to companies that have already implemented BIMI.
Based on the Brand Indicators for Message Identification (BIMI) standard, the current system displays brand logos in the "avatar slot" alongside the sender's name and address. Bank of America, for example, can display its official flag logo rather than a generic "B" against a plain background.
It is based on logo verification "with a VMC, issued by a Certification Authority such as Entrust or DigiCert" and strong authentication with DMARC (Domain-based Message Authentication, Reporting, and Conformance).
Google's latest implementation of the Brand Indicators for Message Identification (BIMI) technology is the checkmark update. Google began testing BIMI in Gmail in 2020. At first, it enabled brands that were signed up for BIMI to remember confirmed logos for their emails. The blue check might be a better way to see if the sender is real.
"The sender of this email has verified that they own [the domain was sent from] and the logo in the profile image" will appear in a pop-up when you hover over the blue check in Gmail. The pop-up includes a link that directs you to a page with more data.
By adding a "checkmark icon for senders that have adopted BIMI," Google is now making the feature much more clear to "help users identify messages from legitimate senders versus impersonators." The company has provided an image of how this will appear on the desktop web. The timing of this launch is fairly entertaining, given the rest of the tech landscape.
On the internet, users can hover over the icon, which is a blue seal with a white checkmark in the middle. For example, Google will read, " This sender of this email has verified that they own google.com and the logo in the profile image. Learn more."
Strong email authentication enables senders to leverage their brand trust while also assisting users and email security systems in identifying and stopping spam. This improves the email ecosystem for everyone by giving readers a more immersive experience and increasing confidence in email sources.
Google wrote in a blog post that "strong email authentication helps users and email security systems identify and stop spam, and also enables senders to leverage their brand trust. This increases confidence in email sources and gives readers an immersive experience, creating a better email ecosystem for everyone." By the end of the week, the feature should be available to all users, and Workspace administrators can assist in establishing BIMI for their organization.
It's nice to see one company bring back some trust to the blue check, which used to be a pretty clear sign that the person, brand, or business on the other end is real. At least Google does not appear to have used blue checks as a weapon in a culture war or to extract more revenue from users while damaging its overall trustworthiness.
Although it has been in use since 2020, the BIMI service has previously been used to verify brand logos on an email's avatar slot. As a brand continues to saturate your inbox with news and offers, the blue check provides yet another layer of assurance that it is the company that it claims to be. Unlike Twitter, Google is not asking any brands to pay a thousand dollars for the privilege, and the update to brand verification should begin rolling out on Wednesday.
Each account must use Domain-based Message Authentication and have its logo validated in order to receive a blue check, and verification with BIMI is optional. Although many UberEats coupons or suggested videos on TikTok tend to clog up email inboxes (for those who, er, "forget" to unsubscribe from those promotions), very few actually feature the official logo of the company in the avatar of the account. The issue behind the way the system worked before the blue check was regardless of whether the account was genuine, there was nothing on the user's side to obviously show it was an official email.
Despite several major facelifts, Google has not made a big deal of brand verification other than updating spam filters. The new verified email system in Gmail may limit the amount of fake spam or malicious emails that users may see on their accounts. Last year, Gmail reported it was adding end-to-end encryption features, however, those security features have not seen a wide release. It might be past due for Gmail to introduce a more long-term solution for corporate email accounts because AI chatbots are likely to increase the number of fake spam emails users receive.
Why did Google decide to implement checkmarks in Gmail?
On Wednesday, the feature was made public by Google in an official blog post. It said: "Strong email authentication helps users identify and stop spam, and also enables senders to leverage their brand trust. This increases confidence in email sources and gives readers an immersive experience, creating a better email ecosystem for everyone."
Starting today, this will be available over the coming days/weeks:
Available to all Google Workspace customers, as well as legacy G Suite Basic and Business customers.
Available to users with personal Google Accounts.
To put it another way, you won't soon receive a blue checkmark verifying your identity. However, if you send emails on behalf of your business, you can set up BIMI by following the Google Support link. This will ensure that your customers are aware that the messages they receive are genuine.
By Saturday, May 6, anyone with a personal or business Gmail account should be able to see the checkmarks. The feature rollout begins on May 3 and will take one to three days. In the event that you get an email with an "official" logo but no checkmark, asking you to click a link or share data, it's presumably a phishing attempt.
Compared to Google's other recent Gmail move — integrating the Bard AI into Gmail to help you "write" emails faster — this Gmail security update is less flashy in any case considerably more significant.