How Italian Cooking is Now the Go-To Healthy Option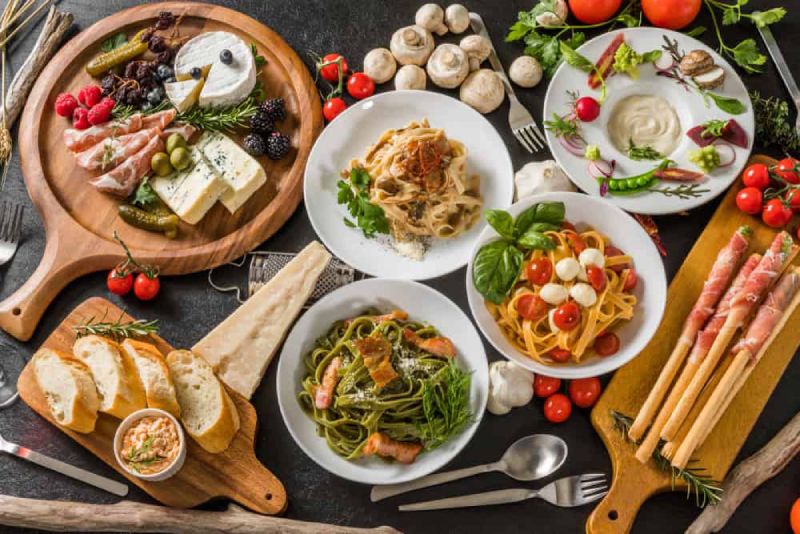 When it comes to Italian cuisine, many people assume that it's not healthy due to popular dishes like pizza, pasta, and gelato. 
However, what many people don't realise is it can be quite healthy and full of nutritious ingredients.
Senior Chef de Partie Claudio Simone is like the majority of Italians. He was inspired by the food he grew up on. Claudio's mother and grandmother would regularly cook delicious pasta dishes with rich, dense sauces accompanied by freshly baked bread.
Claudio has exemplary expertise and experience as a Demi Chef Partie, Senior Chef de Partie Sous Chef and Commis Chef.
He started his culinary career in 2015 at the highly regarded Borgo el Maestro and La Kambusa in Ponza, Italy. He has also worked alongside chefs at the Colline Ciocare in Acuto, Italy.
Claudio says: "Many people get the wrong idea about Italian food. They don't realise it can be healthy. The North American version of dishes can often be very different.
Yes, we have bread at every meal, but that is to clean up the condiment and the sauce. Italians eat pasta very differently from the rest of the world, where they have adopted our cuisine. It is usually served as a secondary, intermediary smaller course. The portions are far smaller than is typically available in most North American Italian restaurants."
Claudio has also worked as a Senior Chef de Partie at The Farnham Estate in Cavan Town, Ireland. He regularly supervised events that were frequently attended by hundreds of people catering to the most sophisticated of palates.
He says what he loves most about Italian cooking is how all the ingredients are cooked from fresh: "True Italian food is not supposed to be processed. Having food is about the experience of the taste, the place, the company, and the ambiance.
"The first meal I cooked for my family included a basic tomato sauce. They were very appreciative, and it was a hit! It really gave me the passion to continue."
Claudio really started to learn his craft when he was working at the wedding venue, Borgo del Mastro, in his hometown. Here he was able to hone his expertise and skills in managing structured and complex meal plans for large parties.
He recalls: "I realized how much I loved creating menus and coming up with ideas for large groups. There is something very special about bringing joy to people through food. You are making memories for others, and that is truly a privilege."
It also gave him the opportunity to learn how to create healthy dishes on a large scale.
Claudio says Italian cooking often gets a bad wrap due to some of its heavy sauces. But he disagrees.
"Italian cuisine relies heavily on fresh and seasonal ingredients, such as tomatoes, herbs, and vegetables. These ingredients are packed with vitamins, minerals, and antioxidants, which are essential for a healthy diet. We also use a lot of olive oil, which is high in monounsaturated fats and has been linked to numerous health benefits."
He adds while some Italian dishes appear complex, the majority use simple cooking methods that preserve the natural flavors and nutrients of the ingredients: "Grilled or roasted vegetables are a popular side dish, and seafood is often cooked with minimal seasoning to let the natural flavors shine," says Claudio.
"Italian cuisine can be lower in fat and calories compared to other cuisines that rely on heavy sauces and frying."
Claudio also believes pasta which is often criticized for its high carbohydrate content, has health benefits: "Pasta is often made with whole grains, which are high in fibre and essential nutrients.
"Polenta, risotto, and farro are also popular Italian dishes made with whole grains that are good for you."
He adds there are also multiple vegetarian and vegan options: "Bruschetta, Caprese salad, and minestrone soup are just a few examples of vegetarian dishes that delight the Italian palate. These dishes are typically low in calories and high in nutrients, making them a healthy choice for those looking to incorporate more plant-based meals into their diet."
Here are some of Claudio's go-to healthy Italian dishes:
This classic Italian salad is made with fresh mozzarella, ripe tomatoes, and basil. It's low in calories and high in protein and antioxidants.
A popular side dish, they're typically seasoned with olive oil, salt, and pepper, making them a healthy and flavorful option.
This hearty vegetable soup is a low-calorie and nutrient-dense option perfect for a filling meal.
Farro is a whole grain high in fiber and protein and can be used in a variety of dishes, including salads.
Claudio says: "So next time you're in the mood for Italian food, don't assume it's not healthy – there are plenty of options that are both delicious and good for you!"