How Self Made Tanning is Giving Natural Babes Flawless Tans, No Filter Required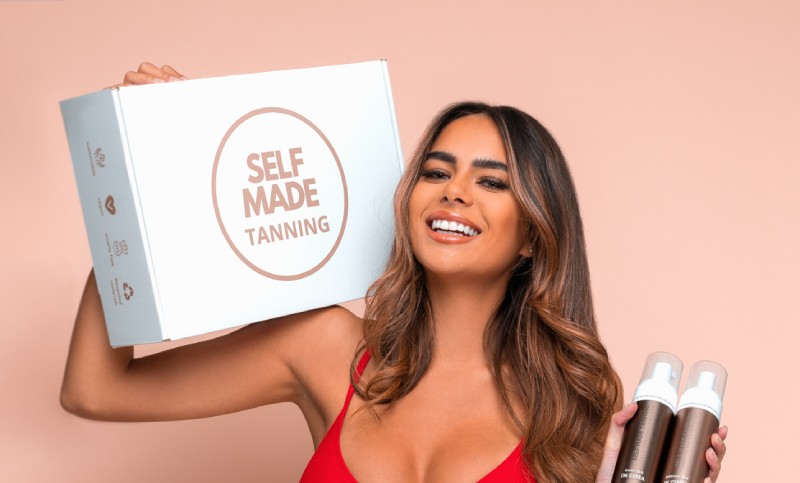 Emily Bloom wants to help women feel beautiful without compromising their skin's safety with Self Made Tanning products. Tanning can damage your skin cells and accelerate visible signs of ageing, and sunless tanning of the past didn't provide natural, long-lasting, streak-free results — but Self Made does. Self Made Tanning offers four shades of their tanning mousse that is hydrating, buildable, and long-lasting, so you can safely achieve that sun-kissed glow.
Emily Bloom self-funded Bronzed by Bloom: a luxury spray tan studio and spray tan training academy in Toronto's bustling Queen West. For Emily, moving into the direct-to-consumer space was a natural progression. Offering high-quality luxe tan mousses on a larger scale lets her bring the salon experience to the comfort of her clients' homes.
Emily launched Self Made in the wake of the pandemic lockdowns while pregnant, working night and day to get Self Made launched for spring 2020, proving working moms can achieve anything. Emily's priority is formulating products that give her clients superior results and the chance to achieve natural tans that are never orange, without exposing their skin to the sun's harmful effects.
The complete luxe line is perfect for:
Whether you want to make a statement with the "I'm Extra" luxe dark tan mousse
Get that sun-kissed glow in your drab office with the "I'm Vibrant" luxe medium tan mousse
Achieve a subtle glow or extend your darker tan with "The Glow Up" luxe gradual tan mousse
Or erase build-up and prep for your next application with "The Reset" luxe tan eraser
Self Made Tanning offers every solution to your tanning needs, where less is more. Self-tanning targets the outermost layer of the skin but when that dead skin layer falls off, so does the self-tan. Each Self Made Tanning product is infused with hydrating ingredients — like coconut oil, rosehip oil, and jojoba oil — to lock in moisture and achieve a seamless, longer-lasting tan. Infused with Vitamin C, their medium tan mousse gives a subtle sun-kissed glow that exudes radiance. The results speak for themselves and their mousses won't leave you feeling anything less than flawless. The products are buildable, work for every skin tone, and are a safe alternative to sun tanning that anyone can do from the comfort of their own home.
Self Made Tanning offers a unique marketing aspect with their mousses that differ from other self-tanning products on the market: they designed a tan to match every mood. Their top-of-the-line ingredients list rivals that of their competitors and their product lines have tinted and non-tinted options, achieving the desired rich tan for tanning veterans or the subtle glow for beginners. Self Made Tanning takes inspiration for its name from Emily and the tanning mousses: customers self-apply their products so their glow is truly self-made, and Emily Bloom is a self-made entrepreneur. She started Bronzed by Bloom with her own funds and raised her first child while founding Self Made Tanning a year ago, during the height of the lockdowns.
Self Made Tanning products are formulated to achieve the glow we all hope for within 10 minutes. You can safely and confidently get the vacation-look without having to walk through your front door. Ditch the social media filters for a solution that accentuates your natural beauty, so you can feel confident in your skin. Self Made is for everyone, and offers you the chance to glow from within. Emily knows that with every purchase a customer is staying inside, achieving the look they want and saving their skin from sun damage in the process, which is all she wanted. If you're looking for a fresh start, look no further than Self Made Tanning — providing flawless tans for natural babes, no filter required.