How to Use the MT4 Platform? – Beginners Guide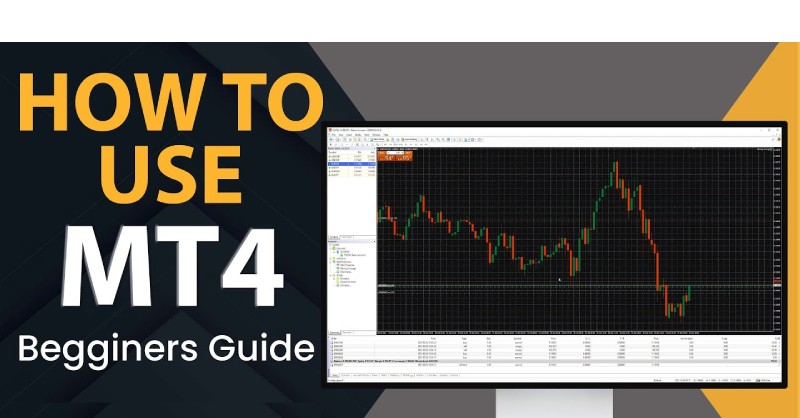 Did you know that MetaTrader 4 (MT4) is one of Forex traders' most popular trading platforms? Not only is it user-friendly, but with its MT4 plugins and advanced tools, it has become a must-have for active traders. In this blog post, we will explain in detail what the MT4 platform is and discuss how to use it effectively for your trading needs. We'll cover everything from setting up an account to navigating features such as charting options and working with indicators. So if you're new to trading on the MT4 platform, buckle up; by the end of this blog post, you should have all the knowledge needed to start your journey toward becoming a successful trader.
What is MetaTrader4?
MetaQuotes Software Corp. created MT4, a major trading platform. It is mostly used for trading Forex, CFDs, Futures, and other asset classes such as stocks, indices, and commodities. MT4 provides traders with a variety of options to assist them in making informed trading decisions. Advanced charting tools, MT4 plugins, automated trading techniques, and Expert Advisors are examples of these. It also has various order types and an appealing user interface that makes it simple to use, even for inexperienced traders. MT4 is one of the most comprehensive yet easy-to-use platforms accessible today. It's no wonder that millions of traders around the world have chosen to use MT4 as their primary trading platform.
Users may access their account on the road using the MT4 mobile app, which is available for iOS and Android smartphones. This allows them to monitor their transactions while away from home or at work. Furthermore, a plethora of third-party apps and plugins can be utilized to enhance the platform's functionality. Autochartist, for example, assists traders in identifying prospective trading opportunities in real time.
It is constantly being updated to ensure it meets the needs of all types of traders. This includes providing additional features and tools to help traders become successful and profitable. One of the most important updates was the introduction of MT5. MT5 is designed for more advanced traders and has a wide range of features to help them analyze their trades in greater detail. This includes access to more charting tools, automated trading strategies, custom indicators, and enhanced order types.
All in all, MT4 remains one of the most powerful yet user-friendly platforms available today. With its advanced features, intuitive interface, and mobile app, anyone can take advantage of its services and start confidently trading the markets. Now, let's discuss how to use the MT4 platform.
Getting Started with MT4
To begin, open an account with a Forex broker that supports MT4. Most brokers will provide a downloaded version of the platform that you can install on your PC. Once installed, you must enter your account details into the site in order to log in and begin trading.
Once connected, you'll have full access to MT4's tools and features. Most versions provide configurable charts, technical indicators, and different periods for analysis. Expert Advisors (EAs) can also be used for automatic trading based on pre-programmed or custom methods.
Using Charts & Technical Indicators
Charts are one of the most important features available with MT4. They provide a graphical representation of currency pairs over different periods of time, as well as the ability to overlay different technical indicators. Popular indicators include moving averages, stochastics, and relative strength index (RSI).
Moving averages help traders identify and follow trends in currency pairs. For example, a 50-day moving average shows the average price of a currency pair over the past fifty days. A trader may decide to buy when the price is above its 50-day moving average or sell when it's below.
Stochastics are another popular indicator used by many traders. These show overbought and oversold levels, which can be used to identify potential entry points into a trade. The RSI is an oscillator that measures the strength of a trend with values ranging from 0 to 100. Values above 70 indicate an overbought market, while values below 30 indicate an oversold market.
Using Orders
Once you've identified a potential trading opportunity, it's time to enter an order. MT4 supports several orders, including market, limit, and stop-loss orders. Market orders are executed at the current price, while limit and stop-loss orders can be used to set your entry or exit points. For example, you may decide to buy when the price reaches a certain level (limit order) or sell when it drops below another level (stop-loss order).
MT4 also provides various order types, such as trailing stops and one cancels others (OCOs). A trailing stop allows traders to adjust their stop loss levels automatically as the prices move in their favor. An OCO order combines two different order types into one, allowing traders to set both a stop and a limit order simultaneously.
Trading Automatically with MT4
MT4 also allows traders to use Expert Advisors to automate their transactions. These automated trading systems enable users to back-test and build strategies without manually placing each trade. With the touch of a button, they can then be used in live trading.
EAs are written in a programming language called MetaQuotes Language 4 (MQL4). This is the same language used to create the indicators and other features available with MT4. It's free to learn, and many resources are available online.
Once you have developed and tested a strategy, you must create an EA file in MQL4. This can then be uploaded into MT4 and used to trade the markets automatically. You can also purchase EAs from other developers online.
Another helpful feature is one-click trading which allows users to place trades with just one click of the mouse button.
Final Thoughts
MetaTrader 4 is a robust trading tool for analyzing and trading markets. It offers charts, MT4 plugins, technical indicators, and Expert Advisors for automated trading to users. With its simple interface, mobile app, and extensive feature set, MT4 remains one of the most popular trading platforms worldwide. MetaTrader 4 features something for everyone, whether you're just starting out or an experienced professional trader.