If you do it right, going through life once is enough and Jeffrey James Binney is living proof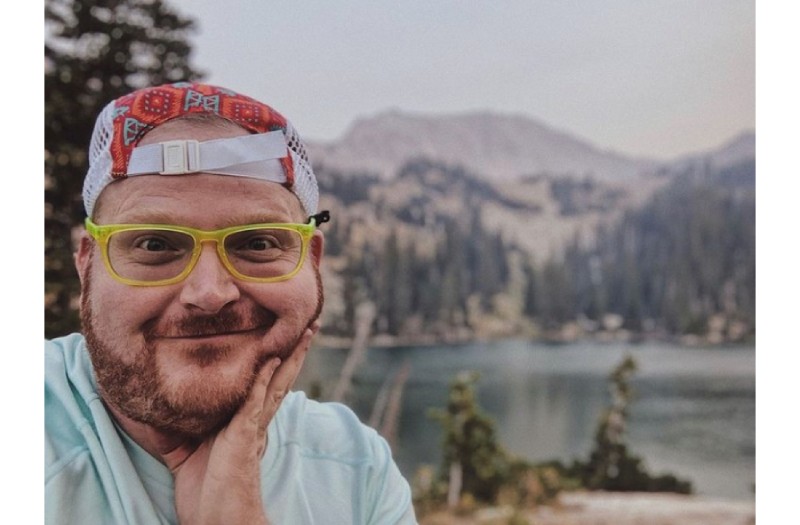 In our lives, we often have so many dreams and aspirations that we feel we need more lives than one. If you are not one of those people, then maybe you know of someone who wants to do multiple things at the same time. Be it flying a plane, being a business owner, traveling the world, conquering Everest, seeing the wonders of the world, flying into space, and what not. The options are limitless. However, Jeffrey James Binney's life is inspired by Mae West's quote, "You only live once but if you do it right, once is enough."
Binney is a body-positive trail runner, comedian, singer, actor, and motivational speaker. He is most known for his movie, 'Once Is Enough', which is available on the OTT streaming platform, Amazon Prime Video. Another thing that made him a viral sensation was his few social media videos of him dancing in nature while trail running.
Jeffrey James Binney grew up on a farm in Laredo, Missouri, and then moved to Brooklyn, New York, after receiving his B.F.A. in Musical Theatre Performance from Missouri State University. Jeffrey has been seen on the Late Night With David Letterman show, in the 1st National Tour and Chicago Company of the Broadway Musical, The 25th Annual Putnam County Spelling Bee, as well as at comedy clubs and festivals across the country. However, he lost his mother to obesity-related heart disease. Since he was overweight too, Binney realized he's on the same track as his mother.
As a kid, he was not an outdoor person or athletic, and he definitely was not a runner. In fact, he was the epitome of a chubby, funny best friend. But it was during his mother's hospitalization that he understood that he needed to lose weight. In the hospital's waiting room, he saw a magazine for the 100-mile Leadville ultramarathon, the new marathon, and decided to participate in it.
Set in the Rocky Mountains of Colorado, runners are supposed to go through some of the longest and steepest climbs in America, with a total elevation gain of over 15,000 feet. With such a difficult track ahead, even the fittest of the runners get demotivated. There is altitude sickness, chances of extreme injury, the harsh weather; anything can obstruct your marathon. The scary truth is that people have died while ultrarunning and that terrifies most people.
However, Jeffrey Binney took part in the ultramarathon as an ode to his mother. "I am doing this because while she couldn't change her life, I can," he explained. It took a lot of dedication and a tremendous amount of training and conditioning, which meant it took a devoted coach to send him down the right path. That coach, though initially reluctant, is Ian Sharman, who holds the record for the Grand Slam of Ultrarunning and is the four-time winner of the aforementioned Leadville Trail 100. Though Binney didn't complete the Leadville 100 as he missed the time cutoff and got pulled out at the mile 50 aid station, he didn't lose hope.
If you take a look at Binney's hard work and determination in the movie 'Once Is Enough', you might think he could have just run an average marathon and still have achieved the same results. However, he went to the extreme and proved his mettleat a goal that is beyond personal possibility. It seems that there was nothing that could deter him from backing out.
After his stint at the ultramarathon, he attempted another 100 miler, The Rocky Raccoon 100, in Texas after six months and managed to complete that one. Apart from this, his movie also generated positive reviews. All this led Binney to try his hand at stand-up comedy acts as well as become a motivational speaker. He has found humor even in his arduous training sessions and is now bringing those to life for others to get motivated and inspired by his journey. Even his motivational talks have a touch of humor with loads of inspiration. From conferences to team off-sites, he speaks at different forums and events in a bid to touch lives.
Jeffrey James Binney's life story is undoubtedly inspirational for all those who are going through tough times and want to change their circumstances and transform their lives. The same inspiration and motivation are the core of his movie as well. 'Once Is Enough' will make you laugh and most likely encourage you to push, or at least challenge, yourself into doing something extreme for the sake of your own health and well-being. You get to live once, and you must take care of your life as this is your only chance. Binney learned the lesson the hard way, but he made sure to work on it, and he hopes that others take lessons from his life too.