Indonesia Independence Day 2019: Google Doodle Denotes Hari Kemerdekaan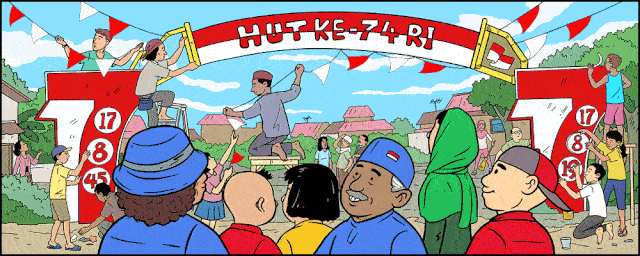 Today's Google Doodle shown by Indonesia-based visitor artist Hari Prast celebrates Indonesia's Independence Day, otherwise called Hari Kemerdekaan, informally known as Tujuhbelasan ("the Seventeenth"). On this day in 1945, the Indonesian leader Soekarno read an announcement at his home in Jakarta, pronouncing the independence of Indonesia.
August 17th was additionally the date when the red and white national flag, referred to local people as Sang Saka Merah-Putih, was flown for the first time.
Indonesia is the world's fourth most populous nation, with more than 300 different ethnic and semantic groups. Hari Kemerdekaan is a period for individuals from these different groups to meet up in joyous celebration, holding ceremonies and festive events all through the nation that have become cherished customs.
The day begins with flag-hoisting ceremony, trailed by a parade and local games competitions like balap karung (a two-man gunny sack race), panjat pinang (where hopefuls move up a greased pole or tree to get a prize at the top), and a lot increasingly local games.
Community inhabitants additionally cooperate to make Gapura gates, as appeared in the present Google Doodle. These colorful gates are made out of repurposed materials, beautifying the doors to their town neighborhoods and celebrating Indonesian Independence together.
Encapsulating a soul of collaboration (gotong royong) that lies at the very core of Indonesian values, Gapuras fills in as a reminder for Indonesians to cooperate for a superior country on Independence Day—and every day of the year.