Interesting and Fun Facts about Norval Morrisseau (Copper Thunderbird), an Indigenous Canadian Artist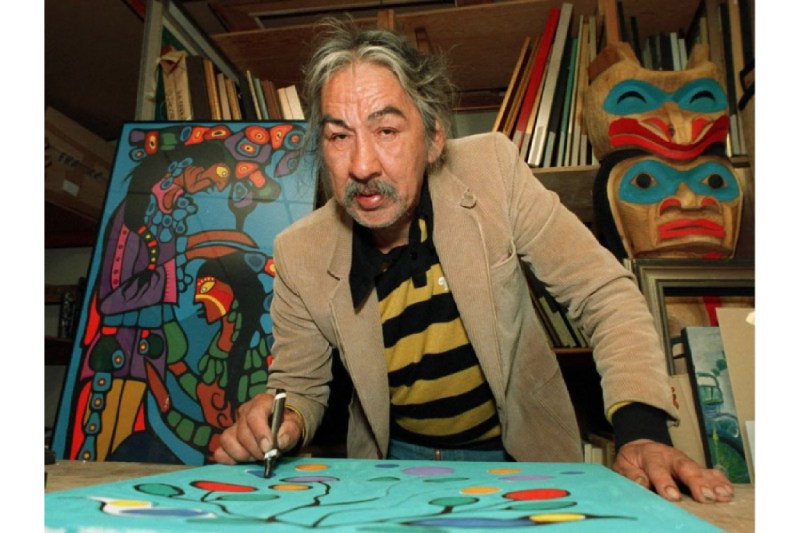 Search engine giant Google celebrates Indigenous Canadian artist from the Bingwi Neyaashi Anishinaabek First Nation Norval Morrisseau, otherwise called Copper Thunderbird, with a Doodle on June 21, 2022. In honor of Canada's National Indigenous Peoples Day, Google Doodle — delineated by Anishinaabe guest artists Blake Angeconeb and Danielle Morrison, is celebrated Norval Morrisseau (Copper Thunderbird). Here are some interesting and fun facts about Norval Morrisseau.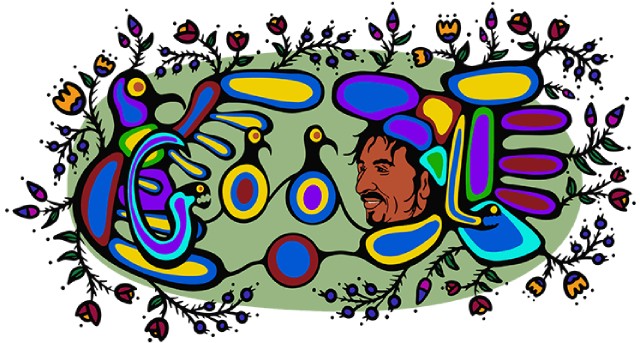 Here is a look at the life and work of Norval Morrisseau (Copper Thunderbird).
Personal
Birth name: March 14, 1932
Birthplace: Beardmore, Ontario, Canada
Died on: December 4, 2007 (aged 75)
Death place: Toronto, Ontario, Canada
Nationality: Canadian
Education: Self-taught
Known for: Painting
Movement: Woodlands Style
Spouse(s): Harriet Kakegamic
Awards: CM
35 Interesting and Fun Facts about Norval Morrisseau (Copper Thunderbird)
The artist Norval Morrisseau (Copper Thunderbird) is the first Eastern Woodlands artist to translate his culture (that of the Anishnaabe or Ojibway individuals) visually, through acrylic paintings, prints, and drawings available to Indigenous and non-Indigenous people. He invented the pictographic style, presently used by three generations of Indigenous artists.
Norval Morrisseau CM RCA, otherwise called Copper Thunderbird, was an Indigenous Canadian artist from the Bingwi Neyaashi Anishinaabek First Nation. Known as the "Picasso of the North", Morrisseau made works portraying the legends of his people, the cultural and political pressures between native Canadian and European traditions, his existential battles, and his deep spirituality and mystery. His style is described by thick black outlines and bright colors. He established the Woodlands School of Canadian art and was a conspicuous member of the "Indian Group of Seven".
Norval Morrisseau (Copper Thunderbird) was a self-taught artist of Ojibwa ancestry (his Ojibwa name, which shows up in syllabics on his paintings, signifies "Copper Thunderbird") and he began the pictographic style, or what is alluded to as "Woodlands School," "legend painting" or "x-ray art."
An Anishinaabe, Norval Morrisseau was born on March 14, 1932, on the Sand Point Ojibwe reserve near Beardmore, Ontario. His full name is Jean-Baptiste Norman Henry Morrisseau, yet he signs his work using the Cree syllabics writing ᐅᓵᐚᐱᐦᑯᐱᓀᐦᓯ (Ozaawaabiko-binesi, unpointed: ᐅᓴᐘᐱᑯᐱᓀᓯ, "Copper/Brass [Thunder]Bird"), as his pen-name for his Anishnaabe name ᒥᐢᒁᐱᐦᐠ ᐊᓂᒥᐦᑮ (Miskwaabik Animikii, unpointed: ᒥᐢᑿᐱᐠ ᐊᓂᒥᑭ, "Copper Thunderbird").
At six years old, Morrisseau was sent to a Catholic residential school, where students were taught in the European tradition, native culture was stifled, and the utilization of the native language was forbidden. Following two years he got back and began going to a local community school.
Norval Morrisseau (Copper Thunderbird) gained Anishnaabe cosmology from his shaman grandfather, a member of the Midewiwin religious society, and Christianity from his Catholic grandmother. He studied his Anishnaabe heritage seriously, becoming a shaman. His art draws upon Midewiwin birchbark scrolls, rock paintings, and Anishnaabe decorative arts.
During the 1970s, Norval Morrisseau studied holistic Eckankar spirituality. Through his travels in Northern Ontario, and the printmaking Triple-K Cooperative in Red Lake, he has influenced numerous First Nations artists, including Daphne Odjig, Carl Ray, Joshim Kakegamic, Roy Thomas, Saul Williams, and Blake Debassige. His published works incorporate Legends of My People, The Great Ojibway (ed. Selwyn Dewdney) (Toronto, 1965).
At 19 years old, he became very sick. He was taken to a doctor however his health continued to weaken. Dreading for his life, his mother called a medicine woman who played out a renaming ceremony: she gave him the new name Copper Thunderbird.
As per Anishnaabe tradition, giving a strong name to a dying person can give them new energy and save their life. Morrisseau recuperated after the ceremony and from that point on consistently signed his works with his new name.
One of seven children, Norval Morrisseau was raised by his maternal grandparents Moses Potan and Vernique Nanakonagos. He left school after the 4th grade. He developed his art in 1959 while working in mining. Separated from major metropolitan places, he became a full-time artist in the mid-1960s.
In 1962, Norval Morrisseau hosted an exhibition at the Pollock Gallery in Toronto, denoting his official debut in the art world and whenever an Indigenous artist first was highlighted in a significant contemporary art gallery in Canada.
In 1963-66, Morrisseau augmented the scale of his works and developed his pictographic style. Consolidating rich colors, he addresses inner realities with strong flowing lines, frequently demonstrating spiritual powers. His art expresses his spiritual investigations and aspects of Anishnaabe culture (Untitled (Shaman), c. 1971), as well as his self-awareness. It reflects tensions between Indigenous societies and Christianity, shamanism, the interconnection between every single living thing, and the significance of the family.
At the point when Norval Morrisseau began painting, he was deterred from sharing traditional stories and pictures beyond the First Nation, however, he decided to break this taboo.
Norval Morrisseau's art style became known as Woodland painting, consolidating rich colors, birch-bark scroll etchings, and, customarily, skeletal animals and individuals.
Norval Morrisseau (Copper Thunderbird) contracted tuberculosis in 1956 and was sent to Fort William Sanatorium to recuperate. There he met his future wife Harriet Kakegamic with whom he had seven children.
In 1966, Norval Morrisseau (with Carl Ray) made a mural for the Indians of Canada Pavilion at Expo '67 in Montréal. One of Morrisseau's early commissions was for an enormous mural in the Indians of Canada Pavilion at Expo 67, a revolutionary exhibit voicing the disappointment of the First Nations People of Canada with their social and political circumstances. Struck by the virtuoso of Morrisseau's art, he quickly organized an exhibition of his work at his Toronto gallery.
Acquainted with the Canadian public at the Pollock Gallery, Toronto, in 1962, Morrisseau was the first artist of First Nations heritage to get through the Canadian professional white-art barrier.
All through the 1960s, Norval Morrisseau's pictographic style filled in prominence and was much of the time apparent by other Cree, Ojibwe, and Ottawa artists as a tribal style, to be adapted for their cultural necessities. By the 1970s younger artists painted exclusively in his genre.
For Norval Morrisseau, the 1970s were a period of battle to accommodate traditional Midewiwin and Christian religions in his art and personal life.
In 1972, Morrisseau was caught in a hotel fire in Vancouver and suffered serious burns. At that event, he had a vision of Jesus promoting him to be a role model through his art. He changed over completely to the apostolic faith and began presenting Christian themes in his art.
Consolidating his Ojibwa legacy, imparted in him by his maternal grandfather, Moses Nanakonagos, with the religion Eckankar, his works during the 1980s became more centered around spiritual elements. Morrisseau kept on studying Ojibwe shamanistic practices until late in his life, which he trusted raised his work to a higher plane of understanding.
Copper Thunderbird (Norval Morrisseau) was the founder of a Canadian-originated school of art called Woodland or some of the time Legend or Medicine painting. His work is influential on a group of younger Ojibwe and Cree artists.
His influence on the Woodland school of Artist was remembered in 1984 by the Art Gallery of Ontario show Norval Morrisseau and the Emergence of the Image Makers. He spent his childhood in remote isolation in northern Ontario, close to Thunder Bay, where his artistic style developed without the standard influences of other artists' imagery. As the sole originator of his "Woodland" style, he has become an inspiration to three generations of artists.
Norval Morrisseau's work represented a unique intersection between traditional Indigenous imagery and modern art styles. His way to progress has not been straightforward – Morrisseau's artwork has tragically been the subject of ongoing art fraud and plagiarism cases, as many tried to exploit the worth acquired through his special style.
In 1978, Norval Morrisseau was made a Member of the Order of Canada. He was a member of the Royal Canadian Academy of Arts.
Copper Thunderbird (Norval Morrisseau) was given the Order of Canada in 1978. In 2006, the National Gallery of Canada mounted Norval Morrisseau – Shaman Artist, a traveling retrospective exhibition of the artist's work.
Over his multi-decade career, Norval Morrisseau's artwork was highlighted in exhibitions across Canada, Europe, and the world. Some of his remarkable paintings incorporate Moose Dream Legend (1962), Conquest of the Thunderbird (1982), Androgyny (1983), and Observations of the Astral World (1994).
Copper Thunderbird (Norval Morrisseau) additionally utilized his developing impact to advocate and support arising First Nations artists, like Daphne Odjig and Roy Thomas. He was an original member of the Indian Group of Seven — a group devoted to elevating the next generations of Indigenous artists. Morrisseau's contributions prompted his recognition as the grandfather of contemporary Indigenous art in North America.
As Norval Morrisseau's health declined because of Parkinson's sickness and a stroke in 1994, he was really focused on by his adopted family Gabe and Michelle Vadas.
In 2005 and 2006, the National Gallery of Canada in Ottawa organized a retrospective of his work. This was whenever that the Gallery first dedicated a solo exposition to a native artist.
In the last months of his life, the artist Norval Morrisseau used a wheelchair and lived in a home in Nanaimo, British Columbia. He couldn't paint because of his poor health. He died of cardiac arrest—complications emerging from Parkinson's disease on December 4, 2007, in Toronto General Hospital. He was buried after a private ceremony in Northern Ontario close to the grave of his former wife, Harriet, on Anishinaabe land.
The National Arts Centre, urban ink co-production, Copper Thunderbird, debuted on the Aboriginal Peoples Television Network (APTN) on Monday, February 4, 2008. Norval Morrisseau was honored with a posthumous Lifetime Achievement Award during the NAAF Awards show in 2008.
Copper Thunderbird (Norval Morrisseau) was a self-taught artist. He developed his own strategies and artistic vocabulary that caught antiquated legends and pictures that came to him in dreams or visions. He was initially criticized by the native community since his pictures uncovered traditional spiritual knowledge. At first, he painted on any material available, particularly birchbark, and moose hide. Dewdney urged him to use earth-tone colors and traditional material, which he believed were proper to Morrisseau's native style.
Copper Thunderbird (Norval Morrisseau) is generally viewed as the grandfather of contemporary Indigenous art in Canada, and his work made ready for the development of Indigenous artwork in mainstream galleries.
On June 21, 2022, on Canada's National Indigenous Peoples Day, Google Doodle honored Copper Thunderbird (Norval Morrisseau) and his paintings that wonderfully caught the stories of Indigenous tradition.