Interesting and Fun Facts about Polish poet Maria Konopnicka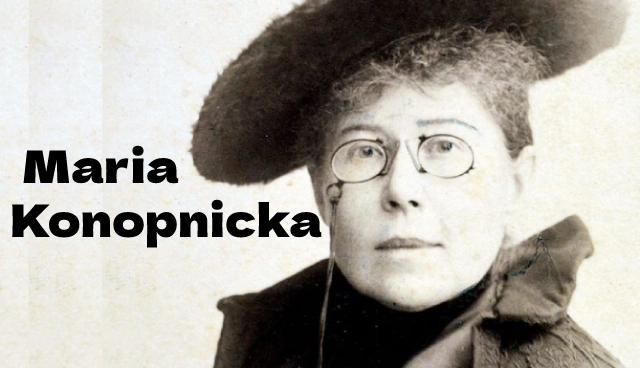 Google Doodle celebrates the 180th birthday of Polish poet Maria Konopnicka, the original name Marja Wasiłowska, pseudonym Jan Sawa, one of the most important poets of Poland's Positivist period, on May 23, 2022. Here are some interesting and fun facts about Maria Konopnicka.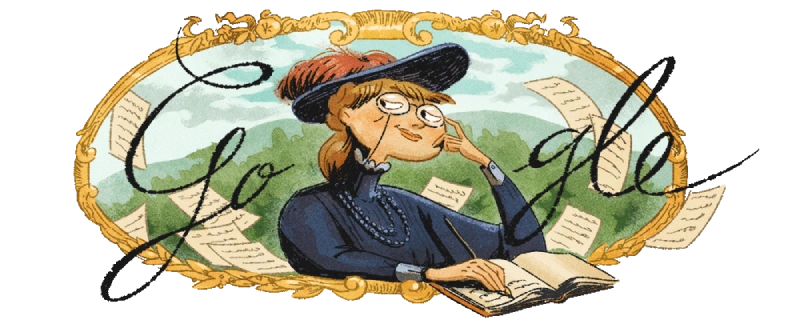 Here is a look at the life and work of Maria Konopnicka.
Personal
Birth name: Maria Wasiłowska
Birth date: 23 May 1842
Birthplace: Suwałki, Augustów Governorate, Congress Poland, Russian Empire
Died on: 8 October 1910 (aged 68)
Death place: Lwów, Kingdom of Galicia and Lodomeria, Austria-Hungary
Pen name: Jan Sawa, Marko, Jan Waręż
Known as: Writer, poet
Nationality: Polish
Notable works: Rota
Who was Maria Konopnicka?
45 Interesting and Fun Facts about Maria Konopnicka
Maria Konopnicka was born Marja Wasiłowska on May 23, 1842, in Suwałki, as the daughter of Józef Wasiłowski, a lawyer, patron of the civil tribunal, and Scholastyka née Turska.
In September 1849, the family moved to Kalisz, where the future poet spent her childhood and youth.
In the years 1855-1856, Maria Konopnicka learned about the salary of the sacraments in Warsaw. There she met Eliza Pawłowska, later Orzeszkowa. She was home-schooled and spent a year (1855-56) at a convent pension of the Sisters of Eucharistic Adoration in Warsaw (Zespół klasztorny sakramentek w Warszawie).
In September 1862, Maria Konopnicka married a landowner, Jarosław Konopnicki. Following the wedding, she left Kalisz for good, living in Bronów, and afterward in Austin, in the then Kalisz Governorate. She raised 6 children, making a living on the income of a small, leased farm.
In 1870, Maria Konopnicka made her debut in "Kaliszanin" with the poem "W zimowy poranek" ("On a Winter's Morn"). She acquired popularity after the 1876 publication of her poem, "W górach" ("In the Mountains"), which was praised by future Nobel laureate Henryk Sienkiewicz.
Maria Konopnicka dedicated three poems to the city, viewed as a family one: two named "Kalisz" (1888 and 1907) and "My city" (1897).
In 1877, she separated from her husband and moved to Warsaw to be in the main part of Polish literary and intellectual life, supporting herself and her children as a private tutor.
Maria Konopnicka would frequently travel in Europe; her first major trip was to Italy in 1883. She spent the years 1890-1903 living abroad in Europe.
A good reception of the poetic cycle " In the Mountains", published in the "Tygodnik Ilustrowany" in 1876, decided to dedicate herself to literature and settle with her children in Warsaw, where she resided until 1890.
As well as being an active writer, Maria Konopnicka was likewise a social activist, organizing and participating in protests against the repression of ethnic (primarily Polish) and religious minorities in Prussia. She was likewise associated with women's-rights activism. Aside from practicing literary activity, she actively took part in social and cultural life.
Maria Konopnicka's literary work during the 1880s earned wide recognition in Poland. In 1884 she started writing children's literature, and in 1888 she debuted as an adult-prose writer with Cztery nowele (Four Short Stories).
Her editorship of the women's magazine Swit (Dawn) from 1884 to 1886 served as one outlet. Baffled by censorship and analysis from Polish conservative circles, in 1890 she lived in Western Europe and didn't get back to Galicia until 1902. From that point until she died in 1910, she would live in Lemberg (presently Lviv).
From 1890, Maria Konopnicka remained in a few European countries West, helping out the national press, Polish associations in exile, the School Mother, and help committees for the confiscated populace of Upper Silesia and Greater Poland, and co-organized an international protest against the persecution of Polish children in Września (1901-1902). 1905-1907 remained in Warsaw and coordinated help for those detained by the tsarist specialists and their families.
When Maria Konopnicka got back from exile in 1902, she earned universal recognition as a significant poet and writer. Her short stories "Niemczaki" (German Boys), "Nasza szkapa" (Our Jade), "Dym" (Smoke), "Urbanowa" and "Milosierdzie gminy" (Township Charity), were published somewhere in the range 1888 and 1897, are viewed as among the best in Polish literature.
Because of the developing fame of her writings, in 1902 a few Polish activists decided to remunerate her by getting her a manor house. It was bought with funds gathered by a few associations and activists.
As Poland was not an independent country at the time, and as her writings were politically unpleasant to the Prussian and Russian specialists, a location was picked in the more lenient Austrian partition of pre-Partition Poland.
Maria Konopnicka fell effectively into the role of an activist and assisted with organizing fights restricting the abusive measures taken against Polish-speaking children by the Prussian government in Wrzesnia in 1901-1902.
In 1903, to celebrate the 25th anniversary of Maria Konopnicka's literary and social work, she was offered a house in Zarnowiec as a gift from the Polish country. Albeit presently not youthful, on various events from 1905 through 1907 Konopnicka visited Russian-occupied Warsaw on missions of leniency to help incarcerated political prisoners and their families.
In 1903 Maria Konopnicka got a manor in Żarnowiec, where she showed up on 8 September. She would spend most springs and summers there, however, she would in any case go about Europe in fall and winter.
A statement of her protest against the Germanization policy was the declaration of "Rota" in 1908. The poem has acquired extraordinary popularity as a song with music by Feliks Nowowiejski since the celebration of the Grunwald anniversary in 1910.
Maria Konopnicka has acquired the position of an important poet among her contemporaries. In any case, she additionally successfully practiced short stories and fictionalized reportage.
She composed stories with a created plot and broad descriptions of environments. The author of "About krasnoludkach and the orphan of Marys", "About Janku Wędrowniczku" and " Na Berries" has acquired a permanent position among authors of children's literature.
Konopnicka practiced literary criticism and social journalism in such magazines as "Kłosy", "Świt", "Biblioteka Warszawska" and others.
Maria Konopnicka published studies on literature and art as well as monographs, including: "Mickiewicz, his Życie I duch". Additionally, her translation achievements into German, French, Italian, English, and Czech have considerable literary value.
In 1903 Maria Konopnicka got a national gift from the manor house in Żarnowiec close to Krosno.
In the last years of her life, Konopnicka put a lot of time and effort into writing an epic poem entitled Pan Balcer w Brazylji (Mister Balcer in Brazil, 1892-1906, complete edition 1910).
On 8 October 1910, Maria Konopnicka died in Lwów (presently Lviv, Ukraine). She was buried there in the Łyczakowski Cemetery. According to her wish, Dulębianka was laid to rest next to her.
On December 13 of the same year, a literary evening dedicated to the poet associated with Kalisz for many years happened in the Kalisz theater. A lecture on her work was given by Maria Dąbrowska, referred to in later years as the writer of the Kalisz Land.
In her work, Maria Konopnicka referred to folk poetry, as well as to Romanticism, biblical tradition, as well as symbolism, and Parnassism, for example in From my Bible (series IV Poezji, 1896), in the collection Lines and Sounds (1897), Italy (1901), New Songs (1905), Voices of Silence (1906). Likewise various didactic poems, like Historical Songbook (1904), and People and Moments (1905). Epic poems Through the Depth (1907) and Pan Balcer in Brasil (1910).
Maria Konopnicka has published a collection of realistic-psychological stories: Four nowele(1888), My friends (1890), On the road (1893), People and things (1898), and On the Normandy coast (1904).
Reportage portrays Behind the Grate (1886), Prison Pictures (1887-1888). Works for children that are as yet well known today: On krasnoludkach i orphotce Marysi (1896), On Janku Wędrowniczku (1893), On berries (1903).
Basic works and literary essays were published in a selection in the following volumes: Portraits by pen (1898), Mickiewicz, his life and spirit (1899), Trzy studies (1902), and Szkice (1905). Additionally, among others: Poezje (vol. 1-8 and vol. 10, 1916, 1925), Chosen Pisma (vol. 1-7, 1951-1952), Nowell (vol. 1-3, 1962), Literary and social journalism (1968).
One of her most popular works is the long epic in six cantos, Mister Balcer in Brazil (Pan Balcer w Brazylii, 1910), on the Polish travelers in Brazil. Another was Rota (Oath, 1908) which was set to the music by Feliks Nowowiejski two years later became an unofficial anthem of Poland, especially in the domains of the Prussian Partition. This patriotic poem was strongly critical of the Germanization policies and hence depicted as anti-German.
Maria Konopnicka's most popular children's literature work is the 1896 O krasonoludkach i sierotce Marysi (Little Orphan Mary and the Gnomes). Her children's literature works were generally received, as compared to numerous different works of the period.
Maria Konopnicka's work has tracked down a permanent place in Polish literature and earned wide social recognition. This is confirmed by numerous undertakings expressing appreciation for the author of " Mendel Gdański ", "Nasz Szkapa" and others.
In 1958, the Society of Maria Konopnicka, whose off-road wheel has existed starting around 1961 in Kalisz.
In 1969, a monument to Konopnicka (carved by Stanisław Horno-Popławski) was raised in the city, and the next year an international scientific session dedicated to her life and work was held.
Maria Konopnicka was likewise a translator. Her translated works incorporate Ada Negri's Fatalita and Tempeste, published in Poland in 1901.
In 1922, the Maria Konopnicka Special Education School Complex was established in Pabianice.
Kononpnicka manor in Żarnowiec was changed over in museum, opened in 1957, the Maria Konopnicka Museum in Żarnowiec (Muzeum Marii Konopnickiej w Żarnowcu). Another museum, the Maria Konopnicka Museum in Suwałki, was opened in 1973.
A few schools and different institutions, including a few roads and plazas, bear her name in Poland. Polish Merchant Navy ship MS Maria Konopnicka was likewise named after her. A few plaques and monuments to her have been developed.
One of the latest ones is a monument to her built-in Suwałki in 2010. A crater on Venus was named after her in 1994.
In 1973, the Maria Konopnicka Museum in Suwalki opened to memorialize her achievements. Millions of copies of her books have been printed and reprinted all through Poland.
In Warsaw, in 2010 on the centenary of the poet's death, an International Maria Konopnicka Prize was made in recognition of organic work.
On May 23, 2022, Google featured a Doodle on its homepage for celebrating Maria Konopnicka's 180th Birthday.