Interesting and Fun Facts about Sương Nguyệt Anh, a Vietnamese First Female Women's Newspaper Editor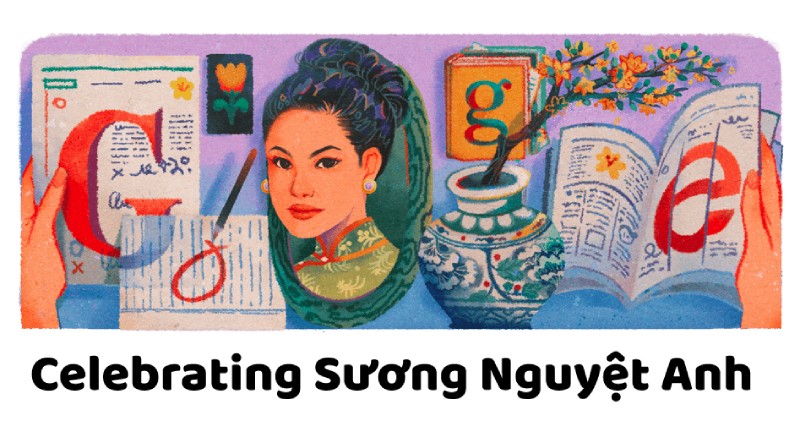 Search engine giant Google celebrates Sương Nguyệt Anh, a Vietnamese poet, and first female Women's Newspaper editor, with a Google Doodle on February 1, 2023. Here are some interesting and fun facts about Sương Nguyệt Anh.
Here is a look at the life and work of Sương Nguyệt Anh.
20 Interesting Facts about Suong Nguyet Anh
Suong Nguyet Anh was born in the village of An Binh Dong, which is now An Duc commune, and is in the Ba Tri district of the Ben Tre province.
The first female editor was the Vietnamese poet Suong Nguyet Anh (孀月英). She is in charge of The Women's Newspaper (女界鐘), which was the first Saigon women's newspaper.
According to "Nguyen chi the pho," Suong Nguyet Anh's real name is Nguyen Thi Ngoc Khue; however, the name written on the tombstone is Nguyen Ngoc Khue, self-titled Nguyet Anh.
Sương Nguyệt Anh also used the pseudonyms Xuan Khue, Nguyet Nga, and Nguyet Anh, in addition to her pen name Suong Nguyet Anh. Her pen name Suong Nguyet Anh means "Widowed Nguyet Anh".
Her father, Nguyen Dinh Chieu, taught her and her sister, Nguyen Thi Xuyen, to be good at both Chinese and Nom characters when they were young. People in the neighborhood referred to the two as Nhi Kieu as they grew up and became well-known for their talents.
When Suong Nguyet Anh's father died in 1888, she was 24 years old. She had resentment and was looking for a way to hurt her when the Trifu of Ba Tuong came to ask her if she could be a wife. She and her brother's family, Nguyen Dinh Chuc, moved to Cai Nua City (My Tho City), where they stayed at Mr. Truong Van Man's house, to avoid disaster.
She got married here to a vice president who was a widower named Nguyen Cong Tinh. She had a daughter named Nguyen Thi Vinh. Her husband died when the daughter was two years old. Since then, she has made it a priority to take care of her family, worship her husband, and open a school that teaches Confucian letters to the students who live nearby.
Sương Nguyệt Anh also added the word "dew" (孀) before her pseudonym Nguyet Anh, resulting in the name "Song Nguyet Anh," which translates to "widowed Nguyet Anh."
When she started writing for the Nu Gioi Chung newspaper in Saigon under the pen name Sương Nguyệt Anh—which translates to "Widowed Nguyệt Anh," she became Vietnam's first female editor-in-chief.
Sương Nguyệt Anh sold part of her estate and mobilized donations between the years 1906 and 1908 in response to Phan Boi Chau's Dong Du movement to assist students in traveling to Japan to study.
A group of patriotic writers asked Suong Nguyet Anh to be the editor-in-chief of the Women's General newspaper, which translates to "the sound of women's bells," in 1917.
On February 1, 1918, the newspaper published its first issue with a policy of increasing people's knowledge, supporting industry and agriculture and highlighting the importance of women in society.
The General Women newspaper ceased publication in July 1918. Nguyen Thi Vinh, her only daughter, had just given birth, got sick, and died at the same time.
After that, her health gradually deteriorated as her eyes became ill and frequently painful. Suong Nguyet Anh listened to the doctor as she took her grandson back to My Chanh Hoa (Ba Tri) and sought treatment in the house of her youngest brother, Nguyen Dinh Chiem. However, her eyes went blind shortly after. totally oblivious.
She continued to search for medicine, teach, and write poetry early in the afternoon thereafter. Suong Nguyet Anh died at the age of 58 on January 9, 1922, New Year of the Rooster, early in the morning.
Suong Nguyet Anh wrote a lot, but she didn't put them all together into a book. Currently, only a few poems are dispersed, including: Doan Ngo Nhat Khuat Nguyen, Tie Su, Chinh Phu Thi, Thuong Bach Mai, Nun Vinh, and King Thanh Thai traveled to the South and discussed their feelings to the Vietnam War's entry of Vietnamese soldiers. And a few rhymes, like: The title was won by Ve Tieu love, Ve Teacher Hy, and Ve.
Sương Nguyệt Anh is remembered for her bright personality and mind, as well as her ability to persevere in the face of adversity. She was a pioneer for future generations of Vietnamese women writers and editors.
Sương Nguyệt Anh was respectful of everyone and had connections with people from all walks of life. Ho Chi Minh, Da Lat, and Vung Tau are just a few of the cities where Nguyệt Anh is honored with street names.
In Da Lat and Vung Tau, for example, her pen name is frequently misspelled as "Suong Nguyet Anh," which is the name of a number of Vietnamese streets. Although the spelling of Suong Nguyet Anh Street in District 1 of Ho Chi Minh City has since been corrected, numerous street signs continue to use the incorrect name.
Sương Nguyệt Anh was given the honor of being the first Vietnamese woman to serve as editor-in-chief of a women's newspaper in the Google Doodle on February 1, 2023.