Interesting and Fun Facts about Todd Matshikiza, a South African Jazz Pianist and Composer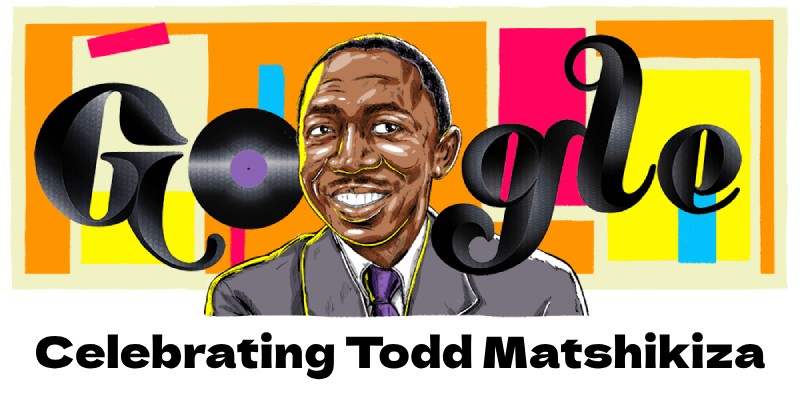 Today's Google Doodle honors jazz pianist, composer, and journalist Todd Matshikiza with illustrations by South African guest artist Keith Vlahakis. On this day in 1956, the orchestra at the 70th Johannesburg Festival performed his specially commissioned cantata Uxolo (peace). Todd Matshikiza is best known for his short stories and the music he composed for the musical production King Kong in 1960. Here are some interesting and fun facts about Todd Matshikiza.
35 Interesting and Fun Facts about Todd Matshikiza
Todd Tozama Matshikiza was a jazz pianist, songwriter, and journalist from South Africa.
The Todd family is musical. He was the seventh of seven children born to Samuel Bokwe Matshikiza and Grace Ngqoyi Matshikiza.
Matshikiza was a musical family member who was born on March 7th, 1921 in Queenstown, Eastern Cape Province, South Africa.
Following his graduation from St. Peter's College in Rosettenville, Johannesburg, he went on to earn a teacher's diploma at Lovedale Institute in Alice in 1941–1942 and a music diploma at Adams College in Natal. He continued working there as a teacher until 1947, educating English and Mathematics in the high school.
In 1950, Matshikiza married Esme Sheila Mpama after relocating to Johannesburg in 1947. They had two children: daughter Marian Linda and son John Anthony.
During this time, Matshikiza created songs and choral works that fused African traditional and European-classical forms. Hamba Kahle is one such piece that has now come to be performed by choirs all throughout South Africa.
Both for the Johannesburg Music Festival in 1950 and for the arrival of Queen Elizabeth II of the United Kingdom in Bulawayo in 1946, it was performed.
He established the private Todd Matshikiza School of Music, where he taught piano. His major passions remained jazz and composition, although he also briefly worked for Johannesburg's Vanguard Booksellers to help support the family.
In order to promote music performed by visiting artists from the townships, Matshikiza served on the committee of the Syndicate of African Artists from 1949 to 1954.
In 1952, Matshikiza received an invitation to work for Drum magazine, which had recently changed editorial focus and sought out a more critical readership. One of its earliest authors was Matshikiza, who also contributed alongside Henry Nxumalo, an investigative journalist, Ezekiel Mphahlele, Nat Nakasa, Bloke Modisane, and others.
His jazz column focused on Sophiatown and the surrounding township scene. In his regular column "With the Lid Off," Matshikiza wrote about life in the township.
He also published a column titled With the Lid Off on life in the township and one about the artistry and evolution of jazz. In the book With the Lid Off: South African Insights from Home and Abroad 1959-2000, a few of his articles from the latter column are preserved.
His writing style, which became known as "Matshikese" among his close friends, was distinguished by a musical tone and innovative, humorous use of grammar.
For the rest of his life, he remained friends and colleagues with Drum deputy editor Anthony Sampson. He had a brief stint as a Golden City Post employee.
In 1953, motivated by his love of classical music, he wrote the choral composition Makhaliphile, which he dedicated to Trevor Huddleston, a Johannesburg community activist who had worked with underprivileged areas. There were classical, jazz, and traditional themes combined in this.
He wrote Uxolo (peace), which was commissioned for Johannesburg's 70th anniversary, in 1956. South African choirs frequently performed his choral compositions, which led to a commission for the Johannesburg Festival in 1956.
He gained notoriety as a composer for two theatrical works, King King and Mkhumbane, as well as the song Quickly in Love, which appears in the 2013 movie Mandela: Long Walk to Freedom.
King Kong, an all-Black jazz musical, made its debut in 1958 and quickly became a great sensation, touring as far as London.
Mkhumbane, a 1960 musical featuring songs by Matshikiza and Alan Paton, had equally potent music, but its appeal was constrained by its political and satirical commentary on the Black experience in Cato Manor in the 1950s.
King Kong, a jazz musical with an all-black cast, featured music and lyrics written by Matshikiza in 1958. The music for Alan Paton's play Mkhumbane, which premiered in Durban on March 29, 1960, was also written by Matshikiza.
As a result of his frustration with the apartheid regime and the upcoming London production of the musical King Kong, Matshikiza relocated to England in 1960 with his wife and two children.
He frequently played piano in jazz venues in London while working with other performers. He provided freelancing services for a number of journals, contributing to a landmark piece that emphasized the revolutionary role played by Black South African music in the struggle against apartheid.
He continued to write for Drum Magazine from London in a regular column titled "Todd in London" and worked as a presenter and researcher for the BBC.
He made the decision to stay when he and his family traveled to London in 1961 with the cast of King Kong; while there, he worked on the musical Mkumbane with white South African author Alan Paton, broadcast radio shows for the British Broadcasting Corporation, and wrote autobiographical short stories about his experiences in both London and South Africa.
His autobiographical novel "Chocolates for My Wife" describes his experiences growing up in Britain and apartheid-era South Africa. The book discusses the black experience and explains how it affected him personally.
When the majority of the King Kong cast relocated to South Africa, Matshikiza continued to live and work in London as a pianist, lecturer on African music, and BBC employee.
When Zambia gained its independence in 1964, Matshikiza and his wife were asked to work there. He joined Radio Zambia as a broadcaster and presenter.
He also worked for the Zambian Information Service as a music archivist. He traveled widely throughout Zambia in this position, expanding the archive's collection and learning more about the country's traditional music and instruments.
Traditional tunes from Zambia served as an inspiration for some of his later music. He was one of five Black South African performers at the inaugural Luanshya Arts Festival in May 1965.
Early in the 1960s, he took part in a festival in Oran honoring Algeria's independence as well as an international competition to write a national song for the newly independent Nigeria.
Matshikiza was still irate that he couldn't go back to South Africa, where the South African government had outlawed his writing.
He died in Lusaka in 1968. Numerous dignitaries, including Oliver Tambo of the ANC and a ministerial team from Zambia, attended his funeral.
John Matshikiza, Todd's son, worked as an actor in both cinema and television. On September 15, 2008, John, 54, passed away in Johannesburg.
Lindi Matshikiza, Todd's granddaughter, has continued in her father and grandfather's theatrical acting and directing footsteps.
On September 25, 2023, Google featured a Google Doodle on its homepage to celebrate Todd Matshikiza.