Interesting Facts about Giovanna Boccalini Barcellona, an Italian Teacher, and Women's Rights Activist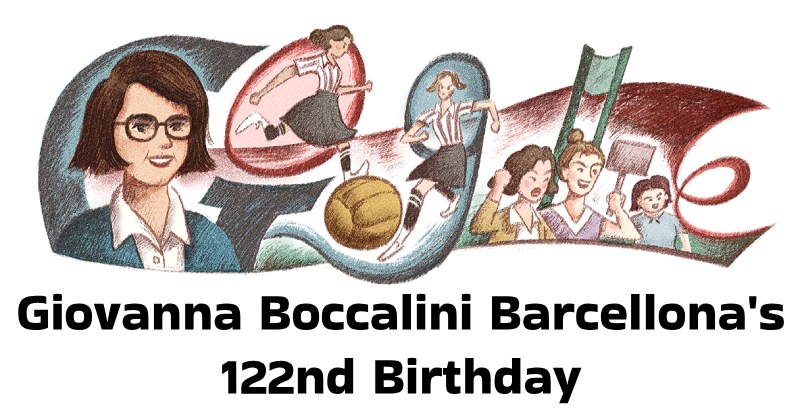 Google featured a doodle on September 24, 2023, to celebrate the 122nd birthday of Giovanna Boccalini Barcellona, an early 20th-century women's rights activist and teacher from Italy. She significantly contributed to the growth of female equality and independence. In a sport where men predominate, Boccalini Barcellona also assisted in the formation of Italy's first women's football team, a ground-breaking achievement. Here are some interesting facts about Giovanna Boccalini Barcellona.
Who was Giovanna Boccalini Barcellona?
Here is a look at the life and work of Giovanna Boccalini Barcellona.
Quick Look
Birth date: 24 September 1901
Birthplace: Lodi
Died on: 24 June 1991
Death place: Osnago
Nationality: Italian
20 Interesting Facts about Giovanna Boccalini Barcellona
Giovanna Boccalini Barcellona was an Italian educator and women's rights activist in the early 20th century.
The third of seven brothers and sisters, Giovanna Boccalini Barcellona was born to Francesco and Antonietta Salvarani in Lodi on September 24, 1901.
Giovanna Boccalini Barcellona attended the Scuola Normale Femminile to study teaching before becoming a primary school teacher.
She earned the qualification to teach in primary school at the Scuola Normale Femminile in Lodi, earning the nickname Nina from her family and the sculptor Ettore Archinti who resides in the same building as her.
As a teacher, Boccalini Barcellona tried to bring about changes that would give women and girls more opportunities and resources.
She joined the General Workers' Mutual Aid Society when she was 15 and the local socialist section a few years later, where she found her passion for social and political activism.
The rise of fascism put an end to Giovanna Boccalini Barcellona's political activism, and she instead focused on starting her own family with the accountant Giuseppe Barcellona, whom she married in 1925. She had two children with: Giacomo and Grazia.
Giovanna Boccalini Barcellona's family relocated to Milan's Piazzale Dateo in 1927.
Giovanna Boccalini took on her position at the Viale Romagna school at the start of the 1930s, and she immediately set out on a pioneering project: she founded the first women's football team, on which her younger sisters played over which she served as commissioner.
The GFC (Gruppo Femminile Calcistico), the nation's first women's football team, is her most notable accomplishment. This initiative undoubtedly dismantled gender barriers at a time when males dominated official sports.
The work of Giovanna Boccalini Barcellona pushed stereotypes about women's interests and skills while simultaneously encouraging women to participate in physical pursuits.
Giovanna Boccalini is persuaded that it is time to reaffirm her commitment to the political and social realms and further women's emancipation after the early loss of her firstborn and the fall of fascism.
By establishing the Women's Defense Groups and running Noi Donne, the Milanese GDD's press organ, Giovanna Boccalini Barcellona joins the PCI and gets involved in the Resistance.
She was also a founder of the GDD (Defence Groups for Women and the Assistance of Freedom Fighters), a group dedicated to emancipating and promoting women's equality.
Giovanna Boccalini Barcellona was elected to the Lombard CLN as the Italian Women's Union's delegate after the conclusion of the war, and in 1946 she was appointed councilor for welfare and childcare at the Municipality of Milan. after the end of the war, she was appointed commissioner for social security and assistance.
She merged her political and union activities in 1949, rising to the post of vice president of the INCA (National Confederal Institute for Assistance) and then the INPS, a position she held until her retirement.
On June 24, 1991, in Osnago, Giovanna Boccalini Barcellona died.
Giovanna Boccalini never forgets to devote herself to women, to their emancipation and protection, as well as to childhood, in addition to her political and trade union work.
Italian society will never be the same due to Giovanna Boccalini Barcellona's inspirational contributions to women's equality, rights, and education.
On September 24, 2023, Google featured a Google Doodle on its homepage to celebrate Giovanna Boccalini Barcellona's 122nd Birthday.