Lifestyle
Interesting Facts about James Naismith, Inventor of Basketball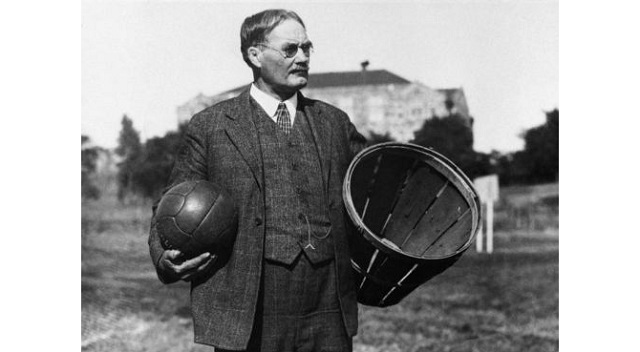 Search engine giant Google celebrates American-Canadian educator Dr. James Naismith, who invented the sport of basketball in 1891, with an animated Doodle on January 15, 2021. On this day in 1892, Naismith reported the new game and its original rules in the pages of "The Triangle," a Springfield College school newspaper.
Here is a look at the life and work of Dr. James Naismith.
Personal
Birthdate: November 6, 1861
Birthplace: Almonte, Mississippi Mills, Canada
Died on: November 28, 1939 (aged 78)
Dead place: Lawrence, Kansas, United States
Father name: John Naismith
Mother name: Margaret Young
Spouse(s): Spouse: Florence B. Kincaid, Maude Evelyn Sherman
Children: Helen Carolyn, John Edwin, James Sherman, Margaret Mason, Maude Ann
Nationality: American, Canadian
Sun Sign: Scorpio
Education:

The Presbyterian College,
Almonte District High School,
McGill University,
Springfield College

Known as: Teacher, Coach, and Inventor
Famous as: Invented Basketball
Accomplishments and honors:

Awards

FIBA Hall of Fame
Canadian Basketball Hall of Fame
Canadian Olympic Hall of Fame
Canadian Sports Hall of Fame
Ontario Sports Hall of Fame
Ottawa Sports Hall of Fame
McGill University Sports Hall of Fame
Oklahoma State Sports Hall of Fame

Basketball Hall of Fame Inducted in 1959
College Basketball Hall of Fame Inducted in 2006
Read More: James Naismith: Google animated Doodle celebrates Canadian-American basketball inventor
25 Facts about James Naismith
James Naismith was a Canadian-American sports coach and pioneer of the game 'basketball'.
James Naismith was born in Ramsay Township, Mississippi Mills, Ontario, to Margaret and John Naismith. He was not awesome at studies but rather was a magnificent player at games that he in some cases just planned himself.
He was orphaned at an early age in life and was raised by his auntie and uncle and went to Bennies Corners close to Almonte. He later graduated from the Almonte High School in Ontario in 1883.
Effectively graduating from secondary school, James Naismith went to McGill University, Montreal. His athletic ability was put to use in the university as he was made to take an interest in Canadian football, lacrosse, rugby, soccer, and so on.
Dr. James Naismith was an incredible gymnast and won numerous Wicksteed medals for his exceptional performance in gymnastics and acquired a BA in Physical Education and a Diploma at the Presbyterian College, Montreal.
Shortly after completing his education, in 1891 James Naismith began teaching physical education, it being his specialty, and acquired the position of the first-ever McGill director of athletics. He later left Canada to become a physical education teacher in Massachusetts.
He planned the game at Springfield YMCA and after teaching it there for quite a while, he presented it in Kansas by establishing the University of Kansas basketball program.
At the YMCA, it was difficult for James Naismith to deliver his services as a physical education educator. He was left with a stubborn bunch of students who were just interested in playing indoors so he was told to plan a simple one.
James Naismith made the first game of 'basket ball' in 1891 and composed the formal conditions of the game wherein players played nine versus nine, dealt with a soccer ball and the goals were a couple of peach baskets.
As a young boy, Naismith was constantly interested in the outdoor games and planned basketball on some of the games he used to play outdoors.
James Naismith became the first-ever campus coach of basketball when the University of Kansas hired him as a basketball coach and with it, he began to accomplish fame and wonder worldwide however he was more interested in his physical education career.
This recently devised game became well known on the campus of YMCA and the editor-in-chief of 'The Triangle' published an article on it—'A New Game'. It was being talked about to call it 'Naismith Game', however, Naismith declined this.
In 1893, the YMCA movement popularized the game internationally while James Naismith went to Denver to procure a degree in medical science, and in the following years, he went to the University of Kansas after coaching the game at Baker University.
Dr. James Naismith got married to Maude Evelyn Sherman in 1894 in Massachusetts. They had five children together: Margaret Mason, Helen Carolyn, John Edwin, and James Sherman.
In 1898, basketball was formally educated at the University of Kansas and he worked as a physical education educator. Their initial games were arranged against YMCA teams. Other common adversaries were Haskell Indian Nations University and William Jewell College.
Aside from creating the sport of basketball at Springfield YMCA, James Naismith's significant work is viewed as his role of basketball coach at the University of Kansas from 1898-1907. He was the first-ever campus basketball coach.
James Naismith got an honorary PE Master's degree in 1910, watched the Mexican border for four months during World War I, traveled to France, published two books—'A Modern College ( 1911)' and 'Essence of a Healthy Life (1918)'.
Spalding worked with Dr. James Naismith to build up the official basketball and the Spalding Athletic Library official basketball rule book for 1893-1894.
Despite having coached his final season in 1907, Naismith remains the only coach in Kansas men's basketball history with a losing record.
In 1935, he went to observe the presentation of basketball into the official Olympic sports program of the 1936 Summer Olympic Games.
Dr. James Naismith saw basketball being received as an Olympic demonstration sport in 1904 and as an official event at the 1936 Summer Olympics in Berlin, as well as the birth of both the National Invitation Tournament (1938) and the NCAA Men's Division I Basketball Championship (1939).
His first spouse passed on in 1937 and he got married again to Florence B. Kincaid yet he experienced a major brain hemorrhage in the same year and died at 78 years old on November 28, 1939, in Lawrence, Kansas.
James Naismith got honors like the Canadian Basketball Hall of Fame, the Canadian Olympic Hall of Fame, the FIBA Hall of Fame, and so on.
The Naismith Memorial Basketball Hall of Fame in Springfield, Massachusetts, is named in his honor, and he was a debut inductee.
On January 15, 2021, Google honored Dr. James Naismith with an animated Google Doodle.