Interesting Facts about Kitty O'Neil, American stuntwoman and the fastest woman in the world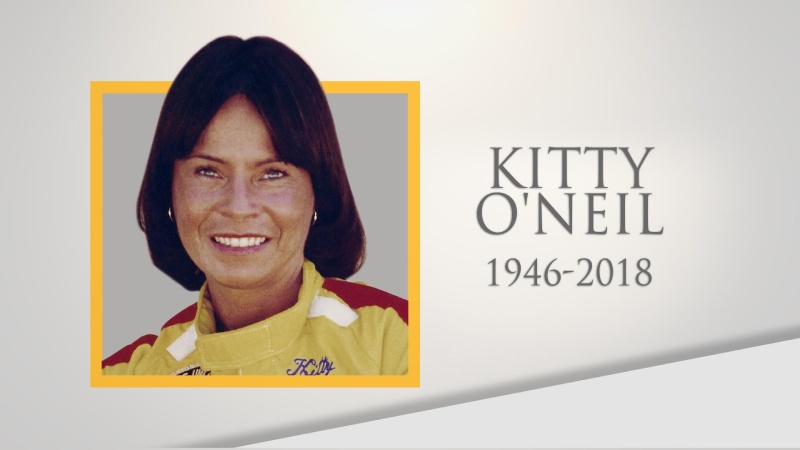 Search engine giant Google launched a Google Doodle to celebrate the 77th birthday of Kitty Linn O'Neil, an American stuntwoman and racer who was dubbed "the fastest woman in the world." Kitty O'Neil's fascinating and amazing fun trivia can be found here.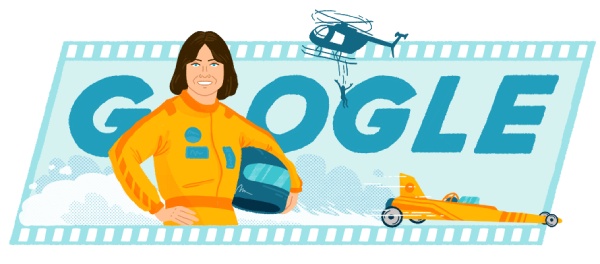 Here is a look at the life and work of Kitty O'Neil.
Who was Kitty O'Neil?
Quick facts about Kitty O'Neil
Birth date: March 24, 1946
Birthplace: Corpus Christi, Texas, U.S.
Died on: November 2, 2018 (aged 72)
Death place: Eureka, South Dakota, U.S.
Father name: John R. O'Neil
Mother name: Patsy Linn Compton
Famous as: Stuntwoman, race car driver
35 Interesting Facts about Kitty O'Neil
Kitty O'Neil was born in Nueces, Texas, USA, on March 24, 1946. Her mother, Patsy Linn Compton was a Cherokee Native American, and her father, oil wildcatter John R. O'Neil, was Irish. Kitty's father died in an airplane accident shortly after she was born.
Until she was five months old, Kitty's development was normal as a baby. When she was infected simultaneously with measles, mumps, and smallpox, she lost her hearing.
Patsy decided that Kitty should be educated at home, so she took education courses at The University of Texas to prepare for that role. In terms of Kitty learning to speak normally and becoming proficient at speech (lip) reading her mother's goal was accomplished.
Patsy took classes at the university while she was raising her two young children. Kitty was able to enroll in a regular third-grade at a public school by the age of eight.
Her mother founded The Listening Eyes School for the Deaf in Wichita Falls, Texas, USA, and taught numerous deaf children there. By detecting minute shifts in the frequency of the vibrations, Kitty learned to play the cello.
Kitty O'Neil began swimming at the age of twelve. As a result, she became interested in diving. Kitty, who had never dived before, won the first-place medal in place of the diver who was absent. She won the AAU Southwest District Junior meet six months later.
O'Neil also enjoyed watching sports. Sammy Lee, a two-time Olympic diving champion, was given attention to her after she won the Junior Olympic Southwest District Diving title.
Kitty O'Neil's family moved to Anaheim, California, USA, in 1962 so she could learn to dive with Sammy Lee, a nationally known diving coach.
She trained with Lee after moving to Anaheim, California, where she won more than 30 blue ribbons, numerous first-place trophies, and gold medals.
Kitty O'Neil was in the water for four hours a day. She was named the Youth Athlete of the Month by American Youth Magazine.
Additionally, Kitty O'Neil won and took a first-place finish in the women's 10-meter diving championship and also placed 12th in the U.S. team trials for the 1964 Tokyo Olympics. She was on her way to the Olympic Games qualifying heats after winning the 10-meter diving competition at the 1964 AAU Nationals.
Kitty O'Neil's diving career finished suddenly when she broke her wrist while diving, followed by a session with spinal meningitis. Kitty persevered in getting back on her feet, even though there was some concern that she might lose the use of her legs.
Kitty switched to high-speed water skiing because she loved speed and competition. With a speed of 104.85 miles per hour, she set the official women's water ski speed record in 1970.
Automobile racing and cross-country motorcycle racing seemed like natural next steps. Their relationship began when she was helped by fellow racer Duffy Hambleton in an accident at a motorcycle race.
As he accompanied her to the hospital, he was unexpectedly placed in charge of medical decisions that allowed Kitty's two severed fingers to be reattached in a curved position during four hours of surgery. Kitty was once again able to play the piano due to the complete restoration of her left-hand function through subsequent therapy.
Duffy and Kitty lived on a 10-acre citrus farm. He used voice modulation every day to work with her. Kitty would match his normal vocal vibrations with her own voice after touching his throat and detecting them.
The constant objective was to lower the high pitch that is characteristic of deaf speech. Kitty O'Neil was first introduced to the world of film stunt work by Duffy.
Kitty O'Neil joined Stunts Unlimited in 1976, an organization made up of Hollywood's best stunt performers. She was the first woman to receive this recognition.
Kitty broke the world land speed record for women in December 1976. She beat the previous record by more than 200 miles per hour at Alford Lake, a dry lake bed in southeast Oregon, USA.
Kitty O'Neil had driven The Motivator, a rocket-powered vehicle with 48,000 horsepower built by Rocketman Enterprises in Minneapolis, Minnesota, USA, by Ky Michaelson.
When she received a professional license from the Fédération Internationale Motorcycliste in 1977, she was the only woman in the world considered qualified for international motorcycle competition.
Kitty O'Neil tipped over a burning van, ran with her clothes on fire, and then fell seven stories over a parking garage parapet for a 1977 NBC special about the best stuntmen and women in the world.
Kitty was required to remain inside the van while firefighters extinguished the flames in order to film the fire sheets covering it. Kitty was then freed from the overturned van by the stunt crew by removing the windshield, where she was still strapped in.
"Silent Victory: The Kitty O'Neil Story," a CBS made-for-TV film starring Stockard Channing as Kitty, was based on her achievements in 1979.
Duffy Hambleton was an executive producer, and the real Kitty O'Neil performed many of the stunts.
Kitty O'Neil retired in 1986 and moved to Eureka, South Dakota, USA, in 1993 with her longtime companion, Raymond Waid, from Elk River, Minnesota, USA.
Kitty has spent a lot of her time supporting the efforts made by the American Cancer Society to fight breast cancer.
Kitty, who is not a victim of the disease herself, donates both her time and her image to the cause. She also encourages women to have mammograms every year after the age of forty.
Kitty O'Neil set the official waterskiing speed record in 1970 with a speed of 104.85 miles per hour. In a 38-foot, three-wheeled rocket-powered land missile, she set the women's world land speed record six years later, traveling 322 miles per hour.
In 1977, she was the only woman in the world who was considered qualified for international motorcycle competition. was the first woman to be accepted into the group of Hollywood's best stunt performers known as Stunts Unlimited;
On a TV television in 1977, she set records for both the longest fall by a woman and the highest fall endeavored by a woman while afire, finishing a 112-foot drop in a defensive firesuit that had been set on fire.
Kitty O'Neil was the only woman until 1992 to perform the "cannon car rollover," a stunt in which an explosive device flips a moving car.
At the age of 72, she died in Eureka, South Dakota, on November 2, 2018, from pneumonia. She was honored with the Oscars in Memoriam award in 2019.
Kitty O'Neil did stunt work for The Bionic Woman, Airport 77, The Blues Brothers, Smokey and the Bandit II, and other films and television shows.
Google created a doodle to commemorate Kitty O'Neil's 77th birthday on March 24, 2023.