Interesting Facts about Justine Siegemund, a German Midwife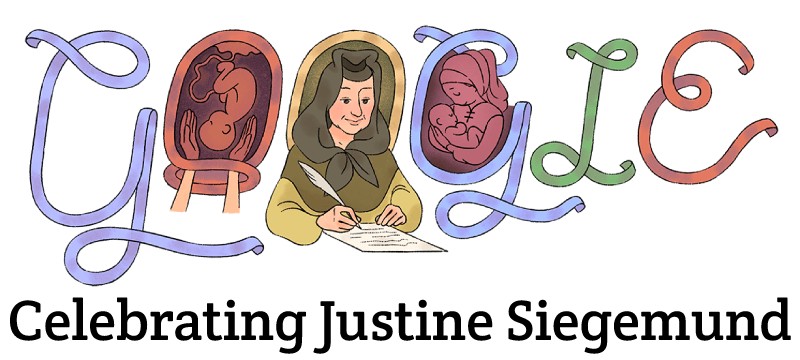 Search engine giant Google released a Google Doodle on March 28, 2023, to honor Justine Siegemund, or Siegemundin, a well-known midwife from Lower Silesia. Her book Court Midwife (1690), which was the most-read German obstetrical manual written by a woman, was published. Here are a few interesting and fun facts about Justine Siegemund.
A look at Justine Siegemund's life and work can be found here.
Who was Justine Siegemund?
Quick Look
Birth name: Justine Diettrich
Birth date: 26 December 1636
Birthplace: Rohnstock, Lower Silesia
Died on: 10 November 1705 (aged 68)
Death place: Berlin
Famous as: a German midwife
Known for: The Court Midwife (1690)
Spouse: Christian Siegemund
25 Interesting Facts about Justine Siegemund
In the 17th century, Justine Siegemund was a midwife who dared to challenge patriarchal attitudes.
Justine Siegemund was born on December 26, 1636, in Rohnstock (now Roztoka), the Lutheran minister's daughter, in the former Silesian Duchy of Jawor.
She married an accountant named Christian Siegemund in 1655, but the union ended without a child. But it lasted 42 years, and Christian Siegemund helped his wife a lot in her professional life, even though they may not have lived together until 1673.
Since only midwives who were pregnant were supposed to be able to practice, Justine Siegemund's lack of children should technically have disqualified her from her profession.
Justine Siegemund had a prolapsed uterus as a young woman, which uninformed midwives misdiagnosed as pregnancy. She became inspired to become a midwife and improve obstetrical education as a result of this frustrating experience.
At twenty, Justine Siegemund suffered extensively on account of inept midwives who wrongly expected that she was pregnant. When she was asked to assist in a case of obstructed labor related to a misplaced infant arm in 1659, her experience inspired her to learn more about obstetrics, which she did for the first time.
Siegemund began her midwifery career by providing free services to underprivileged women after completing an apprenticeship. She quickly became well-known for her skill in safely guiding pregnant women through difficult births, and word quickly spread to all pregnant women in the country.
Justine Siegemund provided free midwifery services to poor and peasant women in her area until 1670; however, she gradually expanded her clientele to include women from merchant and noble families.
Siegemund was called upon when a cervical tumor threatened Luise Duchess of Legnica. She successfully removed the tumor after male doctors called on her professional services because of her thriving midwifery practice and expanding client base.
She was given the title of "city midwife" of Legnica/Lignitz in 1670.
In 1683, Frederick William, Elector of Brandenburg, appointed her as his court midwife, the Chur-Brandenburgische Hof-Wehemutter. Her expertise and talent caught his attention.
In 1683, Justine Siegemund accepted an official position as the City Midwife of Lignitz. Later, she became the Court Midwife in Berlin, where she delivered children for the royal family.
During this time, she also published The Court Midwife, which significantly improved the health of German mothers and infants.
Justine Siegemund also gave birth to four of Marie-Amalie, Duchess of Saxony-Zeitz's children, who was Frederick III's sister.
She assisted the Saxon Electress Eberhardine in giving birth to her son, Frederick August II, at the court of August the Strong in 1696. She also attended other births in the Berlin area at the same time.
Mary II of Orange (1662–1694) suggested to Justine Siegemund that he write a textbook training manual for midwives while she was in the Netherlands. However, Siegemund had probably already assembled the Court Midwife.
In her practice, Siegemund rarely made use of early pharmaceuticals or surgical instruments. According to the Berlin deacon who presided over her funeral, Justine Siegemund had given birth to nearly six thousand two hundred children by the time she died on November 10, 1705, in Berlin.
Justine Siegemund made the journey from The Hague to Frankfurt on the Oder in 1689. She submitted her draft manual to the Frankfurt on Oder medical faculty there, which approved her medical documentation.
Justine Siegemund published The Court Midwife (actually Die Kgl. Preußische und Chur-Brandenburgische Hof-Wehemutter), an authoritative obstetrical text, based on meticulous notes she had taken during her deliveries in 1690.
Before then, the majority of German midwives' knowledge was passed down orally. Safe birth practices could not be documented consistently. In Germany, The Court Midwife was the first to offer a complete guide to childbirth.
Along with François Mauriceau, she is also credited with discovering a method for puncturing the amniotic sac to treat a hemorrhaging placenta previa.
After Justine Siegemund's death, the Court Midwife went through various republications, including Berlin (1708), and Leipzig (1715,1724), with modifications that included validating male gynecological references and accounts of the Kerger and Petermann cases when it was republished in 1723, 1741, 1752 and 1756.
Justine Siegemund was the first female author in Germany to publish a book on obstetrics.
Siegemund was the first woman to publish a seminal medical text in German at a time when few women had access to formal education.
On 28 March 2023, Google celebrated Justine Siegemund with a Google doodle. This day in 1690 marked the official certification of her book, The Court Midwife, by the European University Viadrina Frankfurt (Oder).