Interesting Facts about Mitiarjuk Nappaaluk, a Canadian Inuk Historian and Author
On National Indigenous Peoples Day, today's Google Doodle honors Canadian Inuk historian and author Mitiarjuk Nappaaluk. Google Doodle for celebrating Mitiarjuk Nappaaluk on June 21, 2023, is illustrated by Ottawa-based Inuk guest artist Gayle Uyagaqi Kabloona. Throughout her life, Mitiarjuk Nappaaluk championed Inuit culture and wrote the ground-breaking Sanaaq novel in Inuktitut, which was later translated and featured on bestseller lists all over the world.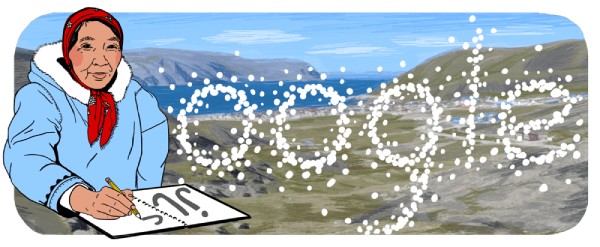 30 Interesting Facts about Mitiarjuk Nappaaluk
Inuk writer Mitiarjuk Attasie Nappaaluk CM. Her most famous work was Sanaaq, one of the first novels written in the Inuktitut language; albeit written earlier, it was published later than Markoosie Patsauq's Harpoon of the Hunter.
Attasie Mitiarjuk Nappaaluk; OC was an Inuit historian, author, and teacher. One of Nappaluuk's most famous works, Sanaaq, was one of the first Inuktitut novels. She was awarded the Order of Canada in 2004 for her advocacy of Inuit culture and traditions.
Mitiarjuk Nappaaluk was born in Nunavik's Kangiqsujuaq, which was formerly known as Wakeham Bay. It would appear that she spent her entire life around this community. Because she was the eldest daughter in a family of girls, her father taught her how to hunt and other traditionally male skills.
The missionaries who arrived in Nappaaluk's community when she was 20 years old taught her to write in Inuktitut syllabics. They taught her how to write in syllabics, and she taught them how to speak Inuktitut.
One of many examples Mitiarjuk Nappaaluk gave to the world on behalf of all Inuit of how two distinct cultures can cooperate harmoniously on behalf of a small northern community.
Nappaaluk was raised with traditional Inuit teachings and ways of life, such as storytelling, hunting, and fishing.
Mitiarjuk Nappaaluk translated novels and other works of literature for the missionaries and helped with Inuktitut dictionary entries. In addition, she received an honorary doctorate from McGill for her work translating the Roman Catholic Book of Prayer into Inuktitut.
When an Oblate missionary in the area asked her to write some sentences in Inuktitut so he could learn the language, she started writing her novel Sanaaq at the beginning of the 1950s.
The novel, which was written in Inuktitut syllabics and only came out in 1984, quickly became a cultural touchstone in Inuit communities all over the Canadian Arctic. The novel was translated into French in 2002, and it was translated into English in 2014.
Mitiarjuk Nappaaluk also wrote several books on traditional language and culture for use in Inuit schools and translated the Roman Catholic Book of Prayer into Inuktitut.
She was a consultant for the Kativik School Board and was a member of the Inuktitut Language Commission of Nunavik.
Mitiarjuk Nappaaluk was married to Naalak Nappaaluk, a noted promoter of Inuit cultural traditions as well.
In 2004, she was made a Member of the Order of Canada. She also received an honorary degree from McGill University and a National Aboriginal Achievement Award.
In her lifetime, Mitiarjuk Nappaaluk accomplished a great deal. There are many different kinds of achievements, and recognition can come in the form of tangible things like medals and trophies or words spoken at public events.
Mitiarjuk Nappaaluk focused her work throughout her lifetime on achievements rather than the legacy that we leave to future generations. Achievements are important but not as important as legacy. Unselfishly, she wrote and worked for the Inuit who were waiting to be born.
In 1999, Nappaaluk was honored for his contributions to culture, heritage, and spirituality with the National Aboriginal Achievement Award, which is now the Indspire Award. By that time, she had written 22 books about Inuit culture, hunting and fishing, the Inuktitut language, and the landscapes of the north. This canon of writing, which is still used in schools all over Nunavik, is thought to be an encyclopedia for Inuit people.
Mitiarjuk Nappaaluk served on school boards and contributed to the development of the curriculum as a revered Elder in Kangiqsujuaq, Nunavik.
From 1965 to 1996, she worked as an elder for the Kativik School Commission, which later became the Kativik School Board. There, she developed a curriculum for the Inuktitut language and taught teachers about cultural awareness. Even though she never attended school or sat in a classroom as a student, she was a woman who was very involved in the field of education.
Mitiarjuk Nappaaluk's novel Sanaaq, which she wrote in Inuktitut in the 1950s and finally published in 1984, is Nappaaluk's most well-known achievement.
Inuktitut was translated into French in 2002, and English was added in 2014. In 2003, the novel spent several weeks in Montreal on the French bestseller list.
Nappaaluk was awarded an honorary doctorate of law from McGill University in the year 2000. A postsecondary university was another type of education that Nappaaluk never had, but her knowledge and dedication to Inuit literacy were highly valued and honored thanks to her own life experiences and understandings.
Mitiarjuk Nappaaluk was given the Order of Canada in 2004 for preserving the language and culture of the Inuit. Nappaaluk was someone who worked to encourage positive relationships between Inuit and non-Inuit people, even though she may not have believed that her work was improving Canada.
She was someone who thought that skills that could be shared between two cultures and harmony were valuable.
Mitiarjuk Nappaaluk spent time carving as a means of expressing her Inuit spirituality and traditions in addition to writing and teaching.
She created soapstone figures depicting Inuit bodies wrapped around one another and traditional Inuit concepts of the "Monster." The "Virgin Mary" soapstone carving that depicts Mary as an Inuk was given to the community's Saint Anne mission.
Mitiarjuk Nappaaluk was a woman who saw life from both the past and the future. Her love for all Inuit is her greatest legacy and achievement. She led a modest life that was marked by the highest honors, and in all of her work, she only ever wanted the best for herself.
Arnaujaq Nappaaluk Qumaaluksaid praised her mother's lifetime achievements and contributions when Naapaaluk was named an Indspire laureate in 1999, stating that "it was not only for herself but all Inuit people."
Mitiarjuk Nappaaluk died in her home community in 2007 after a long illness, but her love legacy continues to guide the Inuit.
The Sanaaq Centre, a brand-new downtown cultural center in Montreal that will open in 2023, was also given to her, albeit posthumously.
On June 21, 2023, Google featured a Google Doodle on its homepage for celebrating Mitiarjuk Nappaaluk.