Why Google Doodle Celebrated Martin Dibobe? Know Some Interesting Facts about a Cameroon-born Train Driver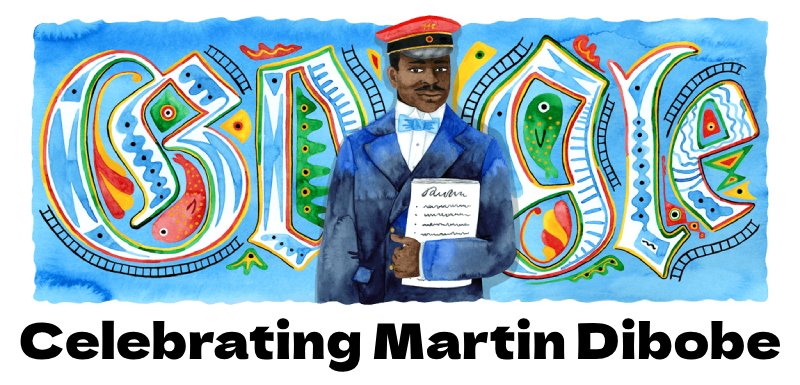 Search engine giant Google celebrates Martin Dibobe, a Cameroon-born train driver who worked in Berlin during the German Empire period, on June 27, 2023. Dibobe and 17 other Africans petitioned the German government on this date in 1919 for civil rights and independence for all citizens of Germany's colonial empire. Today's Google Doodle, illustrated by Berlin-based guest artist Helene Baum-Owoyele, celebrates Cameroonian train driver Martin Dibobe.
Interesting Facts about Martin Dibobe
Martin Dibobe was born on October 31, 1876, in Bonaprise, Cameroon. Quane a Dibobe was his original name, but missionaries christened him Martin Dibobe.
He attended a missionary school and learned to read and write as the son of a Douala chief. Dibobe and many other Africans who lived in Berlin at the time were required by the German government to participate in an ethnographic display that was intended to educate Germans about African daily life and garner support for colonialism. Dibobe and 100 other Africans were transported to Berlin by steamboat in 1886.
Martin Dibobe went to Germany in 1896 to represent Cameroon, which was a German colony at the time, at the Great Industrial Exposition of Berlin. His role at Treptower Park was to portray "African daily life." He was 20 years old.
Dibobe lived in terrible conditions for six months and made an appearance in Berlin's Treptower Park as an "exhibit" of African life. Along with numerous different Africans, all from the then German colonies, he spent a half year at the exhibition as an 'exhibit.' At the point when the exhibition was completed, he stayed in Berlin and began an apprenticeship as a locksmith with the firm Conrad Schultz in Strausberg.
Following that, Martin Dibobe remained in Germany and began working as a locksmith in a local factory before falling in love with a German woman. They later got married with the help of a clergyman, even though the registry office refused to record their union. He proposed to Helene Noster, his landlord's daughter, in the early 1900s, and they got married that same year despite opposition from German colonial authorities.
Martin Dibobe started as a dispatcher for the Berlin U-Bahn in 1902, rising quickly to become a first-class train driver. As a result, he quickly became somewhat of a household name. Dibobe maintained contact with his homeland and advocated for the return of the German colonies after the First World War.
After that, Martin Dibobe got a job at the Berlin subway system and rose through the ranks until he became the city's first Black train driver. He advocated for African rights throughout the empire because he was dissatisfied with his social mobility.
Around 1907, it is believed that the German government sent Martin Dibobe back to Cameroon to assist in the construction of a new railway line. He discussed equal rights with chiefs in his native country during this time.
Martin Dibobe was openly sympathetic to the German Social Democrats' viewpoints and advocated for Africans to have equal rights. On June 27, 1919, he presented a petition to the Reichstag along with 17 other Africans from the former colonies who proposed that he be their permanent representative. The petition called for civil rights and independence for all colonists.
Germany gave up its colonies to France and Great Britain following the 1919 Treaty of Versailles. To appeal to Germany's National Assembly, Dibobe gathered other advocates. The Dibobe request included 32 requests supporting equivalent freedoms for the country's African travelers, yet it was overlooked by the government.
Martin Dibobe traveled alone to Cameroon, which was then under French control, in 1922 in preparation for his decision to return to Africa with his family. The French, expecting that he would impel a revolt against the Germans, wouldn't permit him to land. He had no option but to continue his journey to Liberia. He had vanished completely at this point, but it seems likely that he died in Liberia.
Today, a plaque remembers Martin Dibobe's efforts at his old address in Berlin. Dibobe always stood up for African rights in the face of blatant racism and set an example for other activists to follow.