Jaipur, India – Rejuvena Cosmetic, a leading cosmetic surgery clinic in Jaipur, is proud to announce its affordable Beard Transplant in Jaipur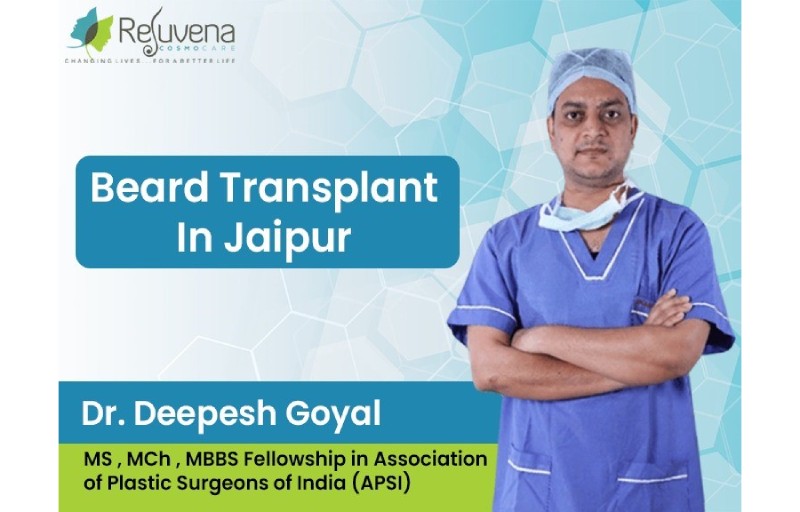 Beards resemble masculinity and make men look smart and look confident. However, some men do not have thick and full beards; they feel extremely depressed and disappointed with their appearance. Genetics, medical conditions, and even stress are some proven reasons for scanty and poor beard growth. Hence, a beard transplant offers the perfect solution to such men.
Rejuvena Cosmetic, Jaipur, offers advanced beard transplant procedures that use the latest techniques and technology to ensure a natural and long-lasting result. The procedure involves harvesting hair follicles from the back of the head or other parts of the body and transplanting them onto the beard area. Only board certified plastic surgeons perform hair transplant procedures at Rejuvena.
Our beard hair transplant procedure is painless and sutureless procedure as there is no cut involved. There is no loss of blood also no dressing is required. The procedure involves harvesting hair follicles from the back of the head or other parts of the body and transplanting them onto the beard area.
Dr Deepesh Goyal, a leading cosmetic surgeon in Jaipur and the founder of Rejuvena Cosmo Care, says, "We are excited to offer our clients a safe and effective solution for their beard woes through a hair transplant. Our team of skilled and experienced board certified plastic surgeons uses a customized approach to create a natural-looking beard that complements the client's facial features.
He adds, "Our beard transplant in Jaipur is a safe, effective, and affordable solution for men wanting to enhance their appearance. We strive to provide our clients with well-groomed men that enhance their appearance and make them feel and look good.
Rejuvena Cosmetic offers safe, effective, and affordable beard transplant services in Jaipur for men who want to enhance their appearance. They are experts in two beard transplant procedures, viz. FUE and Most Advanced technique Direct-FUE. FUE, which stands for Follicular Unit Extraction, is a technique that involves extracting individual follicular units from the donor area and transplanting them to the jawline and other areas where the patient desires facial hair growth. This method is a popular choice for beard transplant due to its minimally invasive nature, which results in less pain and complications.
An advanced version of FUE is Direct-FUE in which the surgeon directly implants the individual follicular units into the recipient area using a specialized implanter pen. Direct-FUE is known for producing better results. It causes less hair damage and root loss during the procedure, offers faster recovery time, minimum pain, no visible scars, and 100% guaranteed results.
The clinic offers personalized consultation to understand the client's requirements and expectations before recommending the best course of treatment. Upon consultation, Dr Deepesh Goyal and his team will recommend a suitable procedure along with an approximate number of hair grafts, costs and duration. The beard transplant procedure is performed under local anaesthesia, and the client can return to normal activities within a few days.
Dr Deepesh Goyal highlights the numerous advantages of a beard transplant procedure, such as it is safe and permanent, with no reported long-term risks. In addition, a beard transplant can help to conceal any burns or scars on the face, leading to a more aesthetically pleasing appearance. The transplanted beard can be maintained like a natural beard and styled according to personal preference.
Rejuvena Cosmetic is committed to providing its clients with the highest care and expertise. With its state-of-the-art facilities, experienced surgeons, and personalized approach, the clinic has become a preferred destination for cosmetic surgery in Jaipur.
For more information about the beard transplant service, please visit
Address 1: Rejuvena Cosmo Care, At Vaishali Nagar, Plot no. 11A, Gurujambheshwar Nagar-B, Habib Marg, just behind Utsav Garden, Gandhi path, Vaishali Nagar, Jaipur, Rajasthan 302021
Address 2: 113, Shiv Colony, New Sanganer Road, Near Shyam Nagar Metro Station, Sodala, Jaipur, Rajasthan 302019
Email:

[email protected]

Phone: 08955445566 /090244 45544