Japan to Host NATO's First Office in Asia-Pacific to Deepen Regional Partnerships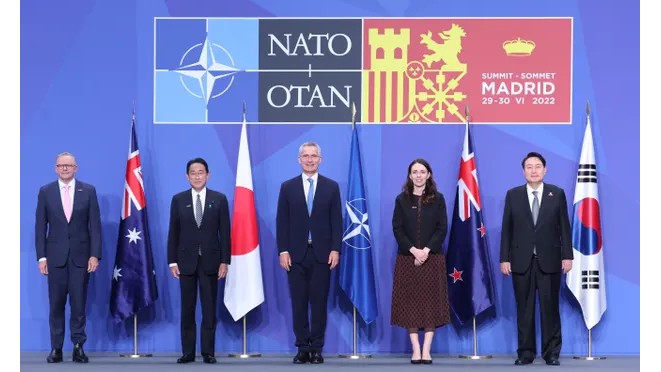 Nato intends to establish a liaison office in Japan in order to coordinate with close partners in the Indo-Pacific region, such as South Korea, Australia, and New Zealand.
The Chinese government, which has previously cautioned the Western alliance against spreading "its tentacles to the Asia-Pacific," is likely to voice its disapproval of the plans.
Nato and Japan intend to update their collaboration on handling cyber threats, disinformation, and arising and disruptive technologies.
Nato's new liaison office in Tokyo, which is scheduled to open next year, will be the first of its kind in Asia. It will enable the military alliance to conduct periodic consultations with Japan and key partners like Australia.
According to the publication, Japanese and NATO officials confirmed the plans.
Even though Russia remained "the most significant and direct threat to allies' security," Nato argued in its "strategic concept" that China posed "systemic challenges" to Euro-Atlantic security.
Nato promised to "strengthen dialogue and cooperation with new and existing partners in the Indo-Pacific to tackle cross-regional challenges and shared security interests".
China was accused of "malicious hybrid and cyber operations" and "remaining opaque about its strategy, intentions and military build-up," according to Nato.
China asked NATO to "stop provoking confrontation by drawing ideological lines" in response to the NATO assessment.
Zhao Lijian, a spokesperson for the Chinese foreign ministry, stated the last year that Nato had "extended its tentacles to the Asia-Pacific and sought to export the cold war mentality and replicate bloc confrontation," and that this was the case.
Anthony Albanese, the prime minister of Australia, went to the Nato summit in Madrid last year. On the sidelines, Australia, Japan, South Korea, and New Zealand, the leaders of the Asia Pacific Partners (AP4) group, met.
Albanese has accepted an invitation to attend the upcoming NATO summit in Lithuania in July in Vilnius.
A spokesperson for Albanese stated last month, "Australia shares with Nato members a commitment to supporting democracy, peace, and security and upholding the rule of law."
Concerns about China's impact on trans-European security, according to Peter Taksoe-Jensen, the Danish ambassador to Japan, necessitated "important for Nato to keep up relations with our partners in this region," he told.
"Would be a very visible, real way to strengthen the relations between Japan and Nato," he stated of the proposed new Nato liaison office.
Japan's prime minister, Fumio Kishida, who will host the G7 summit in Hiroshima one month from now, has said he sees the security environment within East Asia with a "strong sense of crisis".
In reference to worries about China's expectations towards self-governed Taiwan, Kishida has more than once contended that "Ukraine today may be East Asia tomorrow".
After the G7 summit – which Albanese has been invited to join – Kishida will travel to Sydney for the Quad leaders' summit.
For the talks on May 24 at the Sydney Opera House, Albanese will host Kishida, US President Joe Biden, and Indian Prime Minister Narendra Modi.