Jordan Love Keeps the Green Bay Packers Winning Streak Going against the Chicago Bears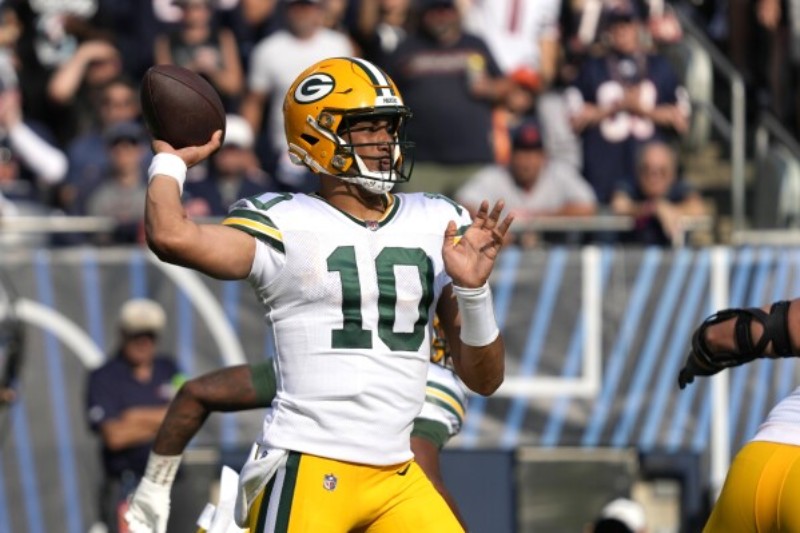 Aaron Rodgers may have merely been a co-owner of the Chicago Bears, it turns out. Jordan Love seems to have taken something with him when he left Soldier Field. Jordan Love imagined himself winning and departing Soldier Field on the day of his first game as the Green Bay Packers' official QB1.
New quarterback for the Green Bay Packers. The gloomy Bears are the same.
Love began his tenure in a similar manner to how Aaron Rodgers did two years prior on the same field following a Packers victory over their NFC North rivals. Rodgers had said, "I still own you," to the Bears' supporters at that time.
In the first game following Rodgers' departure, a 38-20 victory delivered a clear statement.
Aaron Jones, a running back, stated "Nothing's changed. We're still the Packers."
These are Love's Packers right now, regardless of whether he has a 15-year streak left in him to follow 30 years of Aaron Rodgers and Brett Favre. He displayed it after serving as a backup for three years, and for at least one afternoon, he proved that general manager Brian Gutekunst was right to make the risky decision to trade up and choose a quarterback in the first round of the 2020 selection.
Although it was the Packers' ninth straight victory over the Bears, the victory felt much more significant.
"There's a big-time belief in that locker room for Jordan Love," Packers coach Matt LaFleur said. "I think the guys, they're going to rally around him. They're excited for him. They love him. They respect him. He comes to work every day with, great attitude, and great energy. I think you saw that today."
It was audible both outside and inside the Packers' locker room doors. When Love received the game ball, there was an uproar.
"It's definitely been a long time coming for me, three years as a backup," Love said. "Just watching, learning, and growing, seeing this teamwork, it feels good to be out there leading those guys and be out there playing with them finally, and coming out with a dub is just what we wanted."
Love scored on the first possession, making it appear simple at first. Romeo Doubs was opened up by his double pump and the quarterback displayed patience in the pocket before hitting him on a crosser for an 8-yard touchdown.
It then appeared to be a struggle. At the break, the score stood at 10-6.
Then, it appeared to be a classic LaFleur offense. Jones finished the drive with a 1-yard touchdown run after converting a dubious screen throw into a 51-yard catch and run. The Packers were up 24-6 when Jones caught an option route for a 35-yard touchdown on a fourth-and-3 play.
After Love fumbled a snap but recovered to strike rookie tight end Luke Musgrave for a 37-yard pass, Doubs' second touchdown came on a wonderfully timed 4-yard fade, giving the quarterback his third TD and a 31-14 lead.
He has thrown three touchdown passes up to that time in Week 1 of the NFL season.
Love completed 15 of 27 passes for 245 yards without a turnover, with significant help from Jones, who had 127 yards and two touchdowns on 13 catches before a tight hamstring ended his day.
Elgton Jenkins, the left guard, remarked, "I told him that I think he's going to go for 300 with three touchdowns, but he went for [almost] 250 with three touchdowns. But we'll take it."
Christian Watson, possibly their most explosive receiver, wasn't present. Even though Jones said he could have continued to play, LaFleur may have shut down Jones early since he was sidelined with a hamstring ailment.
Love performed particularly well on third and fourth downs when the game was on the line, going 8 of 10 times and converting seven of those into first downs.
"I feel like he can be a top-five quarterback," Jenkins said. "I'm always optimistic about my teammates, but I definitely feel like Jordan can be one of those guys."
On Sunday, just one statistic really mattered for Love: the score of 1-0.
Although Rodgers' record against the Bears is far from perfect (24-5), cornerback Jaire Alexander noted that "[The] Pack is back."
Or maybe it was always there simply because Rodgers departed the area for the New York Jets.
Love accomplished this with three touchdowns, 245 yards, and an excellent performance.
Similar to the Aaron Rodgers era before it, Love's time as the Packers' head coach started with a 38-20 whipping of the divisional rival Chicago Bears that wasn't as close as the final score.
"I definitely yesterday was visualizing just having a win, coming off the field after a win; I kept telling myself, 'I'm going to play great, we're all going to play great,'" Love said. "That's what I kept telling myself over and over again. And woke up today doing the same thing, just visualizing that we were going to get this win and we were going to play great today."