Leyi (Ruby) Yang on How Video Serves as a Conduit for Metaphorical Expression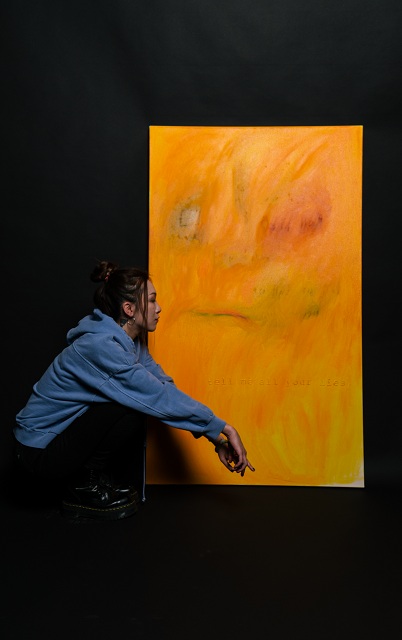 Artists know better than anyone that art is always open to interpretation. It is in this fact that both the creator and the audience find solace. To imagine the possibility of converting something two-dimensional into three-dimensional without losing its true essence is what many artists chase, including multi-media artist Leyi (Ruby) Yang.
Based in San Francisco, Yang has been creating art in diverse forms for years now. She is known for her large canvas paintings, lithographs, screenprints, mixed media collages, poetry, and more. But what truly makes her art jump out from beyond the frame is her video creations. "Video art is an immersive experience that allows the audience to really feel the depth of the concept behind the artist's vision," shares Yang.
With a Masters in Fine Arts from San Francisco Art Institute, Yang's works have embraced more than ten exhibitions as well as film festivals globally since 2017. She believes that there is always more than one human definition to an artist's expression, some metaphorical or symbolic meaning, and that is the beauty of it. The audience is free to choose to see whatever they are feeling in the moment, and the artist succeeds whether that interpretation is filled with deep meaning or pure emptiness.
Yang's artwork is greatly inspired by nihilism and quotes by personalities like Nietzsche and Baudelaire. Many artists feel that words don't mean anything that they haven't meant before; language is a giant metaphor. However, Yang elucidates that being original, humble, and true to your feelings is the least she can do. That is what makes her work unique. She has experimented with niches within art, technology, printmaking, and painting over the years.
Yang explained, "My passion for creating thought-provoking art with an intrinsic play on colors is deep-rooted. I think creating art helps me understand myself and allows me to be sensitive to my surroundings. Understanding is the hardest and the most precious thing among human beings. While people may not understand at first, they do feel a variety of emotions upon seeing my work.
I think creating art is to understand myself and always be sensitive to my surroundings. Understanding is the hardest and the most precious thing among human beings. It's okay that people don't understand. At least they feel something, carry something with them after seeing my work."
In 2020, Yang also went outside her comfort zone and found inspiration to create ephemeral drawings using food, pebble stones, and more. Art is about everything- from science and philosophy to daily life. The artist's job is to simply take a blank canvas and create concepts that are unique to them. "My hope with creating art is to help myself and others feel understood and connected to the colors," concludes Yang.