List of Maharashtrian Traditional Bridal Jewellery: A Timeless Heritage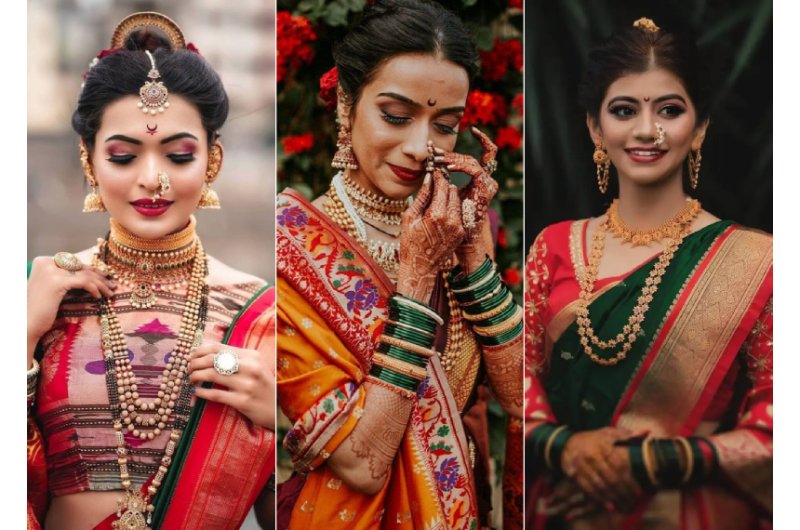 Maharashtra is a state with a strong sense of tradition and cultural heritage. Its Maharashtrian jewellery exhibits these values. Every Marathi bride dreams of wearing all the traditional Maharashtrian bridal jewellery on her special day to look extremely beautiful. With their unique designs, intricate craftsmanship, and symbolic significance, these jewellery designs play an integral role in every Maharashtrian bride's life.
If you are eager to know more about Maharashtrian bridal jewellery, you are at the right place. In this article, we will delve into the exquisite world of Maharashtrian traditional jewellery, exploring its various components and their cultural significance.
List of Maharashtrian Bridal Jewellery
Mundavalya: The Sacred Forehead Adornment
A mundavalya is a uniquely designed Maharashtrian bridal jewellery worn by every bride on her special day. It consists of two strings of pearls or gold beads with decorative motifs at the center. These strings are tied across the bride's forehead during wedding ceremonies as a representation of the union of the bride and the groom.
Nath: The Rose Ring of Elegance
A nath is the most uniquely designed Maharashtrian traditional jewellery worn on the nose. The Maharashtrian bridal look is incomplete without the Nath, a large nose ring. It is a crescent-shaped nose ring, traditionally crafted in pure gold and adorned with pearls, gemstones, or intricate filigree work. It is the symbol of every bride's marital status and she wears it on every special occasion, from marriages to religious festivals.
Chooda and Bangles: The Arm Ornaments
Every Marathi bride wears a green chooda on her special day: green-colored glass bangles and gold bangles. In other regions, the bride wears a red chooda as their marital status, but in Maharashtra, it is specifically green bangles, as the color symbolises fertility, and gold symbolises prosperity and wealth. The bride's arms are adorned with these beautiful pieces as an auspicious gesture.
Kolhapuri Saaj: The Elaborate Neckpiece
It is one of Maharashtrian jewellery's most famous and majestic neckpieces, adorned with intricate gold beads, coins, and pendants. The gold necklace holds a sentimental value of the family and is often passed down through generations. It also symbolises the bride's marital status and her family's blessings.
Kaan: Traditional Earrings
Kaan is the traditional Maharashtra earrings, which are large, ornate, and intricately designed in gold. These gold earrings are suspended from the ears by a thin chain. These are mostly paired with a nath to add elegance and charm to a bride's appearance.
Vaaki is the name given to the exquisite armlet of Maharashtra, worn on the upper arms of the bride. It is crafted with delicate designs, mostly peacocks and flowers to add a stunning effect to the jewellery. A vaaki is also a symbol of the bride's marital commitment.
Toe Rings and Anklets: The Foot Adornments
Maharashtrian brides wear toe rings and anklets of gold or silver, signifying their marital status. These pieces produce a melodious tinkling sound as the bride walks, creating an enchanting aura.