Manchester City agrees to sign a deal with Norwegian Erling Haaland from Borussia Dortmund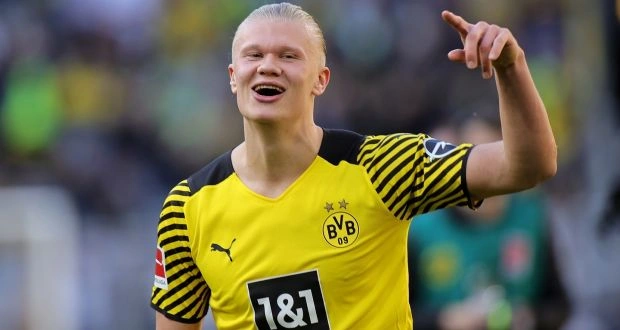 Manchester City have agreed to sign a deal with Norwegian striker Erling Haaland from Borussia Dortmund on Jul 1, the two clubs declared on Tuesday.
Erling Haaland, 21, will move to the Etihad Stadium this summer and is set to become one of the highest-paid players at the club. He won't top midfielder Kevin De Bruyne, on around £375,000-a-week, as their biggest earner.
As per the sources, the player's release clause is €60 million and Erling Haaland is set to sign a five-year deal at the Etihad Stadium.
A club statement read: "Manchester City can confirm we have reached an agreement in principle with Borussia Dortmund for the transfer of striker Erling Haaland to the club on 1st July 2022.
"The transfer remains subject to the club finalizing terms with the player."
Borussia Dortmund said once the exchange goes through, the club expects a "positive effect on the key earnings figures for the 2022-2023 financial year" in the range of €35-40m.
Manchester City have affirmed an agreement to sign Borussia Dortmund striker Erling Haaland for £51.1m.
Man City have paid the 21-year-old's release clause and hopes to pay £85.5m in total when agent charges, signing bonus, and different costs are considered.
Erling Haaland will join Manchester City on July 1st, dependent upon the club finalizing terms with the player.
The 21-year-old finished his medical on Monday at Hospital Erasme in Brussels.
Manchester City CEO Ferran Soriano informed Borussia Dortmund boss Hans-Joachim Watzke last week that City were prepared to activate the striker's release clause and the two clubs have moved rapidly to finish up a deal.
Erling Haaland has scored 85 goals in 88 matches for Borussia Dortmund since joining RB Salzburg in January 2020. Dortmund's last game of the season in Saturday's home match against Hertha Berlin.
"Borussia Dortmund and Manchester City have told me I am not allowed to say anything until the deal is completely done. I cannot talk, I am sorry. We will have time to talk."
Erling Haaland's appearance will complete Pep Guardiola's quest for a striker after failing to try to land Tottenham Hotspur forward Harry Kane the previous summer.
The Norway international has been one of the most sought-after youthful players in the world, and Manchester City have fended off competition from Real Madrid and Bayern Munich to sign him.
Haaland joined Borussia Dortmund from Red Bull Salzburg in January 2020 and last season scored 41 goals in 41 games. At the international level with Norway, he has proactively scored 15 goals in 17 games in the wake of making his presentation in 2019. He has scored 36 goals in 34 appearances for club and country this season.
Before Tuesday, Guardiola had implied that Manchester City were finalizing a deal to sign the striker.
The deal implies Erling Haaland will play for the club his dad, Alfie, represented somewhere in the range of 2000 and 2003. Alfie Haaland played a key role in negotiations with Man City while the agent, Mino Raiola, was unwell. Raiola, who likewise represented Paul Pogba and Zlatan Ibrahimovic, died at age 54 last month.
Borussia Dortmund have been resigned to losing Haaland for some time after agreeing to a released statement in his agreement which became active in front of this summer's transfer window.
Jurgen Klopp: Erling Haaland deal will "set new levels"
Liverpool manager Jurgen Klopp believes the Haaland deal will "set new levels" in the transfer market, with the summer window formally opening on June 10.
In an exclusive interview with Sky Sports News, he said: "I signed a new contract knowing that Manchester City City would not stop developing. It's not about City to define if we can be happy or not, it's about us and what we can make of it.
"You have so many opportunities and so many different ways to win a football game, and we have to find just one. It's possible obviously and we can do that.
"We face City two, three – with cup competitions, the Champions League – five, six times maybe a year but not more often than all the rest.
"If Erling Haaland goes there, it will not weaken them, definitely not. I think there's enough spoken about this transfer. I know there are a lot of talks out there about money, but this transfer will set new levels, let me say it like this."
Borussia Dortmund to replace Erling Haaland with Karim Adeyemi
Borussia Dortmund are set to sign Red Bull Salzburg striker Karim Adeyemi as Erling Haaland's substitution.
The 20-year-old has scored 23 goals in 42 games this season while likewise adding eight assists.