Meet Jason Wojo, A 25-Year-Old Entrepreneur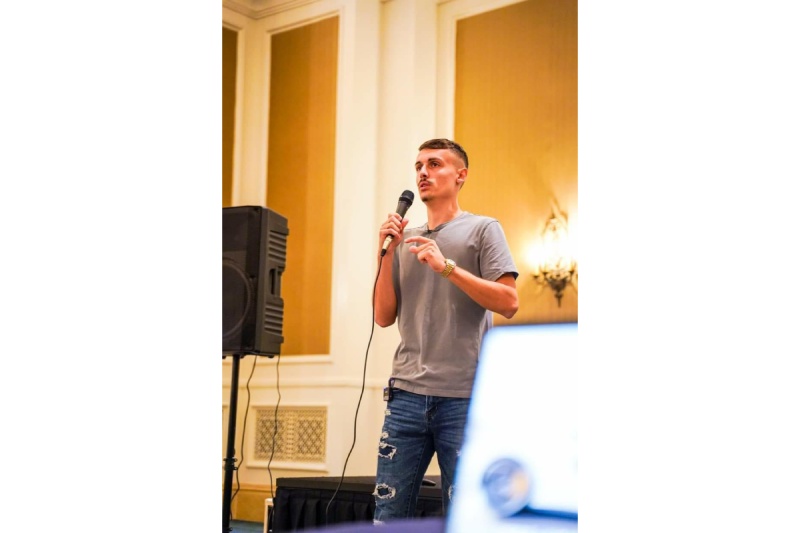 Jason Wojo is a native of the quiet Newburgh, New York. Alongside his parents and older sister, he grew up. Other people's descriptions of Jason as being too rowdy, too lively, and too different characterised his upbringing. Throughout his life, those close to him cast doubt on his skills and constrained his chances to learn from experience.
Unexpectedly, he started his successful career in culinary school. Jason had a clear vision of becoming financially independent even as a young child. From the age of 16 to 18, he worked at a cafe. He had to prepare breakfast, perform some basic meal preparation, and clean up after himself. He chose to enrol in culinary school because he was already working in the food industry. But Jason quickly saw that living haplessly from job to job without any passion would not bring him satisfaction.
Jason left culinary school and returned to his parents' apartment in New York after realising that he couldn't see himself staying in the culinary industry for the long run. He was anxious and eager to start a business programme at the same time. He worked for a life insurance company during his second year of college, distributing paperwork and useless data. He also found a job at a financial company, where he assisted with the redesign of the entire website, the recording of financial commentary, and increased digital advertising. He was making every effort to move out once school was over and make money.
Around this time, Jason started to understand the potential of content creation. He knew he had the work ethic to figure it out, set up the processes, and assist others in achieving greater success through the creation of high-quality content because it was on the increase. Jason started Wojo Media on April 21st, 2018. It was a full-service digital marketing company, which also offered video editing, email marketing, SMS marketing, Google ppc management, content development, advertising management, Instagram and Facebook advertising, and management of Google business listings.
Jason faced difficulties related to the problems with the educational system over the years, up until his graduation. At the same time, he managed to grow his company while still a student. He developed a tried-and-true technique for any small business to use to quickly increase customer base, traffic, and leads by doing something different for each of his businesses. His business, Wojo Media, rose to prominence for its attention-grabbing "Instagram Flame Swipe" films, which were 15-second vertical Instagram stories that his clients utilised to generate more traffic and leads for their goods and services. These films were so lethal because of the language, the script he wrote with the actionable moving elements, and the attractive offers he pushed for his clients, not just the "flame swipe" that sold the target audience.
The success of Jason's empire is in large part due to the important people and companies that helped him along the way. He was fortunate to have met Pedro when he first started his business. Pedro, who is now a crucial member of the Wojo Media team, had the editing abilities Jason needed to edit the well-known "Instagram Flame Swipe" movies. Jason also credits Greg Berry with a lot of his achievements. When Greg saw the outcomes of these "Instagram Flame Swipe" videos, he immediately decided to hire Jason after inviting him over for lunch in Connecticut after meeting him on Instagram. Jason took Greg under his wing as a mentor, and Greg assisted Jason in realising his double goals of financial and social freedom.
He has also credited Ryan and Jenna, who welcomed Jason with open arms when he moved to Orlando and began his new life while others didn't believe in him, for much of his success since his relocation there. They observed something in him that belied this. Jason offers advice on marketing, copywriting, and much more, benefiting both his own clients and theirs.
Currently, Jason manages Facebook advertisements for roughly 15 companies, generating leads and sales through Facebook, Instagram, Google, and other platforms. He handles everything related to digital marketing, including social media advertising, content production, funnel building, social media administration, personal branding, SEO, and website design.
He has developed a passion for creating e-commerce brands from scratch over the past few months and had the chance to add multiple 5 figures a month to small and local businesses across the US by taking a planner from zero to six figures in under five weeks (no joke) and a "Drunk Wives Matter Wine Tumbler" from zero to six figures in under two months!
He has also started speaking at conferences and giving keynote addresses to share the knowledge he has acquired and to try to implement his tactics into companies worldwide that can handle the increase in traffic.
Over the course of his three years in digital marketing, he has had the chance to deal with numerous firms that invest between $50,000 and $100,000 a year in Facebook advertisements. His clients have made well over $1,400,000 in profit with his assistance.
Follow Jason on Instagram at Instagram.com/TheJasonWojo where he shares business insights, marketing advice, and free content that shouldn't be overlooked twice a day. Additionally, he offers a first-person view of his life's path. He has learned that looking at a sector via someone else's eyes makes it simpler to navigate.