Mexico Independence Day 2021: Google Doodle celebrates Mexican Grito de Dolores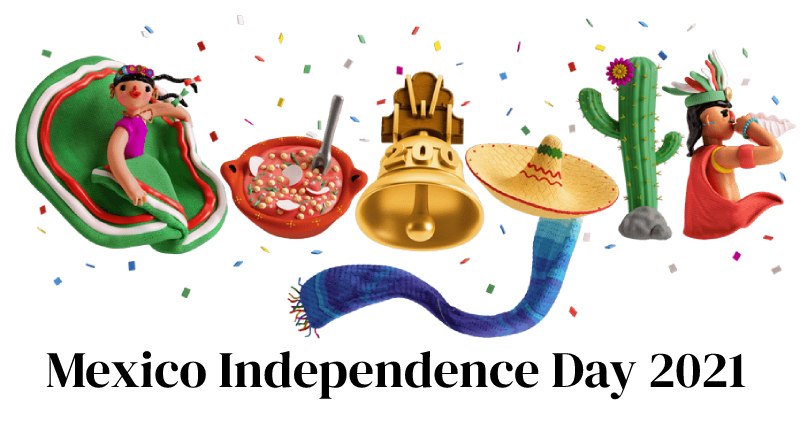 Google Doodle celebrates Mexico Independence Day (Cry of Dolores; Grito de Dolores or Día de la Independencia in Spanish) to celebrate the anniversary of the Mexican War of Independence against Spain on September 16th, 1810.
Independence Day (Día de la Independencia) is a Mexican holiday to praise the "cry of independence" on September 16, 1810, which began a rebel against the Spaniards. It follows from the day of the Cry of Dolores (El Grito de Dolores), on September 15.
Mexico's Independence Day is a national holiday that happens on September 16th. This day denotes the moment the Catholic priest Miguel Hidalgo y Costilla called "the father of Mexican independence" became ill and tired of the Spaniards and began an armed riot to roll out an improvement. This movement began with the Cry of Dolores finished on September 27th, 1821.
Independence Day praises the day Miguel Hidalgo is accepted to have made the cry of independence (El Grito de la Independencia) in the town of Dolores, in the north-central part of the Mexican state of Guanajuato. Hidalgo was one of the country's leaders during the War of Independence in Mexico.
There is no scholarly agreement on what was exactly said by Hidalgo, yet his speech, otherwise called the cry of Dolores (el Grito de Dolores), was made on September 16, 1810, to inspire individuals to rebel against the Spanish regime. Hidalgo's military battled against the Spanish troopers in the battle for independence, yet he was caught and executed on July 30, 1811. Mexico's independence was not announced until September 28, 1821.
Mexican Independence Day perceives Hidalgo's Grito de Dolores and the start of Mexico's War for Independence and not their real triumph to acquire that independence. It's similar to how Independence Day in the United States honors Thomas Jefferson's Declaration of Independence from England rather than the finish of the Revolutionary War.
Mexico Independence Day History
In the year 1500, Spain vanquished Mexico and named it New Spain. Life was hard under Spanish rule and large numbers of the local Mexicans (Mayas and Aztecs) were constrained into slavery. Over 300 years after the fact, on September 16, 1810, a priest named Father Miguel Hidalgo y Costilla began a rebel against the Spanish. The Spanish were at last defeated in 1821 and presently Mexican Independence is celebrated each year to remember the start of the battle for freedom.
In particular, it recognizes a declaration by Father Miguel Hidalgo y Costilla on September 16th, 1810, in the town of Dolores, close to Guanajuato.
Hidalgo's declaration required a finish to Spanish rule in Mexico, encouraging resistance and insurrection against the Spanish.
The Spanish Empire had been broken by Napoleon's invasion of Spain, and imperial rule had been supplanted by "juntas" in both Spain and the American colonies, while King Fernando VII was being held hostage by Napoleon.
There are different accounts of what Hidalgo was reputed to have really said. While the declaration has acquired national status, actually, it is far-fetched that Hidalgo repudiated the King as he is apparently said to have done.
Following his speech, Father Hidalgo raised a military and endeavored to oust the Junta government, however, he was ultimately defeated. As his battle against the establishment proceeded, he started to demand the full independence of all the Spanish American colonies, and the exile or arrest of all Spaniards within Mexico.
It was solely after a ten-year-long War of Independence that Mexico's independence was at long last recognized by the Spanish emissary on September 27th, 1821.
How is Mexican Independence Day celebrated?
Since the 1870s, re-establishing the decree has become a tradition. Every year, The Mexican President rings Hidalgo's bell (presently kept at the National Palace in Mexico City) and repeats Hidalgo's words at 11:00 pm on September 15th. On September 16th, a military parade happens in Mexico City.
In 1825, the Republic of Mexico officially pronounced September 16th as its national Independence Day.
Mexicans praise their country's Independence Day with fireworks, parties (fiestas), food, dance and music on September 16. Flags, flowers, and decorations in the colors of the Mexican flag – red, white, and green – are found in public regions in cities and towns in Mexico. Whistles and horns are blown and confetti is thrown to celebrate this festive event. "Viva Mexico" or "Viva la Independencia" are shouted in the midst of the crowds on this day.
Independence Day is a national public holiday in Mexico. Banks, schools, government offices, and numerous businesses are shut. A few roads and streets might be shut down or restricted in major cities to clear a path for huge festivals. Individuals proposing traveling using public transport in Mexico should check with public travel experts on any timetable or route changes.
In commemoration, every year on the night of September 15—the eve of Mexican Independence Day—the president of the republic shouts a version of "El Grito" from the balcony of the National Palace in Mexico City: "Viva México! Viva la Independencia! Vivan los héroes!" The ceremony is broadcast all through the nation and is repeated on a smaller scale in numerous villages and towns.
Mexican Independence Day is marked with street parades, rodeos, and a lot of delightful food, including Menudo (beef stew), birria de Borrego (spiced lamb), queso fundido (melted cheese dip), and chiles en nogada (stuffed poblano chiles).
Google Doodle on Mexico Independence Day 2021
On September 16, 2021, Google featured Doodle on its homepage for celebrating Mexico Independence Day 2021. Google Doodle is pictured by Mexico-based guest artist Magdiel Herrerra to represent a collection of elements representing Mexico's rich, cultural heritage out of appreciation for its Independence Day.
The current year's holiday holds special importance for the international Mexican community as it recognizes the 200th anniversary of the country's progression toward independence—officially pronounced on September 27, 1821.
On the left of the Doodle artwork, a folklórico (folkloric) dancer is wearing the significant red, green, and white of the Mexican flag. A common dinner prepared to celebrate this holiday is pozole, a spiced soup traditionally made with hominy and pork that is portrayed in the red bowl with radishes and lime.
In the center, the Google Doodle artwork reproduces a bell that rang before El Grito de la Independencia (The Cry for Independence), a well-known speech considered the spark of the Mexican independence movement. A sombrero follows with a handwoven rebozo scarf, close to a cactus standing tall.
On the far right of the Google Doodle artwork, an Indigenous musician (known as a quiquizoani in the Uto-Aztecan language of Nahuatl) blows into a conch shell—a scene like a picture found in the antiquated Aztec Codex Magliabechi—filling the air with the sounds of celebration.