Nick Chubb of the Cleveland Browns is not expected to return this season due to a knee injury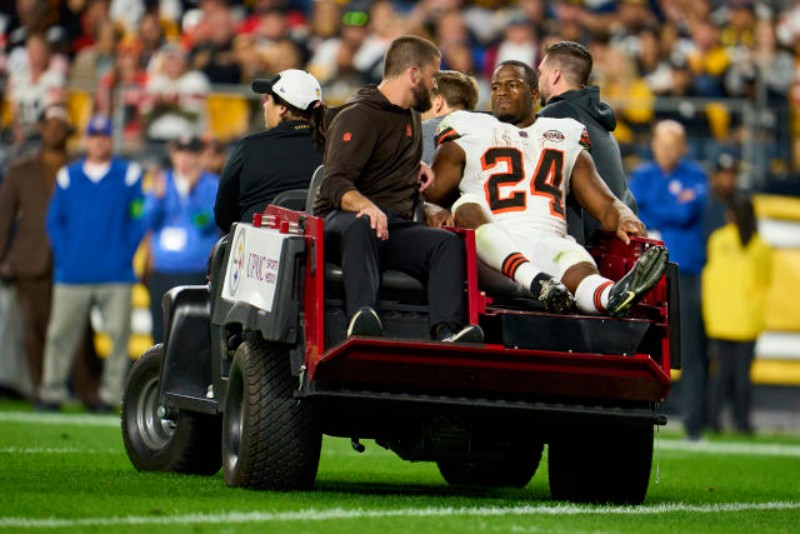 In the second quarter of Monday night's 26-22 loss to the Pittsburgh Steelers, Cleveland Browns running back Nick Chubb sustained a "significant" knee injury.
After the game, when asked if Nick Chubb would miss the rest of the campaign, head coach Kevin Stefanski responded, "I do."
After sprinting five yards to the Steelers' three-yard line, the All-Pro running back hurt his left knee. While being tackled, Nick Chubb's legs kinked uncomfortably below him. After the Browns' defeat, Kevin Stefanski verified the seriousness of the injury and declared him to be out right away.
According to Kevin Stefanski, Nick Chubb was taken to a nearby hospital as a precaution before traveling back to Cleveland before the team.
Minkah Fitzpatrick, an All-Pro safety for Pittsburgh who assisted in tackling Nick Chubb, had an injury on the same play but was able to continue playing. After suffering a chest injury in the third quarter, he was later declared out.
On his first 10 carries, Nick Chubb had gained 64 yards rushing. Jerome Ford took his position, and on the subsequent play, he caught a touchdown pass. He gained 106 total yards on the ground and added three catches for 25 yards.
As Nick Chubb was placed on the cart, players from both teams surrounded him.
Nick Chubb had the same left knee rebuilt in 2015 after suffering MCL, PCL, and LCL tears while playing for Georgia.