Online Trading For Beginners In 2023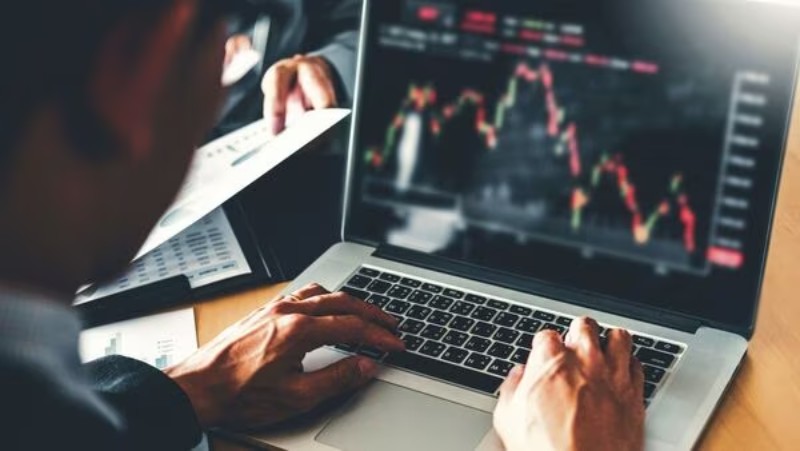 The evolution of technology has transformed the setting of financial markets, bringing trading to the fingertips of millions worldwide through online platforms. Online trading has simplified access to stocks, currencies, and other financial instruments, and also allows individuals to participate in markets that were once the domain of institutional investors.
While online trading offers exceptional opportunities, it also comes with its fair share of advantages and challenges. Therefore, it is vital to educate yourself before investing.
That's why, in this guide, we'll delve into the pros and cons of online trading to provide a comprehensive understanding of this dynamic and rapidly evolving field. Furthermore, we will share a list of educational platforms for your convenience. The courses available on these various platforms will help you develop a deeper understanding and benefit you in making informed decisions.
However, before we start, the most important thing to remember is that to access real-time market data, online traders need a fast and reliable internet connection. If you don't have one, go for Xtream Mediacom. With its fast speed and stable connectivity, you will be able to react faster to changes in the market and make more informed decisions.
What is Online Trading?
Online trading, also known as electronic trading or e-trading, refers to the process of engaging in the buying and selling of various assets, including stocks, bonds, mutual funds, options, and other investment instruments through digital platforms.
These online trading platforms are typically provided by financial institutions and discount brokerage firms, offering a convenient way for individuals to establish accounts, fund them, and initiate trading activities swiftly, often within a matter of minutes.
Pros of Online Trading
Accessibility: Traders can participate from anywhere with an internet connection, offering convenience and flexibility.
Cost-Efficiency: Online trading platforms often have lower fees and commissions compared to traditional brokers.
Variety of Instruments: Access to a wide range of financial instruments, including stocks, forex, commodities, and cryptocurrencies.
Educational Resources: Many platforms offer educational tools, tutorials, and research to help traders improve their skills.
Real-Time Data: Instant access to real-time market data, news, and analysis for informed decision-making.
Control and Autonomy: Traders can execute orders, set stop-loss and take-profit levels, and manage their portfolios independently.
Speed of Execution: Immediate execution of trades, minimizing the potential for missed opportunities.
Technological Advances: Advanced trading tools, charts, and indicators enhance analysis and strategy development.
Cons of Online Trading
Risk of Loss: Financial markets can be volatile, leading to potential substantial losses.
Emotional Trading: Emotional decision-making can lead to impulsive actions and poor trading outcomes.
Technical Issues: Glitches, outages, and connectivity problems can disrupt trading activities.
Information Overload: Excessive market data and news can lead to confusion and poor decision-making.
Lack of Personal Interaction: Online trading lacks face-to-face interaction and personalized advice from professionals.
Security Concerns: Online trading involves sharing sensitive financial information, raising security risks.
Regulation and Compliance: Traders need to adhere to regulatory requirements and ensure compliance with laws.
Learning Curve: Learning to use trading platforms and mastering market analysis techniques requires time and effort.
You would have surely heard about different types of online trading options on YouTube, Instagram, and other social media platforms. Before acting upon the advice of any influencer, it is a million times better to read and learn about the subject matter yourself. Now, here are the top platforms that can help you start a career in online trading.
Investors Underground: A Comprehensive Learning Hub
Investors Underground stands out as a well-established and widespread platform offering a diverse range of trading courses. With a focus on day trading, Investors Underground offers a clear educational path from basic concepts to advanced strategies. The Textbook Trading course is particularly beneficial for beginners, providing a solid foundation in trading fundamentals.
Furthermore, the Tandem Trader course offers a unique insight into live trades and commentaries, allowing students to experience real-time trading scenarios.
Pros
Established reputation and active community.
Access to mentors and founders.
Advanced trading setups with live trade examples.
Cons
High pricing for courses.
Additional cost for certain trading courses.
Udemy: Affordable Options for Novices
Udemy positions for its budget-friendly approach, making it an ideal choice for beginners seeking an introduction to stock trading. Courses like "Stock Market from Scratch for Complete Beginners" and "The Complete Foundation Stock Trading Course" provide comprehensive content at remarkably low prices.
However, Udemy lacks live trading rooms or personalized mentorship, which might limit its appeal to those seeking practical application and interaction.
Pros
Affordable pricing.
Comprehensive courses for beginners.
Wide range of course options.
Cons
No practical application or live instruction.
Limited interactive features.
Bullish Bears: High Value with Membership Benefits
Bullish Bears offers a variety of courses and an active community at affordable membership rates. With options for free courses and a paid membership, traders have access to a wide range of educational resources.
The availability of live trade rooms, trade alerts, and a custom Discord chat enhances the learning experience. However, Bullish Bears lacks a free trial and does not offer refunds.
Pros
Affordable monthly and annual membership.
Access to various courses and live trade rooms.
Comprehensive package with trade alerts and tools.
Cons
TD Ameritrade: A Wealth of Free Educational Resources
TD Ameritrade provides a vast library of educational content for free, making it an attractive choice for those seeking high-quality resources from a reputable brokerage. The "Stocks and Bonds" course offered through Coursera covers essential topics and is particularly beneficial for those who are interested in university-level education.
However, TD Ameritrade's educational offerings do not provide the same level of interactivity or live trading rooms as other platforms.
Pros
Access to extensive free educational resources.
Trusted reputation and established brokerage.
Variety of topics and analysis.
Cons
Limited interactivity and live instruction.
Conclusion
Online trading has transformed the way individuals participate in financial markets nowadays. Seeking traders must approach online trading with a solid understanding of its pros and cons. Moreover, educating oneself about market dynamics, risk management, and trading psychology is essential to navigate the complex world of online trading successfully. Also remember that while online trading offers the potential for financial gains, it requires careful planning, continuous self-improvement, and a keen awareness of the risks involved.
References:
https://www.investopedia.com/best-online-stock-trading-classes-5089249
https://medium.com/@napsaga/the-advantages-and-disadvantages-of-online-trading-what-you-need-to-know-e52fa45bc35c