Pokémon and Krispy Kreme are working together for their 25th anniversary with Pokémon-themed icing doughnuts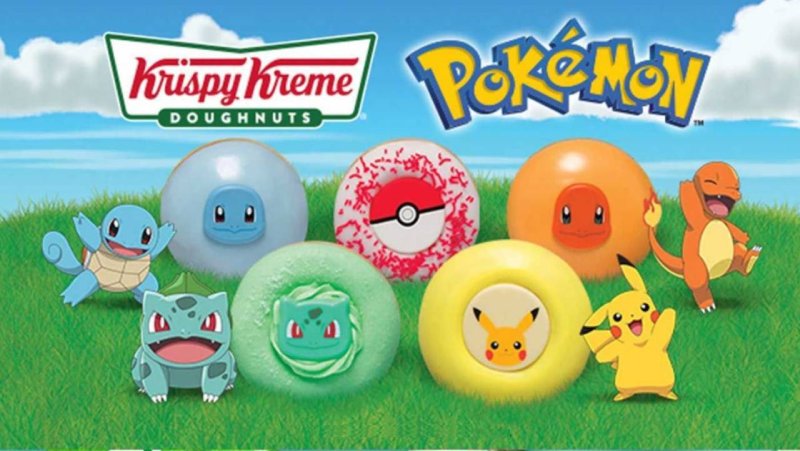 Krispy Kreme is working together with Pokémon for their 25th anniversary and you'll have the option to get your hands on delightful Pokémon doughnuts. The Pokémon x Krispy Kreme collab presents a few new and returning flavors, all enveloped with gorgeous Pokémon-themed icing.
You'll have the option to get your hands on the first Pokémon Bulbasaur, Charmander, and Squirtle and it's not Pokémon without Pikachu and go on then, at that point… throw in a Poké-ball to complete the set!
In its freshest collab, Krispy Kreme has decided to connect up with the special one-pocket monsters — and the results are tremendously adorable and delicious. They're accessible at Krispy Kreme stores from today, and they're one finger-licking lockdown snack you ought to totally get yourself.
Every donut will retail for $3.75 each at selected Krispy Kreme Australia stores from 7th September every two weeks, you can get them in-store, online, Click & Collect or even through delivery services like Deliveroo, UberEATS, or Menulog!
There's an Original Glazed Poké Ball topped with red sprinkles, a chocolate crème Pikachu, a green apple iced Bulbasaur, a custard-filled Charmander, and a strawberry-filled Squirtle in this lot, and they're all fab.
On account of the sort folks at Krispy Kreme, Kotaku Australia had the option to get involved with the new doughnuts for a taste test.
In case you're ordering online, you'll exclusively have the option to purchase the entire collection as a dozen pack which comes with 6 Original Glaze, 2 Pikachu doughnuts, 1 x Poké Ball, 1 x Bulbasaur, 1 x Charmander, and 1 x Squirtle for $29.95.
Pikachu is Krispy Kreme's signature shell donut is loaded up with chocolate crème, dripped in white truffle, finished with a Pikachu white chocolate plaque.
The Poké Ball is Krispy Kreme's Original Glazed donut dopped in White Truffle, with red sprinkles, finished with a Poké Ball white chocolate plaque.
The Poké Ball and Pikachu are more traditional Krispy Kreme flavors, which implies high sugar and sweetness — yet the chocolate plaques balance out the flavour really successfully for an all-around excellent taste. They're good, yet the real winners of the new Krispy Kreme collab are Charmander, Squirtle, and Bulbasaur.
Charmander arrives in a shell doughnut loaded up with vanilla custard, dipped in white truffle, finished with a Charmander white chocolate plague.
Bulbasaur is an Original Glazed doughnut plunged in green apple icing finished with sand sugar, a crème swirl, and a Bulbasaur white choc plaque.
The Bulbasaur is the just one of these three that isn't filled, yet the doughnut more than makes up for it with its gorgeous green apple topping. The icing here isn't incredibly sweet, and the apple flavor is strong without being overpowering. It implies the whole doughnut is a charming joy as well as being really adorable (regardless of whether you do need to eat Bulbasaur's face).
At last, Squirtle is a shell doughnut loaded up with strawberry-flavored filling, dipping in white truffle finished with a Squirtle white chocolate plaque.
The Squirtle is likewise awesome, yet for various reasons.
While it's layered with icing like the rest of the doughnuts, it has the distinction of being the only jam-filled doughnut of the set. Also, as everybody knows, jam-filled doughnuts are superb. If each doughnut of this set was jam-filled. The flavour here is only that good.
The real overall winner here, however, is Charmander — for looks and taste.
All in all, Krispy Kreme has picked some generally excellent flavors for its Pokémon collab. While the Poké Ball and Pikachu variants are somewhat excessively plain for liking, the core starter Pokémon are the ideal treat, and they look incredible for sure.
How to get the Krispy Kreme x Pokémon doughnuts for yourself
In case you're in the mood for a little lockdown treat (or you super, truly deserve it), you can right now order any of the Pokémon doughnuts via Krispy Kreme online click-and-collect or delivery, or grab them in store.
They'll just be available every two weeks beginning from September 7, so if you want any of these for yourself, you'll need to go online and see when Krispy Kreme is releasing them in your area.
The Charmander, Squirtle, Bulbasaur, Pikachu, and Poké Ball designs will run you $3.75 for a singular doughnut, or $29.95 for a dozen that incorporates all designs and six Original Glazed doughnuts.
If you've had a hard week, they're an extraordinary little treat to lift your spirits.