Review of one of the most enduring music (Hale Man Khoob Nist by Dayan) + conversation with Mr. Dayan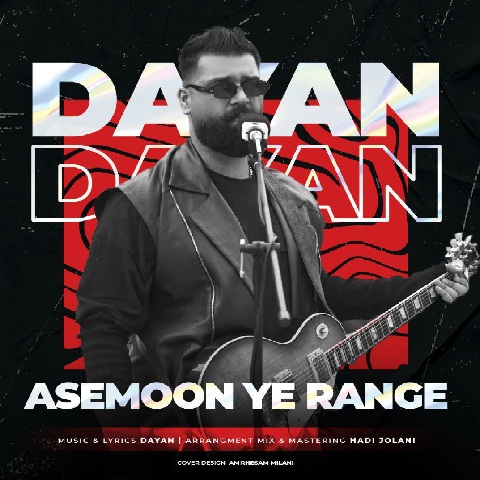 One of the most enduring modern Iranian music can be called the song (Hale Man Khoob Nist) by Dayan.
During that period when happy music and 6/8 was popular, Dayan was one of the few singers who published different and lasting songs. It is interesting that even though it has been 15 years since the release of this music, it still has many listeners and is not outdated.
In the telephone conversation we had with her, we asked her to tell us a little about her past
Dayan Say:
I resigned from the bank and went to Dubai!
The children were busy collecting our album in which every artist had a Turkish single, and I had not played any songs until then, and I only sold songs, melodies, and arrangements. My friends, who were in that album insisted that I be in that album
At the invitation of my friends, my first song named Hamin Harfa was released in 2011 on our album by EMA Company and was well received by the listeners. I was the first person in my style that was a fusion of R&B, hip hop and Iranian pop. I remember that time. They asked what Dayan's style was and this type of music was new and interesting for Iranian listeners.
Since I was a child, I loved isolation and solitude, and I was not interested in showing my face when playing my songs, that's why I didn't put a photo of my face on the cover of my works, and without showing my face in the virtual space, my artistic activity as a singer-songwriter-composer I officially started, a combination of rock sound with R&B hip hop and rap songs, fusion with pop and traditional Iran!
It was interesting for people and my songs were welcomed at that time.
I returned to Iran from Dubai and went to my childhood dream
University of Music
A group of famous rap artists of the 1st generation lived in Armenia at that time, of which Hosin and Sadegh were the most well-known.
Komitas Conser vatory of Yer evan is one of the world's first-class music universities.
I made my decision and immigrate to Armenia and became a student of classical composition. After 2 semesters, my dear professor
Artur Avanesov took me to the university's jazz vocal radio department and told me to use my voice more than anything else!
Behesht Javani Committee Conservatory was the best years
Walking in my childhood dream was the sweetest thing.
And along with the university, I continued to make and publish underground songs in the Iranian market with my artist friends, and I became better known every day.
Songwriting and production
The song I'm not feeling well from myself,
Arranging the song Morning, Noon, Night by Hosin was the peak of my success in those days.
I returned to Iran because of my father's old age
During those years, unofficial feats of me with protesting rap singers were broadcast, and it became a problem for me to cooperate and get to know them in Iran. My songs are romantic and dis-love, but the friends I worked with played social political protest songs for these reasons. I encountered problems in Iran and was detained for a while and banned from working for 5 years!
In Iran, the music situation has changed in these years, and the government's strictness for holding concerts has decreased, and the music industry and holding concerts has become unprecedentedly popular. On the other hand, the taste of public listeners has changed, people go to traditional concerts less and young singers with newer and modern styles are on the market. They have wonderful
I was also in Iran and after passing the work ban period with the help of my dear friend and brother Mr. Milad Mahan Rad (founder of Arad Music Company and Lima Concert – the most successful companies in the current Iranian market)
I managed to obtain an artistic license from Ershad Iran, and after 5 years, I started working again, but with severe filtering of my songs and artistic style!
In the form of consolidated pop
In 2020, I released the first official song with the permission of the Ministry of Education called "I'm Tired" and so far I have released 6 songs in this new format.
To perform a concert in Iran, one must go through the following steps:
A sufficient number of allowed songs (19 songs)!
Approval of the Ministry of Guidance
Total protection
Music office
Art field
And…
Currently, I am preparing new songs in order to reach a sufficient number of authorized songs and get ready to go to the concert after obtaining permission to perform on the stage.
I am now 35 years old and after all these years have passed
I have not performed any concerts yet.
Hoping for a better tomorrow
It comes as it should