Fashion
Shoes for Every Personality Type – Somiar Threads, the King of Leather Footwear for Men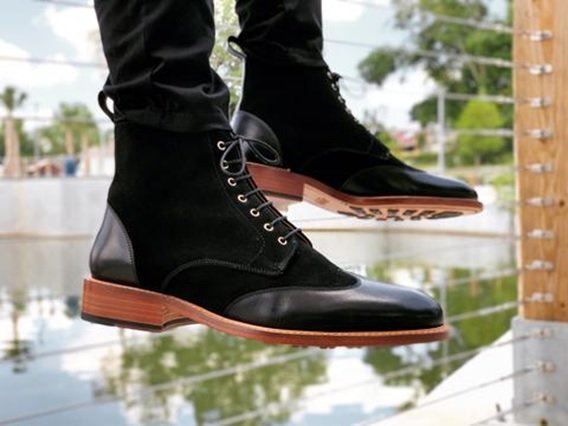 Whether it is a job interview or a romantic date, first impressions are really important. People pay close attention to how they look, how they smell and even practice the right posture to put a lasting first impression on important individuals. All these things are really important, but there is one part of the attire that is a pure reflection of one's personality. People can judge what type of person they are talking to, just by looking at their shoes. Moreover, many people believe that if one has to judge whether an individual has copied someone's look or it's their original idea, one needs to look at their shoes. The type of footwear one wears a significant amount of details about their personality.
People must purchase footwear that speaks to them and reflects who they are as a person. Before Somiar Threads came into existence, the men's footwear industry lacked in variety. There was a limited number of options in the market. Moreover, high-street fashion brands were manufacturing shoes and selling them at high rates. The quality of these shoes was not satisfying. In 2017, Somiar Threads was co-founded by Josean Cruz, Emmanuel Hernandez, and Hector Hernandez. The company offers the widest range of men's shoes. They have the perfect footwear for every personality type.
The Widest Variety in Men's Footwear
In comparison to women footwear, the men's footwear industry does not have much variety to offer. Pumps, ballerina, stilettos, heels, platform, sneakers, sandals and many others are the options available for women. However, Somiar Threads, with its headquarters in [location], is taking the men footwear industry by a storm. It brings the widest shoe varieties for men to help every man choose a shoe that suits their personality.
That Fun Loving Nature
Anyone who loves to go casual and want to have fun around can find the perfect footwear for them at Somiar Threads. The Maldonado boots available in black embossed croc leather and arena can elevate the easy-to-carry outfit. These boots are exactly what the fun-loving individuals look for, footwear with a rock-and-roll vibe.
Casual and Sophistication Altogether
Some people like the casual look but want to keep their sophisticated reputation up. For these people, the Cruz boots are the right match. These boots are for people with quiet personalities who love to observe what's going around in them. People who do not want to go overboard with their look and want to keep the look in a balance can definitely put their money on these classy boots available in black, miel, and caoba.
Classy and High-Maintenance
For people who want to look the best and want to impress the world with their styling sense will love the legend boots by Somiar Threads. These boots feature a grandeur which can elevate the look and make an individual with a 'reserved' personality stand out among the crowd. The Xavier boots are another smart choice for such people with a 'high-maintenance' personality. These feature a clean and simple look, but double-shade serves as a perfect reflection of a person with a classy personality.
Responsible and Authoritative
The shoes that will be perfect for people with a responsible and authoritative personality will find their perfect match in the Rico and winged kelce boots. Customers can find Rico boots in black and coaba, and winged kelce only in black. Both these boots feature minimalistic designing, but they give out a strong vibe. These shoes are ideal for sophisticated individuals who want to keep it simple while having an impact on people around them.
The Hipster Look
Some people want their attire to speak about their vibrant and lively personality. For these individuals, Somiar Thread has designed the Lu boots. These boots are made of Spanish calf-leather and are available in black. These are well-fashion boots that represent strength and growth but are suitable for a 'hipster look.'
The Quiet One
A person who prefers to stay quiet and wants to surround themselves with a limited company would love to wear the Hernandez and Valdez boots. The Hernandez boots are available in a smokey taupe and whiskey shades which complete the 'corporate-casual' look. The Valdez boots are available in black and help people keep a low profile.
Somiar Threads has a pair of shoe for all personality types. Whether a person holds an authoritative personality or is a reserved individual, they will find the perfect pair of footwear without any hassle.
About Somiar Threads – Designing Shoes for Every One
Somiar Threads was co-founded by Josean Cruz, Emmanuel Hernandez, and Hector Hernandez. The footwear brand manufactures handmade leather boots and shoes. It has partnered with generational cobblers from Spain to create footwear masterpieces. It offers the widest range of shoes and boots, with each featuring a unique design and a background story.